Description
Join us for our first Bottle Your Own Wine event at Due Vigne Winery. Come in and bottle your very own wine with your name on the front of the label. Perfect for the holidays; pour your custom bottled wine at a large family dinner, or give this unique wine as a gift to those closest to you. Either way, being a part of the process will be a memory of a lifetime.
How it Works:
Prepurchase between 2 - 12 bottles of our newest release "La Tavalo" During your purchase, you will designate what name you want of the wine, and it will be custom printed for you, so that you can label your wine the night of the event. When you arrive at the event, you and a guest will do recieve a bottle and do everything from corking, foiling, and labeling your very own 1 of the bottles in your package. See the label below to get an idea of how your name will be presented. You can name your wine whatever you wish as long as it is not over 15 characters.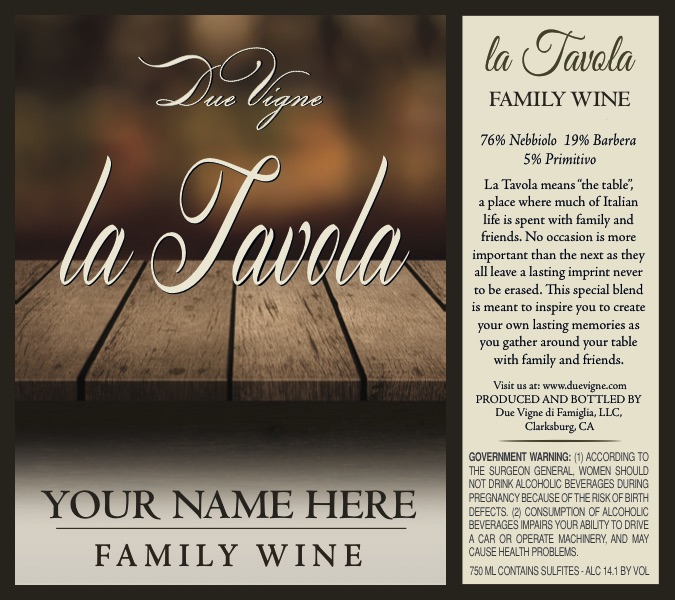 About the wine:
La Tavalo is an everyday wine meant to pair perfectly with light meats and Italian fare. A blend of Nebbiolo, Barbara, and Primitivo, this blend is very smooth all the way through with a soft but lingering finish. Only 50 cases of this wine is being produced, so your bottle will not only be unique in its name, but also an extreme rarity in production.

Pricing:
To secure your wine, the bottles must be pre-purchased. Every pre-purchase includes attendance for you and one guest to participate in the Bottle Your Own Wine event on December 8th. Each purchase also includes a custom name preprinted on the bottle for you to label on the night of the event.

$70.00 - 2 Bottle package ($35/per bottle)
$100.00 - 4 Bottle package ($25/per bottle) - 28.5% OFF!
$120.00 - 6 Bottle package ($20/per bottle) - 42% OFF!
$180.00 - 12 Bottle package ($15/per bottle) - 57% OFF!

All pricing is subject to sales tax of 7.25%.

Please Note:

All attendees and purchasers must be over the age of 21.
All pre-purchases of wine are non refundable.
If you are unable to make the bottle your own event, but wish to still have the wine, you can purchase the wine on eventbrite and pick up the wine anytime in the month of December 2017 (after December 8, 2017).
We look forward to seeing you there.