About this Event
**PLEASE READ THE FULL TERMS & CONDITIONS OF THIS SALE BELOW BEFORE PURCHASE. IMPORTANT NOTE: THE PICK-UP WINDOW FOR THIS RELEASE IS AUGUST 17th THROUGH AUGUST 25th. PLEASE MAKE SURE YOU CAN PICK UP WITHIN THIS WINDOW BEFORE YOU ORDER. NO EXCEPTIONS.**
MAPLESAURUS REX bottles are $26 / 22oz + Eventbrite fee, with a limit of 4 bottles per person.
MAPLESAURUS REX
Imperial Stout w/ Maple Syrup & Vanilla Beans
14% ABV
A massive Imperial Stout, with a long delicious flavor tail of organic maple syrup and a dose of organic vanilla that add complexity. Hefty in both mouthfeel and ABV, with a smooth sippability and flavors that linger on the palate.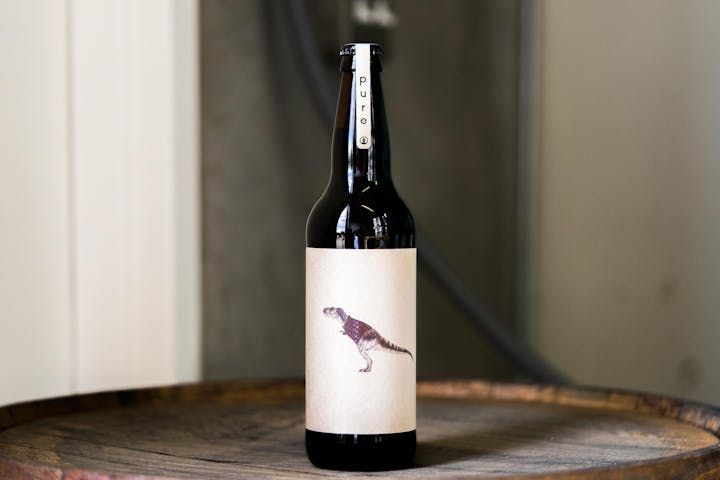 EUPHORIK W/ POG bottles are $30 / 750ml + Eventbrite fee, with a limit of 4 bottles per person.
EUPHORIK W/ POG
Feral Ale w/ Passion Fruit, Orange & Guava
7.0% ABV
Euphorik is our take on the American Wild Ale and designed to activate, engage and delight the senses. Aged in formerly Pinot Noir French Oak from Napa Valley, these unique beers will take you on a journey of complexity in which you can smell and taste all the subtle ingredients that have come together over the years to form a flavor that we can only call... "Euphorik".
Initial impressions showcase the trademark bright lactic acidity of the beer with notes of the POG blend of fruit on the nose. This version of Euphorik features local, organic oranges from Good Taste Farm in North County San Diego, as well as organic whole passion fruit and organic guava.
Winslow has created a proprietary yeast strain over the years specifically designed for this beer which provides both the initial funk and the lingering bite that will make you remember this beer long after the bottle is dry.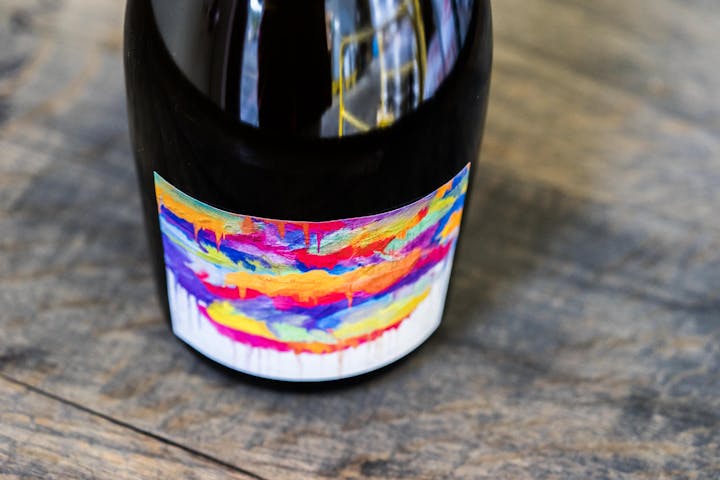 Please read the additional notes and details below before purchasing.
**************************************************************************************
BOTTLE RELEASE TERMS & CONDITIONS:
Starting Thursday, 8/8/19 at 10am PDT, you will be able to purchase tickets good for up to 4 bottles of MAPLESAURUS REX and up to 4 bottles of EUPHORIK w/ POG. This sale will end Sunday, 8/11/19 at 11:59pm, or when bottles have sold out.
You or your proxy (named at checkout) will be able to pick up bottles at Pure Project in Miramar (9030 Kenamar Dr. #308 San Diego, CA 92121) between noon on Saturday 8/17/2019 through 8pm on Sunday 8/25/2019.
Unfortunately, no exceptions can be made to either the bottle limit or the pick-up window.
Must be 21 to purchase/pickup and all PROXIES must also be over 21 and the ID must match the name added as proxy at checkout.
**Any bottle not claimed by 8/25/2019 will be forfeit, so please only order if you are sure you can claim your bottles within the pickup window**
Please read on for additional details about the release party and tickets.
HOW TO CLAIM YOUR BOTTLES:
To claim your bottles, you or your proxy will need to show ID proving that you are (1) both over 21 years of age and that (2) the name on the ticket order matches your ID. Again, please only purchase tickets if you are 100% sure that you can pick up the bottles within the pickup window stated multiple times above. There are no exceptions.
Pure Project WILL NOT ship bottles. The bottles must be claimed from the Pure Project tap room in Miramar (9030 Kenamar Dr. #308 San Diego, CA 92121) within the pickup window of Saturday 8/17/2019 through 8pm on Sunday 8/25/2019. NO REFUNDS: Due to demand for bottles, Pure Project will not issue refunds. All sales are final. That said, we are big on customer service, so should you not be fully satisfied with a bottle, simply email bottles@purebrewing.org and let us know.
RELEASE PARTY DETAILS:
The tickets you are purchasing will admit you to a release party to claim your bottles. The date of the party is Saturday 8/17/2019 from noon-10 pm in the tap room at Pure Project in Miramar.
OTHER LEGAL DISCLAIMERS OUR LAWYER SAID WE SHOULD PUT ON HERE:
Your receipt of an electronic or other form of order confirmation does not signify our acceptance of your order, nor does it constitute confirmation of our offer to sell. Pure Project reserves the right at any time after receipt of your order to accept or decline your order for any reason or to supply less than the quantity you ordered of any item. Other sites accessible through our site have their own privacy policies and data collection practices. Please consult each site's privacy policy. Pure Project is not responsible for the actions of third parties. This site may contain links to other sites on the Internet that are owned and operated by third parties. By agreeing to these terms and conditions you are also consenting to receive updates and messages from Prue Project via email and SMS in regards to this and future events. We will never sell, rent, or give away our email list for 3rd party marketing. Our Privacy Policy also applies. By participating, you consent to receive text messages sent by an automatic telephone dialing system. You can opt out of email and SMS updates at any time for any reason and participation is not mandatory to attend or purchase a ticket to any event. You acknowledge that Pure Project is not responsible for the operation of or content located on or through any such site. Unless otherwise specified, all materials appearing on this site, including the text, site design, logos, graphics, icons, and images, as well as the selection, assembly and arrangement thereof, are the sole property of Pure Project, Copyright © 2019, ALL RIGHTS RESERVED. You may use the content of this site only for the purpose of shopping on this site or placing an order on this site and for no other purpose. No materials from this site may be copied, reproduced, modified, republished, uploaded, posted, transmitted, or distributed in any form or by any means without prior written permission of Pure Project. All rights not expressly granted herein are reserved. Any unauthorized use of the materials appearing on this site may violate copyright, trademark and other applicable laws and could result in criminal or civil penalties.