Description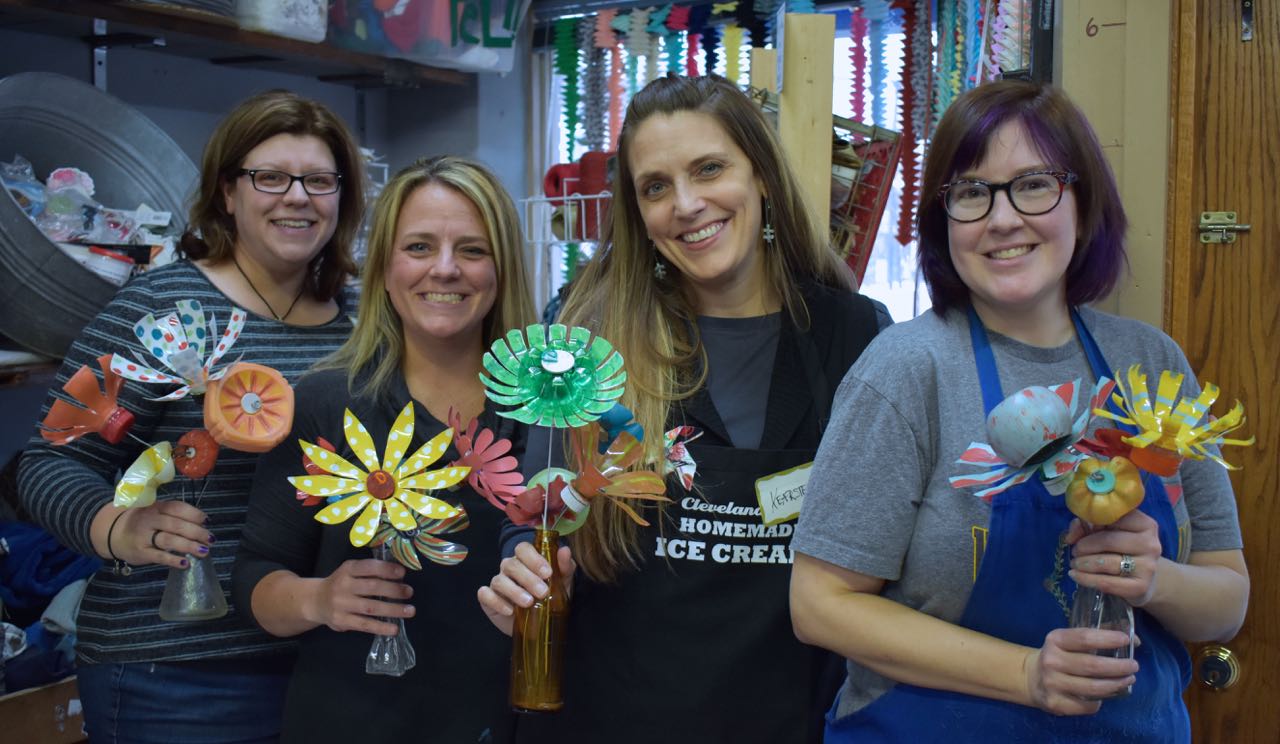 Our popular Bottle Blossom workshop is back! Join us on Saturday, February 16 to learn the step-by-step process to create your own bouquet of everlasting flowers. Bottle Blossoms, our signature product, represent the magic of upcycling: to elevate a leftover material into something with more value. At this workshop, we'll meet in our upstairs* space to transform materials finished with their first use (plastic soda bottles, wire hangers, and vinyl flooring samples) into beautiful blooms that can last a lifetime.
Included in your ticket price are the materials and instruction needed to make 5 unique blossoms. You'll design, paint, cut, and bend until you've released the special flowers hidden inside each plastic soda bottle. Plus, you'll get to choose a glass vessel from our collection to display your finished bouquet! We'll provide light snacks, coffee, and water, and we encourage you to BYOB! When you're finished creating, you'll also be able to enjoy some time to shop our low-cost craft supplies and upcycleable treasures on our main shop floor and basement.
Buy a ticket for yourself plus a friend or loved one and make some fond, floral memories together. Or, come solo and make some new crafty pals! If you can hold a paintbrush and use scissors, you can make bottle blossoms. We are happy to work with creativity naysayers, fair weather crafters, artsy pros, and everyone in between. And, if you're a resident of the 44103 zip code or an existing member of Upcycle Parts Shop, you'll receive a $5 shop gift card good for the remainder of 2019 just for signing up for this workshop! No code needed.
Note: the March date for this event series will be rescheduled - stay tuned for new dates!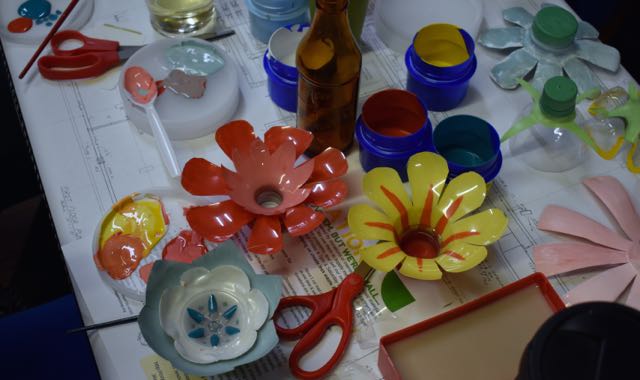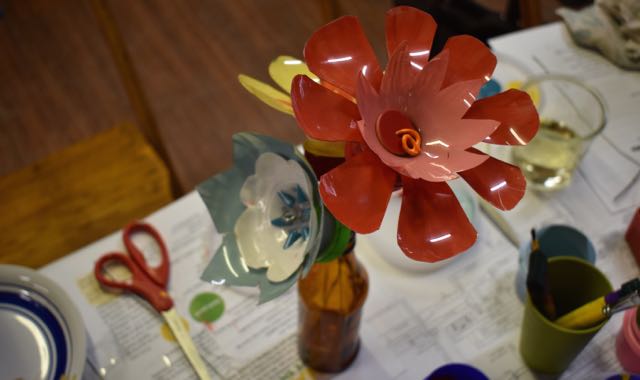 *Upcycle Parts Shop is located in a historic building and the upstairs room is accessible by stairs only. We apologize for the inconvenience to those with physical limitations, but if this is you, please know that we are working on offering a similar workshop in a more accessible location later this spring. Please reach out to marissa@upcyclepartsshop.org if you'd like to know those details when they become available.
FAQs
Is this workshop suitable for kids?
This workshop is suggested for adults or adolescents accompanied by a parent. Stay tuned for some kid friendly workshops later this spring!
This is my first time hearing about Upcycle Parts Shop. What's the deal?
We are a creative reuse center located in the St. Clair-Superior neighborhood of Cleveland. In our retail storefront we sell low-cost craft supplies and upcycleable treasures, all generously donated to us by individuals and corporations in our community. Since opening in 2014, we have diverted over 21 tons of usable material from the landfill! Whether or not you can make our workshop, we'd love to see you in our shop during our weekly retail hours. We are open to the public on Thursdays from 2-6 PM and Saturdays from 10-4 PM. Please visit our website for more information about our shop, mission, and donation guidelines: www.upcyclepartsshop.org
What can I expect when I arrive?
Come through our shop door located under the blue awning. We'll then head upstairs for snacks, socializing, and creating. There will also be time to visit our shop if you'd like to purchase any creative materials and upcycle parts.
What should I wear?
We will be using latex paint, so you probaby shouldn't wear something you'd be sad to get paint on. We have aprons to share.
What refreshments can I expect?
We will provide coffee, tea, and water. We will also have light appetizers such as fruit, cheese, crackers, dips, and cookies. Please feel free to bring your own snacks, too, as well as your favorite beverage! We have plates, utensils, and glasses so no need to bring those.
Where should I park?
There is street parking available in front of our shop on St. Clair Avenue as well as on Addison. You may also park in the Slovenian National Home parking lot behind the building which is accessible from Addison or E. 64th.
What if I have more questions?
Email our Program Director Marissa at marissa@upcyclepartsshop.org.