Description
Have you always wanted to draw flowers? Do you want to learn more about watercolor pencils and how to paint with them? Are you looking for a unique and memorable Mother's Day gift?
The registration fee includes an exclusive handout packet made specifically for workshop participants as well as a high quality materials kit curated by instructor David Tenorio – an artist grade watercolor brush, artist quality watercolor pencils, a sketchbook of high-quality watercolor paper and all the necessary drawing tools – totaling over a $60 value, all included with your registration fee!
Join us at ARCH Supplies for a special Botanical Drawing workshop! Participants will be led through the basics of drawing flowers, painting in watercolor pencils and how to create a botanical sketch.
Over the course of this 4 hour workshop, we will cover:
> Basic watercolor pencil painting techniques
> Basic drawing skills as applied to flowers and nature
> The essential anatomy of flowers/leaves and what to look for
> The common rhythms we find in nature and how to improve our observation
> The practice and etiquette of making a botanical sketch
As a participant, you will walk away with valuable notes, sketches and beautiful paintings based on our selection of real flowers!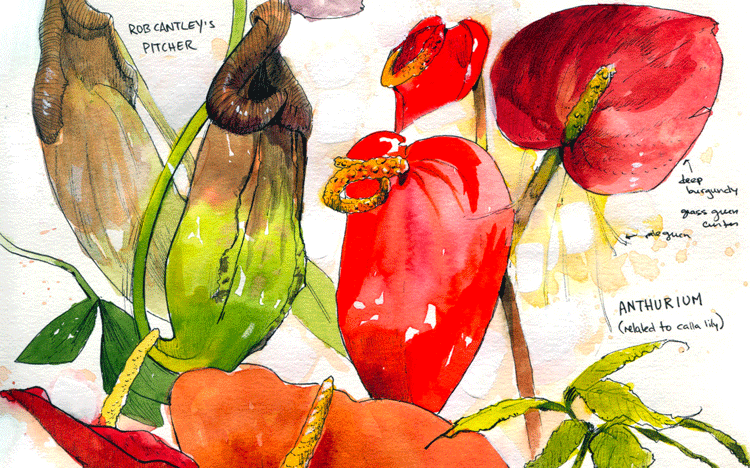 All skill levels welcome!
FAQS
Are the flower specimens real?
Yes, we will be working from live, freshly collected flowers!
Can I bring my own supplies?
You can absolutely bring your own supplies, but the registration fee includes a customized kit with all materials provided. At this time, we do not have the space appropriate for oil paints and/or solvents.
Anything else I should bring?
It's recommended that you bring water and a light snack, we'll plan on taking a small break halfway through the workshop.
Is there parking?
Yes, ARCH Supplies has ample parking in the front of the store.
Who can attend the class?
You must be 18 or older to attend this class. Beginners and experienced painters are all welcome!
What is your refund policy?
Refunds are available up to 7 days before the event (not including the Eventbrite processing fee.)
Where can I find samples of your work?
David Tenorio is an instructor with over 10 years of teaching experience. He has taught with various institutions in the Bay Area and is currently an instructor featured on Creative Bug. You can see samples of David's work at www.drawcumentary.com . For questions, feel free to email David at drawcumentary@gmail.com