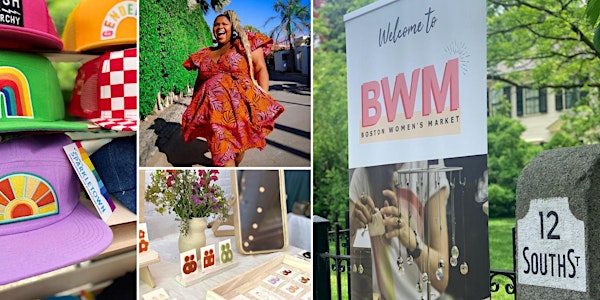 Boston Women's Market 5-Year Anniversary Celebration
Join us at The Loring-Greenough House in Jamaica Plain to celebrate 5 years of Boston Women's Market on September 18 from 11 AM - 4 PM.
When and where
Location
Loring Greenough House 12 South Street Boston, MA 02130
About this event
It's hard to imagine what began five years ago as a small market of few is now a family of nearly two-thousand small businesses. We invite you to come celebrate with us where it all started, at the beautiful Loring-Greenough House in Jamaica Plain!
~ Celebrate the achievements of over 50 women-founded small businesses throughout the gardens
~ Enjoy live music by local artist Kelsey Blackstone from 12 PM - 2 PM
~ Enjoy kids activities like Face Painting by Dottie, bubbles, and lawn games
~ Kid's circle reading with Phaea Crede, local author of Jet the Cat (Is Not a Cat) from 12 PM - 2 PM (located at Barefoot Books/Dragonfly's Bookshelf tent)
~ Be one of the first 200 visitors and get a free BWM shopping tote bag
~ No tickets required, free event
WHEN + WHERE
The Loring-Greenough House, 12 South Street, Jamaica Plain
MEET THE VENDORS & MAKERS
We can't wait for you to discover the 50+ women small business owners that will be there on September 18 for your to shop and support! From candle and jewelry makers to painters to jewelry makers, our vendors are skilled women entrepreneurs from all over New England.
anewfoundlove
Avu Jewelry
Barefoot Books/Dragonfly's Bookshelf
Beech Street Pottery
BODY & BOTANY
Bre Making Things
Charlotte Paints Art
CHO and moi
Claro De Luna Candles
Clearly Balanced Days
Coastal Brahmin
Cosmos Pottery
Cuoc Doi Prints
Danielle Robichaud Jewelry
Erica Joy Photography
Franky and J. Designs
Geckcessories
iLoveFGC
IsaJewelCo
Jewelinga Designs
Julo Pottery Co
kaleidowall
Mel's Designs
My Darling Threads
Nabia Designs
Nubian Violet
Peshtemal Collection
Plainville Homestead
Sarah Dudek Design
Sparkletown Studios
Steeped In Grace Botanicals
Style Rush Accessories
Sweet Glam
TeeCee Stitchery
The Common Collective
The Felted Acorns
Thrive Cakery LLC
Tribomo
True 9 Accessories
True Happiness Designs Jewelry
Veresk Art Studio
Why Not Jewelry By Kirsty
Woodworking By Jess
Yur By LKM, Inc
Silver Garden Designs
Stenella Farms
Overseasoned
Rare Bird Aesthetics
Starseed Woodworks
Faded Blonde
Queen Lan Collection
Little Stone Jewelry Co.