Description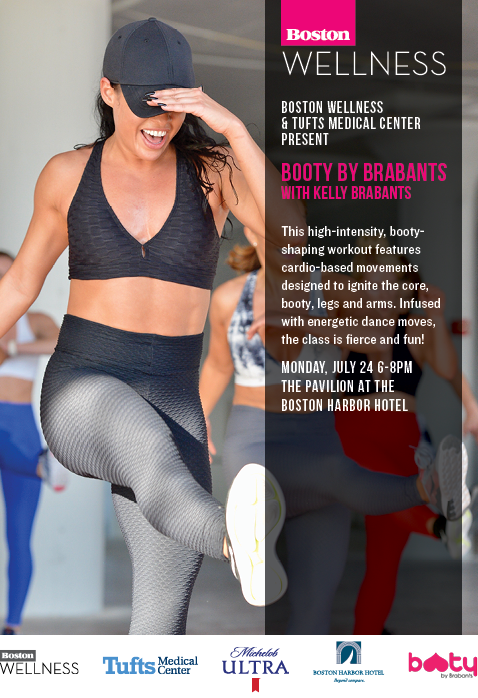 Event Details:
Class will be held in a covered outdoor area on the harbor, rain or shine. Particpants are welcome to bring yoga mats but they are not required during class. Workout towels & water will be provided.
All attendees must be 21+ to enter. Please bring a valid form of ID with you.
Transportation & Parking at Boston Harbor Hotel:
The Boston Harbor Hotel is easily accessible from all parts of Boston. If arriving by car, we suggest placing 400 Atlantic Avenue, Boston, MA into the GPS for the best results. The hotel can be accessed by MBTA via the Orange line (State Street) or Red line (South Station). For more information and directions, please interact with this map or call the hotel directly at 617-439-7000. Valet parking is available.
About Booty by Brabants:
Booty by Brabants is a fitness and lifestyle brand inspired by Kelly's values: self-confidence, unrelenting dedication to health and fitness, and her Brazilian roots. Founder Kelly Brabants is a trained dancer and certified personal trainer who has taught professionally in some of America's most prestigious gyms. Booty by Brabants classes provide a high-intensity, booty-shaping workout. Now a regular routine for women in the Boston area, the distinctive cardio-based movements are designed to ignite the core, booty, legs and arms. Infused with energetic dance moves and effective bootcamp style exercises, the class is fierce but based on feel-good fun.
About Tufts Medical Center:
Tufts Medical Center is a proud sposor of all Boston Welness events. Conveniently located near Downtown Crossing, the Theatre District and the Boston Common, Tufts MC is easily accessible by the orange, green, red and silver lines of the MBTA, Tufts MC offers online booking for services like Primary Care, Orthopedics, OB/GYN and more. Many doctors are currently accepting new patients and make appointments quickly. Learn more at tuftsmedicalcenter.org
*By submitting my RSVP for this event I agree to receive event notifications from Boston magazine and select partners.