Event Information
Location
Boston Marriott Cambridge
50 Broadway
2nd Floor Grand Ballroom - Salon 1-3
Cambridge, MA 02142
Description
Help us kick-off our 10x User Group Meetings and join us in Boston!
Hear industry leaders and 10x scientists discuss single cell genomics, de novo assembly and learn how to make the most of the human genome with Linked-Reads.
Featured Speakers Include:
Paul Robson, PhD, Director, Single Cell Genomics and Senior Research Scientist - The Jackson Laboratory

Chris Whelan, PhD, Computational Biologist - The Broad Institute of MIT & Harvard

Bilada Bilican, PhD, Investigator, Neuroscience - Novartis Institute for BioMedical Research

Ugur Ayturk, PhD, Instructor in Orthopaedic Surgery - Boston Children's Hospital

Tarjei Mikkelsen, PhD, Director of Molecular Biology - 10x Genomics

Michael Schnall-Levin, PhD, Vice President of Computational Biology and Applications - 10x Genomics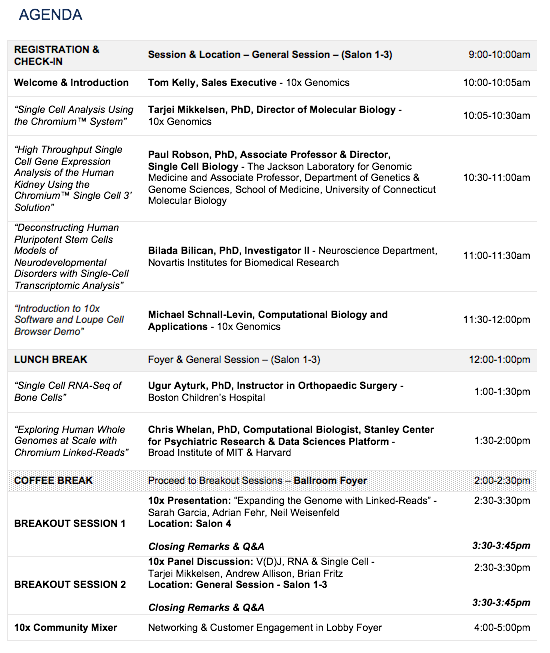 The meeting is free to attend, registration is required. Light breakfast and lunch will be provided to registered attendees. Join us for cocktails after the meeting at our 10x Community Mixer!

*Parking at the Kendall Center Green Garage (90 Broadway), located adjacent to the Boston Marriott will be validated. Please bring your parking ticket to the registration desk at check-in for your parking voucher.
We look forward to seeing you there!
- The 10x Marketing Team
Date and Time
Location
Boston Marriott Cambridge
50 Broadway
2nd Floor Grand Ballroom - Salon 1-3
Cambridge, MA 02142