Beachbody's Quarterly Live Coach Event
About this event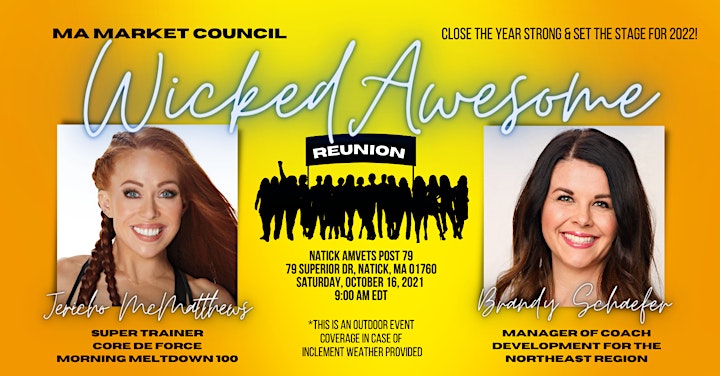 As always, the Boston team does not disappoint when putting on events! This one will be no different.
Work out LIVE with celebrity trainer Jericho McMatthews!
Agenda:
9:00am Welcome and Recognition
9:15-SURPRISE Guest
9:35 Brandy Schaefer: Closing the Year Strong and Setting up a Strong 2022
10:00 Corporate Video
10:45 Raffle Winners + Closing Words
11:00 Room Break Down and Connect
11:45 Chat and Workout with Jericho
12:30pm Event Ends
OPTIONAL 12:30pm on, after the event the event you are welcome to head into the grill in the building and grab some lunch and support the Natick AMVets: https://www.natickamvets.com/canteen
IMPORTANT:
1. Outdoor Venue:
Venue is completely outside under a tent for inclement weather with indoor access to bathrooms. Please dress appropriately.
2. Kid's Tickets:
Rule for kids' tickets: Same as an airline. If your kid is under 2 and sitting on a lap no ticket. Otherwise a ticket is required, no exceptions.
3. Parking:
Please park in the first lot when you cross the rail trail and see the building, the lot after that is reserved for members. If there is no parking there you can park in the Math Works/FedEx lot.
4. What to Bring:
Water, snacks, yoga mat to workout on if you prefer. If you are uncomfortable sitting close to others during the talk (we will have picnic tables) we suggest you bring your own chair so you can distance yourself to your comfort level.
Credit cards or cash for the raffle tickets.
We will have water bottles for those who forget and hand sanitizer on site.
5. Non-Refundable Tickets:
Tickets are non refundable but can be transferred here: https://www.eventbrite.com/support/articles/en_US/Q_A/how-to-transfer-tickets-to-someone-else?lg=en_US
6. COVID-19 Guidelines:
We are following MA COVID-19 Guidelines which means unvaccinated attendees will need to wear a mask when not able to social distance (during the seated portion) or when going inside to use the bathroom. The event will be held outdoors to keep it as safe as possible with covering for inclement weather.
Mask Advisory for Vaccinated and Unvaccinated Residents: The Department of Public Health issued a public health advisory effective July 30 that advises all unvaccinated residents must continue to wear masks in indoor settings and when they can't socially distance. The advisory also recommends that vaccinated residents who are at increased risk from COVID-19, or who live with someone at increased risk, should wear a face covering indoors (other than in their home).
Any child 5 and older who is not/cannot be vaccinated are required to wear a mask. Masks not required for children under 5.
We are all in this together and need to do our best to ensure we keep others healthy. We are recommending that people be fully vaccinated and/or have a negative Covid-19 test within 72 hours of attendance.
If you feel sick, have COVID-19 at the time of the event or have been exposed to COVID-19 in the 10 days prior to the event then you are not permitted to attend. You can transfer your ticket by selling it someone for your purchase price.
These are the rules, if you do not like then/don't agree we recommend you attend the weekend virtual with the links provided by Beachbody Corporate.