Event Information
Location
Natick AMVETS Post 79
79 Superior Drive
Natick, MA 01760
Beachbody's Quarterly Live Coach Event
About this event
Event is 9am to 1pm
Agenda TBA
Guest and speakers TBA
SWAG: https://www.bonfire.com/store/ma-super-weekend-gear/
IMPORTANT:
1. Venue:
We will be using the inside or outside part of the venue, depends on the weather.
2. Kid's Tickets:
Rules for kids' tickets: Same as an airline. If your kid is under 2 and sitting on a lap no ticket. Otherwise a ticket is required, no exceptions.
3. Parking:
Please park in the first lot when you cross the rail trail and see the building, the lot after that is reserved for members. If there is no parking there you can park in the Math Works/FedEx lot.
4. What to Bring:
Water, snacks, yoga mat to workout on if you prefer.
Credit cards or cash for the raffle tickets, as always 100% of raffle goes to non-profit.
We will have water bottles for those who forget and hand sanitizer on site.
5. Non-Refundable Tickets:
Tickets are non refundable but can be transferred here: https://www.eventbrite.com/support/articles/en_US/Q_A/how-to-transfer-tickets-to-someone-else?lg=en_US
6. COVID-19 Guidelines:
If you feel sick, have COVID-19 at the time of the event or have been exposed to COVID-19 in the 10 days prior to the event then you are not permitted to attend. You can transfer your ticket by selling it someone for your purchase price.
These are the rules, if you do not like then/don't agree we recommend you do not attend.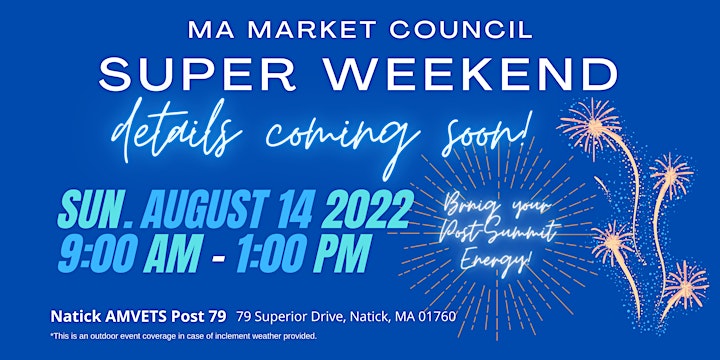 Date and time
Location
Natick AMVETS Post 79
79 Superior Drive
Natick, MA 01760
Refund policy