Event Information
Refund policy
Contact the organizer to request a refund.
Eventbrite's fee is nonrefundable.
Read on for important registration and book order details!
About this event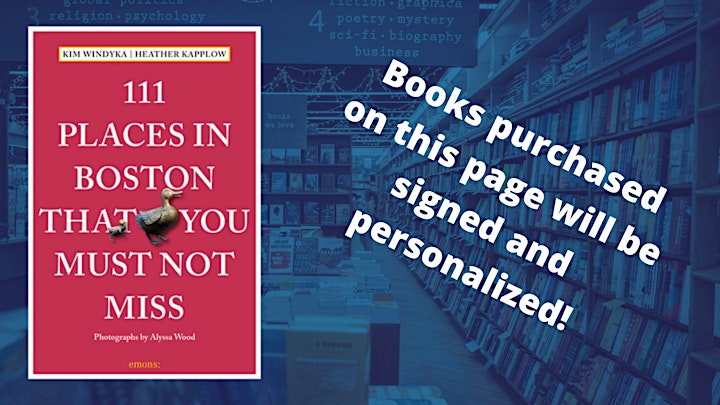 Celebrate Boston and a brand new guide to the best we have to offer with the authors of 111 Places in Boston That You Must Not Miss and Cristina Quinn!
Copies of the book purchased here will be signed and personalized by the authors.
How to Register
Register on this page to receive a Zoom link
Register free, pay what you like, or buy the book to enter the event
If you don't receive a confirmation email after registering, contact us right away
Get Your Books
Books are held for pickup or shipped after ticket sales have closed.
STORE PICKUP- Pick up your book in person at Brookline Booksmith (Click here for directions). You will receive an email alert when your book is ready.
SHIPPING - Have your book shipped via USPS priority mail. Shipping is only available in the United States.
If you have trouble checking out, check the Eventbrite FAQ located here.
111 Places in Boston That You Must Not Miss
111 Places in Boston That You Must Not Miss is a guidebook with a twist: one that takes you far off the beaten path - and the Freedom Trail - to explore a side of the city that's offbeat, unexpected, and completely fascinating for visitors and locals alike. Whether you want to pay your respects at the memorial for a fictional character, sneak behind a vending machine to go shopping for sneakers, marvel at the breathtaking views from a brewery bathroom, or go on a long, strange trip through an LSD library, you can do it all here... and before dinnertime, to boot. Throw on your Red Sox cap, hop on the T, and uncover some secrets along the way.
Alyssa Wood is a New England-based photographer specializing in event and documentary photography. She is a graduate of New England School of Photography, graduating with a major of portrait and editorial photography, and spent four years living and photographing in Boston. She now lives in Rhode Island with her husband two kids, Bella & Sam. She still travels to Boston frequently for work and pleasure.
Kim Windyka fell in love with Boston while growing up in nearby southern New Hampshire, and has never become tired of the city's beauty and historic charm in the 12 years she's been living there, since attending Emerson College. A full-time copywriter with experience in multiple industries including travel, tech, and fashion, she has also written pieces for The Atlantic, New York Magazine, McSweeney's, and more. See more of her work at and follow her on Twitter at @kimlw.
Heather Kapplow (www.heatherkapplow.com) is one of the rarest kind of creatures you'll find in Boston: a native Bostonian. A visual and performing artist as well as a writer, Heather travels frequently for projects in both spheres and has a deep understanding of what it's like to be a newcomer in an unfamiliar city. It's among Heather's life goals to make Boston a more welcoming place, as well as to throw spotlights on Boston's many nuanced subcultures.
Moderator Cristina Quinn is a Boston-based journalist for WGBH News. She has covered public health, science and technology, and how they intersect with shifting cultural norms. Cristina first got bit by the radio beast when living in Japan and asked to host a local weekly radio show titled, "Let's English!" Locally, her stories air on WGBH's TV program Greater Boston and its local radio broadcasts of Morning Edition and All Things Considered. Her stories have also aired on PBS NewsHour, NPR, PRI's The World and BBC World Service. She grew up in Dorchester and knows what parish you're from.
About Brookline Booksmith
We are one of New England's premier independent bookstores, family-owned and locally run since 1961. We offer an extensive selection of new, used, and bargain books; unique, beautiful gifts; award-winning events series; and specialty foods. Every day, we strive to foster community through the written word, represent a diverse range of voices and histories, and inspire conversations that enrich our lives. Find more at brooklinebooksmith.com!
Date and time
Location
Refund policy
Contact the organizer to request a refund.
Eventbrite's fee is nonrefundable.