Description

If there's one thing Boston does better than anyone, it's winning championships. And if there are two things that Boston does better than anyone, it's winning championships -- and leading the way in digital marketing and social media. So we're assembling a panel of social media pros from each of the Boston teams for a night of networking and discussion at the Boston Sports and Social Media All-Pro Panel.
It all goes down on Thursday, September 22, 2011 at the Game On (at Fenway Park) in Boston from 7-10 pm. The All-Pro Panel will run between 7:30-8:30, and attendees are encouraged to stay for networking with social media and sports marketing professionals after the event concludes.
Representatives from the Stanley Cup Champion Boston Bruins, Boston Red Sox, Boston Celtics and New England Patriots will gather for a discussion on sports and social media in the City of Champions. Here's the roster for this first-of-its-kind Boston Sports and Social Media smackdown:
Panelists
Chris DiPierro – Director of Marketing - Boston Bruins
Peter Stringer (@peterstringer) – Director, Interactive Media – Boston Celtics
Colin Burch – Director, Marketing and Broadcast Services – Boston Red Sox
Lyndsay Petruny (@lpetruny) – Host/Reporter, Kraft Sports Productions/New England Patriots
Moderator: Cait Downey (@caitdowney)
Since Tom Brady wants us to start drinking early and get lubed up, he'll be sending over some Magners Irish Cider to get the festivities underway. Thanks #12. You're so dreamy. And 517 yards is bleeping ridiculous.
OK, actually, Magners is providing refreshments for ticketed attendees who arrive early (get there on time before they run out), but we think Tom would approve. And if Gisele wants to show up and get "hydrated", that's cool too.
Thursday, September 22, 2011
7:00 p.m. - 10:00 p.m.
Game On! (downstairs)
82 Lansdowne Street, Boston MA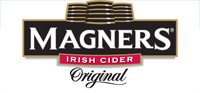 Organizer of Boston Sports & Social Media - All-Pro Panel