Boston Seminar: Cloud, Security, Infrastructure, Blockchain/Bitcoin, IoT
Description
Angelbeat is hosting a fantastic seminar at the conveniently located Sheraton Boston Back Bay Hotel on Monday, April 24th. Learn about the latest developments in IT security/compliance and cloud architecture, plus understand when to expand internally and purchase more storage/network equipment, versus renting capabilities/services from third party/public cloud providers. There are two keynotes, one by world renown Microsoft cloud evangelist Dan Stolts, plus a second by Paul Brassil, VP IT at the Federal Reserve Bank, on blockchain..

"Blockchain" is the generic technology strategy/platform behind Bitcoin. But with IBM and Microsoft aggressively supporting their own variations, blockchain will rapidly go from the criminal/dark web world of Bitcoin to mainstream corporate usage. Think Linux 10-12 years ago.

Scroll down to see the full agenda and click on links to see company information and speakers' biographies, who deliver concise, technical, educational and non-salesy talks. Content is pre-approved by Angelbeat and past attendees to maximize learning; click here to download presentation guidelines that are followed by all participants, which makes the program so worthwhile for technology professionals, business executives, etc.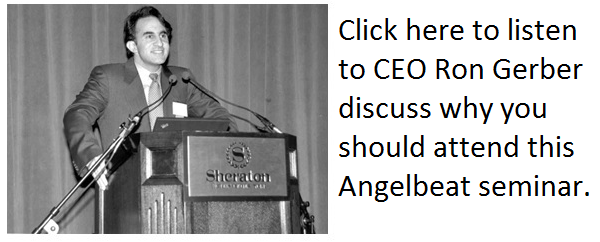 As one Walmart attendee states, "Of all the seminars I attend, your format is by far the best. Brief informative talks from vendors, followed by one-on-one time at their booth to find out more. I am out of the office for less than a day yet I have access to all the different solutions. This year I will follow up with two vendors." As another IT Director commented, "Thanks for hosting a very informative meeting with vendors that tied in well; it was an integrated picture of technologies that work together to create a complete infrastructure solution for the workplace."

Join your peers from the Commonwealth of Massachusetts, Harvard, Fidelity, State Street, John Hancock, Bain, BNY Mellon, CVS, PTC, Partners Healthcare, Beth Israel Deaconess, Fallon Health, Arrowstreet Capital, Charles River Associates, General Dynamics, Dassault, Goulston & Storrs, Town of Brookline, MBTA, Volpe and many more organizations who are confirmed attendees.

Every attendee receives meals, complimentary WiFi, plus 4 CPE credit hours towards your CISSP or other certification. There are drawings for $100 gift cards and other prizes, at both the start and end of the event (must be present to win).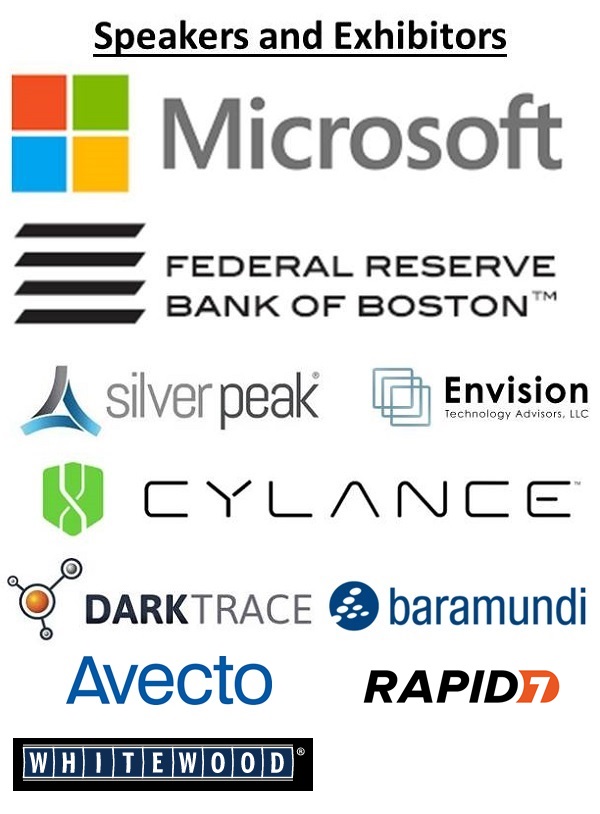 Agenda

7:30 - 8:40: Registration Begins, Breakfast and Coffee Served, Exhibit Area Open with Product Demonstrations, Time For Peer Networking/Interaction

8:40 - 9:00: The Enterprise Immune System - A New Approach to Cyber Defense with Darktrace
Fast-evolving cyber-threats call for a change in the way we protect our most critical information assets, in a digital world more interconnected than ever. Understand from Darktrace how new self-learning technology, known as the "Enterprise Immune System," marks a fundamental transition in cyber defense, allowing organizations to gain indispensable visibility into their network, and detect emerging cyber-threats that bypass traditional security controls.

Thanks to fundamental advances in mathematics and unsupervised machine learning developed at the University of Cambridge, UK, Darktrace's technology is capable of learning what is normal and abnormal within an organization, detecting genuine behavioral anomalies, without using rules or signatures. More than 250 organizations across the world rely on its Enterprise Immune System to defend against novel cyber-threats, including insider threat, and protect themselves in today's changing threat landscape.

Austin Eppstein, one of Darktrace's top cyber security experts, will cover the following subjects during this session:
- Learn why "immune system" technologies represent a fundamental innovation for cyber defense
- Discover how to apply machine learning and mathematics to detect advanced, internal threats
- Understand how to gain 100% network visibility to investigate emerging anomalies in real time
- Hear real-world examples of threats detected by the Enterprise Immune System

9:00 - 9:20: Advanced and Pro-Active Threat Prevention at the Endpoint from Cylance
Cylance is revolutionizing cybersecurity with products and services that proactively prevent, rather than reactively detect the execution of advanced persistent threats and malware. It is the only company to offer a preventive cybersecurity solution that stops advanced threats and malware at the most vulnerable point: the endpoint.

Applying a revolutionary artificial intelligence approach, the Cylance endpoint security solution, CylancePROTECT™, analyzes the DNA of code prior to its execution on the endpoint to find and prevent threats others can't. From a performance viewpoint, its platform uses only a fraction of the system resources associated with typical endpoint anti-virus detect/respond solutions.

Cylance is deployed on over 4 million endpoints and protects hundreds of enterprise clients worldwide, including Fortune 100 organizations and government institutions.

9:20 - 9:40: Stopping Ransomware and Zero Day Attacks with Avecto
The story of ransomware goes as far back as 1989, but only in more recent years has it really emerged as the malware of choice for cyber criminals. The emergence of the dark web, ransomware kits and cryptocurrencies such as Bitcoin make it easier for criminals to achieve profit and anonymity. It's now the most profitable type of malware in history, with 4,000 demands occurring every day during 2016, according to the FBI.

Cybersecurity expert Rodger Colin of Avecto will discuss how its Defendpoint uniquely combines three technologies to protect you from ransomware. Untrusted content from the internet or email attachments is automatically isolated, so that if an attack does hit, the infection is contained. This secure sandbox has no access to privileges and is completely separated from your data, meaning it cannot be stolen or encrypted. Defendpoint's application control and privilege management capabilities allow only trusted applications to run, blocking ransomware payloads from executing.

Zero day attacks exploit software or hardware vulnerabilities where there is no prior knowledge of the flaw. The attack occurs in the time between the vulnerability being discovered, and a patch being applied. These attacks often bypass detection because they are unknown to the security vendors. Malware is created and waits for a user to click or download the infection, taking advantage of the lack of patch and exploiting a vulnerability in common applications like Java or Flash. From there, a payload is dropped and your data is at risk of breach.

The same Defendpoint platform takes a proactive approach to stopping malware from gaining access to your data and corporate information. By ensuring that web content is always isolated, only trusted applications are allowed to run and all users operate in the context of a standard user account, you prevent malware from executing without relying on pattern matching or detection. This approach to security on the endpoint complements your patching and OS hardening strategies, ensuring that you are protected in the time between a vulnerability being discovered and a patch being applied.

9:40 - 9:55: UBA + Deception + EDR: Uncover Answers, Not Just Alerts with Rapid7
Who has time to build out an Incident Detection & Response program when you're wading in alerts, tedious investigations, and solutions only monitoring part of your network? Stop the madness.

Join Eric Sun, solutions manager for Rapid7's Incident Detection & Response offerings, to learn best practices from Rapid7's red and blue teams and see how customers are combining detection technologies to find intruders earlier in the attack chain. His technical presentation will cover:
• Top attack vectors behind breaches
• How security teams are using user behavior analytics (UBA) today
• The role of deception technology in a detection strategy
• How attackers are moving across endpoints – without malware

9:55 - 10:10: Encryption, Key Management and the Importance of Random Number Generation with Whitewood Security
Random numbers are a foundation of modern security applications and particularly those that rely on cryptography. But true randomness is hard to generate and even harder to test and so few security professionals give it a second thought. The challenge is that as more and more applications rely on crypto for their security those same applications increasingly run in virtualized environments or on IoT devices where there may be little or no sources of randomness.

During this informative talk Richard Moulds, Whitewood General Manager, will explain the role of entropy in generating random numbers and keys, compare the various methods for creating or capturing randomness, and review what steps users can take to mitigate the risks of entropy starvation.

10:10 - 10:30: Software Defined Wide Area Networks (SD-WAN) with Silver Peak
Geographically distributed enterprises are embracing SD-WAN at an accelerating pace. As applications continue to move to the cloud, networking professionals are quickly realizing that traditional WANs were never architected for a dynamic, internet-based environment and recognize that backhauling traffic from the branch to headquarters doesn't make sense. Furthermore, end users often find their business apps run faster over their home Internet service, or even on their mobile device.

During this technical session on this increasingly important topic, Silver Peak will help you better understand how and why to deploy SD-WAN in your network infrastructure, covering the following topics:

- Address and overcome concerns around overall network performance, reliability and security
- Harden broadband internet connectivity for a secure SD-WAN
- Extend micro-segmentation from the data center across the WAN to securely connect users to applications and meet compliance requirements
- Eliminate latency and performance limitations of broadband
- Prioritize mission-critical applications and ensure that non-business/consumer applications that are bandwidth-intensive, such as Netflix, do not impact customer service
- Connect the branch securely and directly to SaaS applications and trusted web services using broadband significantly increasing performance
- Interoperate with existing routers and WAN infrastructure to migrate to SD-WAN at your own pace, or replace branch routers with an SD-WAN alternative for greenfield installations and router refresh projects
- Simplify management, configuration and expansion of branch offices with centralized management and zero-touch provisioning to lower OPEX and reduce configuration errors
- Lower overall WAN costs by up to 90%

10:30 - 11:10: Coffee Break, Exhibits Open, Product Demonstrations, Peer Networking

11:10 - 11:30: Innovative Endpoint Management: Patching, Deployment and System Building simplified with Baramundi
With increasing demands on IT Managers, new ways for handling security and user requirements are needed. This session featuring Baramundi will show how you can automate your patch management, drastically simplify system building, and find out about ways to enroll software while avoiding complex repackaging procedures – inside and outside of your network.

Among some of the specifc topics covered include:
- See new ways for automating patch management
- Find out about straight-forward system building mechanisms without time-consuming imaging
- Learn about fast and easy ways for deploying any software - even very complex products

11:30 - 11:50: How IoT's Data Economy Impacts Your Business IT Strategy with Envision
The Internet of Things (IoT) is a buzzword that's on everyone's lips. However, very few people can clearly define what IoT really is or what effect it may have on conventional IT planning and infrastructure.

In this session, we'll discuss the ripple effect that IoT is already having on the products available to your business and the expectations your management team and end-users have of the IT organization.

11:50 - 12:40: Demystifying Blockchain, As It Goes from Bitcoin to Mainstream Corporate Usage; Insights from the Federal Reserve Bank
Blockchain is an emerging distributed ledger technology with a potential far beyond the cryptocurriences like Bitcoin that were first launched on the blockchain. The blockchain's trustless, distributed database promises to disrupt everything from identity management to securities trading, and the latest development in "smart contracts" will make it easier for application developers to build on the blockchain. Attendees will learn the fundamentals of blockchain at this session as well as hear how the Boston Fed is evaluating the blockchain business and development space.

The featured keynote speaker is Paul Brassil, Vice President of Information Technology at the Federal Reserve Bank of Boston, who joined the Federal Reserve in 2013 after a very successful career at Dell EMC. He is responsible for all central IT functions at the Boston Fed, including application development and support, project and relationship management, information security solutions and compliance, and local desktop and network services.

Lunch is Served, Exhibit Area Open, Peer Networking, Product Demonstrations

1:20 - 2:10: Private/Public/Hybrid Cloud Strategies, Linux & Microsoft Containers, Integration with Microsoft Azure
In the opening part of this session Dan Stolts, world renown Technical Evangelist at Microsoft and a dynamic/engaging presenter, will discuss the tradeoff and decision-making process between expanding internal IT resources (capex, buying more network/storage hardware) versus using third party/public cloud/service providers (opex, renting these same capabilities).

Then Mr. Stolts will go into more technical discussions. He will outline the similarities and differences between a container and a virtual machine, then walk through/demonstrate the processes and essential operations of enabling, creating, deploying and managing Linux and Windows containers/resources. He will evaluate when to use which containers, why and how. FYI, a container is an isolated and portable operating environment, often viewed as the next evolution of virtualization. It provides a mechanism for IT to deploy services in a portable, repeatable and predictable manner.

For those who are new to containers, his delivery serves as a jumpstart to accelerate your learning of containers. If you have already had some experience on Linux containers, his session familiarizes you with the specifics on Windows containers, plus helps bridge and extend your skills for bringing business value to both Linux and Windows communities.

Mr. Stolts will conclude this session by highlighting the top three new features in Microsoft's Azure cloud platform for 2017, and how to integrate your organization's public/private/hybrid cloud and container strategies.

End of Event, Raffle Prize Drawings for $100 gift card and other great items!

FAQs

What are Angelbeat's privacy and optin/optout policies
Each attendee acknowledges/understands that financial support from Angelbeat sponsors allows him/her to attend this event at no cost, and that the sponsors will be given your contact information 2 days after the event for follow-up email and telephone communications. All sponsors are required to provide you with an opt-out option, allowing you to be removed from their database

However each attendee can opt-out of sponsor follow-up by informing Angelbeat staff at the event, or by emailing Angelbeat immediately after the event, but before Angelbeat releases the attendee list to the event sponsors.

If you have any questions regarding Angelbeat's privacy policies and how your contact information is used, please contact CEO Ron Gerber directly at 516-277-2057 or at rgerber@angelbeat.com.

Who might be available to receive the special Promotional Code and free pass
There is a special promotional code, that will allow you to attend for free, that is limited and only available for end user IT professionals who work in the telecom/network/storage/security/data center/desktop/purchasing departments of corporations (private and publicly-held, large and small), universities, school districts, government agencies, hospitals/healthcare providers, pharmaceuticals, insurers, manufacturers, retailers, financial services/banks, real estate, legal/accounting/services, transportation/logistic firms, etc. and use, support, approve and/or are involved in or influence the decision to buy the products and services offered by our sponsors.

Reporters from major newspapers, websites and other media outlets are eligible for a free pass and must submit in advance their media credentials to the event organizer for approval.
All other individuals who are not end user, IT professionals must pay the registration fee.

In all cases Angelbeat reserves the right to accept or reject a registration at its sole discretion.

What are my transport/parking options getting to the event
Detailed driving directions will be sent out to all attendees one week before the event. The easiest way to arrive is probably by T, as the Sheraton Hotel is conveniently located in Back Bay, accessible from several T stations.

What is the dress code
Suggested dress is business casual.

What if you have special dietary needs/restrictions
If you have special dietary needs/restrictions, then please email Angelbeat below. We will do our best to accommodate any and all requests.

What if I am a government employee and cannot accept free meals and/or win raffle prizes
If you are a government employee and cannot accept free meals, then you can pay Angelbeat $35/person, to cover the cost of breakfast. Please contact the event organizer at registration@angelbeat.com to arrange payment.

Each sponsoring company/exhibitor handles its own raffle prize drawing; Angelbeat itself has nothing to do with these prizes and attendees are not automatically entered for any raffle prize drawing. Since each attendee must individually signup to win a raffle prize, then government employees (who are not eligible to win these prizes) can simply not signup for the drawing.