Description
In this Boston Photography Class, beginner and intermediate level photographers will discover how to take photos at night that are in focus and properly exposed. I won't leave you alone in the Dark. I will work with you side by side to guide you to take beautiful photos at night.
Boston is all decked out for the holiday season with more lights than ever. In this workshop we will focus on the three key skills necessary for night photography. 1. Camera settings 2. Focusing in the Dark 3. Creative Composition. Lets get out there and enjoy the magical beauty of the night.
Skaters on Frog Pond against the Boston Skyline during Blue hour. Photo by previous participant Swati B. The assignment was to capture the blur motion of skaters in motion with stillness of the lights in the background. She got it just right!
Trees wrapped in lights.Working with positive and negative spaces for creative composition and dramatic impact. Trees like these line the Commonwealth Ave. walkway.
Photo of Boston Skyline take by participant Deb. D.last year. I knew the day would come when the photos taken by the participants would be even better than mine. Beautiful composition, proper exposure and starburst effects. Subtle color of the sky at blue hour.
Some of the topics we will cover in the program:
1. How to get the proper camera settings to capture the stunning lights against the dramatic night sky.
2. How to use composition to balance the different zones of the image using creative strategies including the rule of thirds and beyond.
3. How to work with reflections of lights in water and windows to add depth and mystery to your images.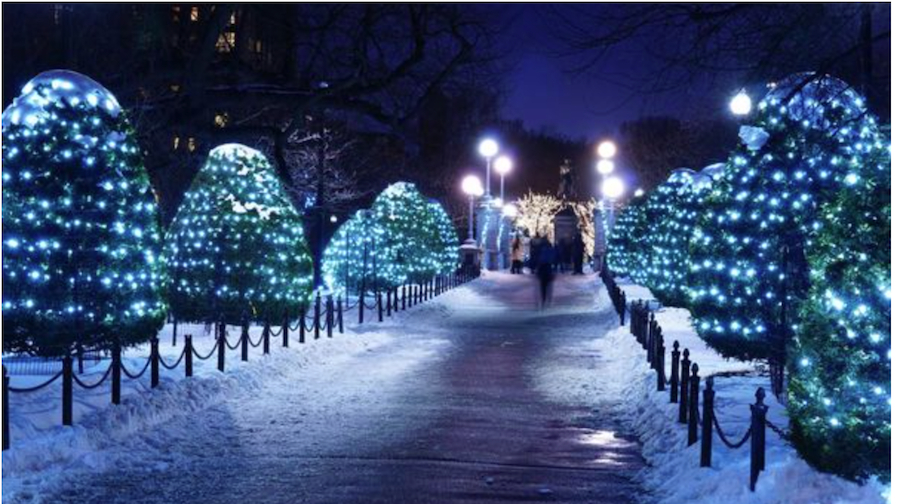 We will photograph a range of subjects including trees, architecture, and people.
You do need a tripod for this workshop since we will be experimenting with slow shutter speeds.
*You will need to know how to set your camera on shutter priority and aperture priority for this workshop. I will help you with the recommended settings but you need to know how to change the settings.
Please bring a small flash light so you can see your camera dials in the dark.
Photo by Dianne Ward participant last year. This image by Dianne is perfectly composed and exposed. Notice the beautiful star burst effect she achieved by using a small aperture opening and slow shutter speed. I will teach you how to do this and where to take this shot.
Architecture and blur motion capture. Beautiful contradiction of stillness and motion. Join us to learn what settings to use.
Photo By Lisa Watchmaker participant last year. We will have fun working with light trails and zoom exposures. I will teach this technique in our third assignment.
Abstract images using slow shutter speed to capture light.
If this sounds like fun, I hope you will join us. Knowing how to photography night scenes is an essential skill to add to your knowledge base as a growing photographer so I hope you will join us. I am limiting this program to 12.
Hope to see you on Saturday!
Suzanne
FAQs
What are my transportation/parking options for getting to and from the event?
YOu can park in the underground parking lot at the Boston Common. Closest T stop is Arlington on the green line.
What must I bring into the event?
You must have a tripod for this class. Please also bring a small flash light so you can see the dials on your camera in the dark. If you have not used your tripod in a while, good idea to practice before the class.
You also need basic working knowldege of your camera settings. Which dials to use to change your shutter speed and F/stop. I will help you with selecting the proper settings but you need to know how to make the changes.
How can I contact the organizer with any questions?
Contact: suzanne@curioussoulphotos.com