Sales Have Ended
Ticket sales have ended
For future events, please join our group at: http://BostonNewTechnology.com
Sales Have Ended
Ticket sales have ended
For future events, please join our group at: http://BostonNewTechnology.com
Description
Come learn about 7 innovative and exciting technology products and network with 150 attendees from the Boston/Cambridge startup community! Dinner, beer, wine and more are included.
This event is 21+, due to alcohol being served. Valid photo identification is required. Buy your ticket now and save 50% - price rises on September 5th.
Please click here to share/tweet our event with your network.
Each presenter gets 5 minutes for a product overview & demonstration and 5 minutes for Q&A. Please follow @BostonNewTech and support our startups by posting on social media using our #BNT81 hashtag. We'll retweet you!
To save on tickets and enjoy exclusive benefits, purchase a BNT VIP Membership. Learn more: http://bit.ly/bNtvip
Brought to you by:

Foley Hoag LLP - No industry moves faster or makes a bigger impact on the way we live than the technology industry. Technology innovators in software, hardware, gaming, entertainment and telecom turn to Foley Hoag LLP to help secure and maintain their leadership positions in this competitive industry. Our attorneys provide a comprehensive array of legal services for companies in all stages of development, from conception through profitability and beyond. For more information, please visit our website for technology entrepreneurs here and learn more at www.FoleyHoag.com. [masked]
The power of IBM Watson and IBM Cloud at your disposal! Augment solutions with technology designed to assist people, not replace them. Leverage IBM Bluemix. Weave together application services, infrastructure and data. Bare-Metal to virtualized infrastructure, tailored to meet your needs. Learn more: IBM Watson / IBM DeveloperWorks / Unleash IBM for Startups / What IBM is doing in Boston
In addition to shipping discounts, UPS offers numerous technologies and assistance to help you grow your business and simplify your shipping. They can help you optimize your supply chain and logistics, streamline your import/export of goods, expedite customs clearance, develop custom packaging and print 3D products/parts with 24-hour delivery! UPS Capital and Kabbage offer up to $150k in additional financing for your startup! To learn more, visit UPS Solutions for High Tech Companies and contact Catherine Dumont at: cdumont "at" ups.com
Startups and small businesses, apply to 2017 UPS X-Port Challenge for a chance to win $10k in shipping credits and up to $25k in cash!
Discover Your Opportunities in Asia within 10 Days! Startups in IoT, Smart Devices, Digital Health, AR/VR, Big Data, AI, Robotics, Green Tech and related areas should apply. Garage+, a zero-equity incubator, is supported by Epoch Foundation, a non-profit organization in Taiwan founded by regional business leaders. We will convene the Startup Global Program from November 27 to December 8 for startups who are interested in exploring markets, partners, and investors in Asia. Startups will meet with top-level decision makers from blue-chip companies in Taiwan. Flight tickets and accommodation will be covered. Apply by 9/24 / Attend the Garage+ Info Session on 9/13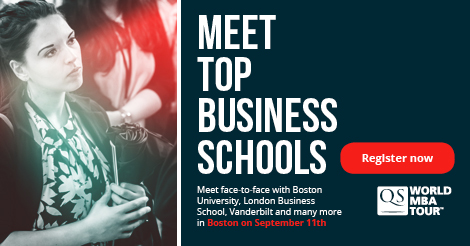 Join QS World MBA Tour and QS Connect Masters - Getting an MBA is hard, but it's not all about the books. You'll also want to take time to build your professional network. Our QS World MBA Tour Boston on September 11th is your chance to meet like-minded professionals who will help you into the next chapter of your career. Network with alumni from Harvard, Wharton and MIT to find out their post-MBA experiences and get advice on your MBA journey. If you are interested in a Specialized Masters in business-related subjects, such as Marketing, Finance, Management and Entrepreneurship, QS Connect Masters event will be perfect for you. Attendees can also apply for a pool of scholarships worth $7 million and a $2,000 tuition scholarship is also available to Connect Masters event attendees. Sept 11 @ 4:30 pm in Boston, MA. Free for BNT members. Register for QS World MBA Tour here and Register for QS Connect Masters here.
Products & Presenters:

1. TwelveJobs / @TwelveJobs - Job matching platform that takes the bias out of hiring! (Amy Seibel) Tech: Ruby on Rails. www.TwelveJobs.com
2. Mini-Mole Robotic Floor Sweeper / @MiniMoleLLC - Sweeping the Nation! (Phil Caruso) www.MiniMole.com
3. RealPlay Baseball - Automated Video Tools for Skill Improvement + Recruiting! (Justin Real) www.RealPlay.us
4. Kroud / @AJ_Kroud - Restaurant wait times - Be at the right place, at the right time! (Ishika Sachdeva) Tech: iOS. www.Kroud.io

5. FriendsUp / @FriendsUp_ - Share and friend on all your social media accounts with just one scan! (Andrew Smith / @NotogSmith) Tech: React-Native, iOS. www.FriendsUp.us
6. RistCall / @RistCall - Wearable patient-nurse communication platform for healthcare! (Srinath Vaddepally / @SrinathVaddepal) Tech: Java, Android. www.RistCall.com
7. Point Motion / @Point_Motion - Motion Control Software for Early Intervention Enrichment & Assessment! (Kevin Clark) Tech: Extreme Reality Motion Control, iOS. www.PointMotionControl.com
Apply to present your startup here: http://bit.ly/bntdemo
Agenda:
6:00 to 7:00 - Networking over dinner, including beer, wine and dessert
7:00 to 7:10 - Announcements
7:10 to 7:15 - Foley Hoag LLP attorney Prithvi Tanwar will discuss a hot legal topic.
7:15 to 8:30 - Startup Presentations, Q&A
8:30 to 9:00 - More Networking
9:00 - More networking over drinks across the street, at The Whiskey Priest, 150 Northern Ave. (at Seaport Blvd.), Boston, MA. (optional)
Directions & Parking:
Foley Hoag is in the Seaport West building (155 Seaport Blvd, Boston, MA - main entrance is on B Street). Please bring photo identification and check in at our desk in the lobby to pick up your name tag. You'll also receive an access card to enter. Take an elevator to the 13th floor. Enter the open glass doors and walk down the hall to your right. The coat closet and restrooms will be on your right, before you reach the meeting space.
Public Transportation:
Foley Hoag is in the Seaport West building, right next to the MBTA Silver line World Trade Center Station. Walk 1 block north on World Trade Center Ave and you will see the building on your left. You can also walk there in 15 minutes from the MBTA Red line South Station.

Driving directions:
Use this Google Map to Foley Hoag. Parking meters are usually available on Summer St, while there are some along Congress St, Seaport Blvd, E Service Rd and Boston Wharf Rd. LAZ Parking at 390 Congress St is $15 after 5 pm - enter from Boston Wharf Rd. Use this Google Map to park in their lot. Just a bit further away are the SP Plus Channelside lot ($8 after 3 pm), with entrances at 41 Necco St & 45 Binford St and the VPNE Garage at 10 Necco St ($10 after 4 pm).
Upon Arrival:
This event is 21+. Find our check-in table in the lobby and present your valid photo identification to pick up your name tag and access card.
----------------------------------------- Attendance Terms ---------------------------------------
To attend, your full name and valid email must be submitted when you register for a ticket. Registrants and their guests (collectively, "Attendees") who attend Boston New Technology (BNT) events agree to hold harmless and indemnify the BNT Organizers against any and all claims and actions brought by Attendees from harm suffered at an event, including, without limitation, expenses, judgments, fines, settlements and other amounts actually and reasonably incurred in connection with any liability, suit, action, loss, or damage arising or resulting from the Attendee's attendance of a BNT event. By sending an affirmative RSVP, Attendees thereby acknowledge that they are willingly assuming any and all risks associated with attendance of a BNT event, and will hold BNT Organizers harmless against any and all harm which may arise due to said attendance. Attendees also agree to be contacted by BNT. Attendee contact information will never be shared with other parties.
----------------------------------------- VIP Membership Terms ---------------------------------------
People who purchase a VIP membership (collectively, "VIP Members") agree to hold harmless and indemnify the Boston New Technology (BNT) Organizers against any and all claims and actions brought by VIP Members from harm suffered at any event hosted or promoted by BNT, including, without limitation, expenses, judgments, fines, settlements and other amounts actually and reasonably incurred in connection with any liability, suit, action, loss, or damage arising or resulting from the VIP Member's attendance of such events. Tickets to BNT events are guaranteed to be available to VIP Members before they are made available to the general public. Members may have as little as one week to register and save their spot. Also, members should arrive within the first half hour of any event to ensure entry, or notify the organizers about their late arrival. To gain entry to BNT events, you will generally need to show valid photo identification. On rare occasions, our event venues may require attendees to be at least 21 years of age. VIP Members also agree to be contacted by BNT. VIP Member contact information will never be shared with other parties.