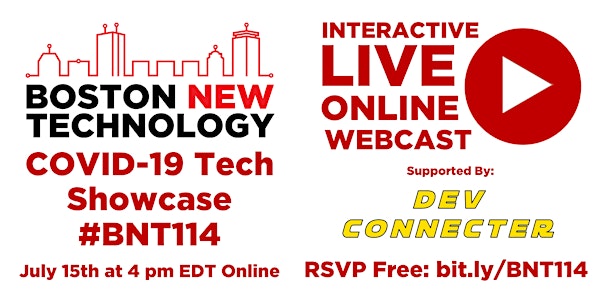 Boston New Technology COVID-19 Tech Showcase #BNT114
Description
Join members of BNT's 50k network to:
See 6 innovative and exciting local COVID-19 Tech demos, presented by startup founders
Network virtually with attendees from Boston, Austin and beyond

Ask the founders your questions
Please register with a valid email address and you will immediately receive an email with the link you need to join this webcast and our online group!

Please follow @BostonNewTech and support our presenters by posting on social media using our #BNT114 hashtag. We'll retweet you!
Brought to you by:

Dev Connecter - Do you need developers to build your apps, websites or software? We will connect you with the best developers, development firm or hiring service, based on your specific needs, goals and priorities. Our trusted, vetted developers and partners offer excellent services and value, for outsourcing projects, staff augmentation, and for hiring contractors and full-time staff. We also help clients develop their technology strategy, roadmap and requirements. Contact Chris Requena for a free consultation, so he can learn about your needs, and offer advice and recommendations. Email: Chris "at" DevConnecter.com

Kaiburr - DevOps as a Service. Want to automate your software release process and optimize your cloud services, so you can focus on innovation, features, and customers?
Kaiburr AllOps is a Unified Platform for Product Delivery & Operations. Focus on rapid core software development, leaving the automation, deployment, security, optimization and governance to Kaiburr. AllOps is the new DevOps and includes DevOps, SecOps, DevSecOps, CloudOps, ComplianceOps, TestOps, DataOps and AIOps. Kaiburr will reduce your costs, expedite your product delivery, improve your security and compliance, streamline app migrations and provide robust monitoring and reporting.
For a free assessment and advisory session about your software product delivery with Kaiburr CEO, Hariram Ananthasubramanian, email: Chris.Requena "at" Kaiburr.com

Chuck Goldstone | Strategies and Stories - It's about your story. Getting audiences to listen. Like you. Do what you want. We offer coaching, creative and strategic services to startups. Crafting persuasive, awe-stoking strategies and stories. Helping clients present confidently. Stand out. Expand markets. Get funding. Be successful. Visit www.ChuckGoldstone.com / email: mail "at" ChuckgoldStone.com / 617-738-8889
Products & Presenters:
1. The Baxter Ventilator / @BaxterAcademy - Designed specifically to address a shortage of ventilators during a pandemic. (Jonathan Amory, Emily Mickool, Zackary Dicelico)

2. Carealine: Reusable Isolation Gowns / @CarealineTweet - Designed with input from infection control and PPE experts to offer better protection at a lower cost, with less waste. (Kezia Fitzgerald)
3. Healthynox / @Healthynox - Healthynox — A Digital Mental Health Platform! (Lucas Roemer)
4. Bola AI Perio Assistant / @Bola_ai - The "Touchless" Perio Exam: We assist dental professionals to see patients with voice tech. Save PPE, time and staff. (Rushi Ganmukhi)
5. Espressly - Starbucks-style mobile ordering apps for cafes. (Scott Moraes) Tech: React Native, PHP, Vue JS.
6. Open+ - A COVID-19 prevention platform powered by Smart Campus ID's. (Tim Hogan)
Agenda (EDT):
4:00 - Welcome & BNT Introductions
4:05 - Startup Presentations (5 minutes each), Q&A (5 minutes each)
5:30 - Wrap Up
How to Join:
Please register with a valid email address and you will immediately receive an email with the link you need to join this webcast. We will also email you our online group for this event, where you can network with the presenters and other attendees.
Attendance Terms:
Boston New Technology (BNT) is dedicated to providing a harassment-free and inclusive event experience for all members/participants. To attend, event registrants agree to these Attendance Terms, which are summarized on the registration page for this event and in the confirmation email sent to registrants. By registering for this event, you agree to share the information you submit with BNT. You and any guests you register agree to be contacted directly by BNT and subscribed to BNT's weekly email newsletter and event announcements, but you can unsubscribe at any time.