Description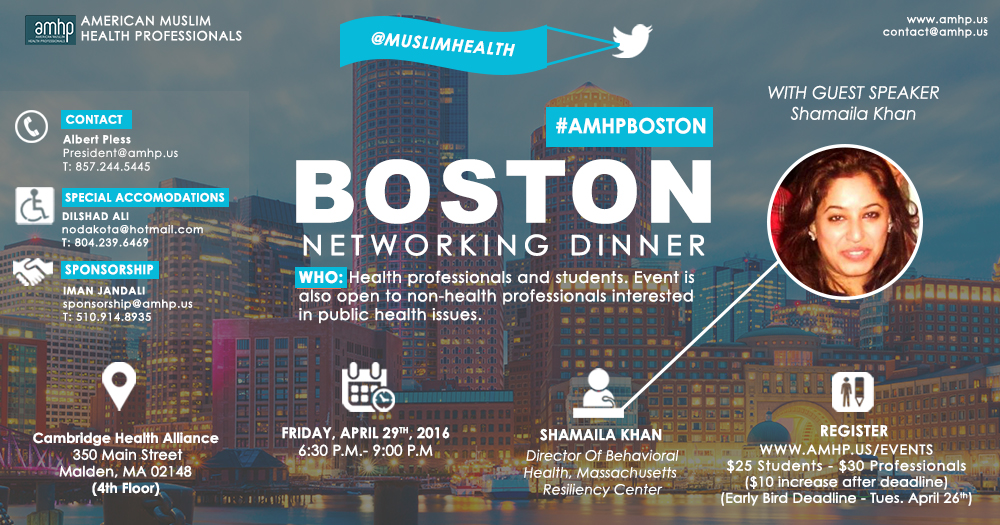 #AMHPBoston
The American Muslim Health Professionals (AMHP) Boston chapter, is excited to host its first event in Boston. Join us for a networking dinner where you can meet fellow leaders, professionals and students in the Boston area that are dedicated to improving lives and making a difference in the community. AMHP Boston - American Muslim Health Professionals hopes to create a collaborative environment to discuss important health issues in Muslim and non-Muslim spaces. The event is in partnership with the Greater Muslim Health Initiative Symposium. This event is also open to non-health professionals interested in public health.
The keynote address will be delivered by the Director Of Behavioral Health of the Massachusetts Resiliency Center, Shamaila Khan. Shamaila is also supervising faculty at the Center for Multicultural Mental Health, at the Boston Medical Center. Learn more about Shamaila here.
DATE & TIME:
6:30 PM - 9:00 PM - Friday, April 29th, 2016
Cambridge Health Alliance | 350 Main Street (4th floor) | Malden, MA 02148
TICKETS:
Professionals: $30 | Students: $25
• REGISTER before Tuesday, April 26th for early bird tickets
• $10 increase after deadline
• 2016 AMHP Membership included with purchase of event ticket


MORE INFORMATION:
• Contact: Albert Pless | (857) 244-5445 | president@amhp.us
• Sponsorship: Iman Jandali | (510) 914-8935 | sponsorship@amhp.us
• Special Accommodation: Dilshad Ali | (804) 239-6469 | nodakota@hotmail.com
* To network with Muslim health professionals/students in Boston, join AMHP-Boston listserv by sending a blank email here and AMHP-Boston facebook page at the link here.
JOIN THE CONVERSATION ONLINE
Date and Time
Location
Cambridge Health Alliance, Commerce Place-4th floor
350 Main Street
Malden, MA 02148