Description
Boston's third annual Mini Maker Faire, hosted by Boston Children's Museum, will be held on October 6-7, 2018. This year's Boston Mini Maker Faire is also enhanced by our partnerships with Artisan's Asylum and New England FIRST Robotics; each will be showcasing their robust Maker skills and culture. Check out our Boston Mini Maker Faire website for details on all the fabulous Makers who will be in attendance.
Boston Mini Maker Faire is excited to welcome makers, inventors, artists, designers, engineers, entrepreneurs, scientists, tinkerers, and all sorts of interesting people who will share their passion, their process, and their products. Boston Mini Maker Faire celebrates all makers and the things they create – from the newest technologies and gadgets, to sculptures, wood, metal, and textile work, food, and more. Come join this all-ages celebration of creativity, get inspired to ignite your own ingenuity, engage in hands-on activities, and see some amazing things you might have never thought possible.
When and Where:
Saturday, October 6, 10am-5pm
Sunday, October 7, 10am-5pm
Check-in and admission is located on the plaza outside Boston Children's Museum at 308 Congress Street. The main Faire will be held inside and outside the Museum. We will have outposts at Dewey Square on the Rose Kennedy Greenway and Waterfront Plaza at the Atlantic Wharf building to extend the Maker Faire fun!
*Given the nature of this special event, the Museum will not have Member Morning hours on this day. The Faire will open at 10:00 AM for both Members and General Admission.
Corporate Memberships, Library Coupons and most other discounts are not valid for this event. For this special event Members receive a 50% discount on tickets upon presenting their valid member ID cards.
Please also note that not all indoor Museum exhibits will be open during the event, and other changes may be in effect to accommodate this special event!
#TheMakersAreComing #BosMakerFaire18
What is a Maker Faire, anyway?
Maker Faire is part science fair, part county fair, part craft fair, and part something entirely new. It is an all-ages gathering of creative doers – tech enthusiasts, designers, tinkerers, engineers, scientists, authors, artists, crafters, roboticists, students, entrepreneurs, and more. All of these "makers" come to Maker Faire to show what they create with their hands and bold minds, and to share how they do it, why they do it, and what they learn. Maker Faires are community-based learning events that inspire everyone to think creatively and innovatively, and to connect with people and projects in their local community.
Who is the Maker Faire for?
This is an all-ages event! While there will be activities for children, the Boston Mini Maker Faire is Boston Children's Museum's biggest event for adults and children. Meet some robots and their builders! Learn how beer is brewed. See 3D printers in action! Try your hand at some woodworking! Learn how to fix a bike! Build a boat! Make something cool all by yourself! This is a celebration of creativity in all its forms, where visitors of all ages will be inspired and entertained.
Questions? Please email contact@makerfaireboston.com or call 617-986-3693.
No refunds will be processed for this event.
The 2018 Boston Mini Maker Faire is hosted in collaboration with Maker Media, Inc., CBS Boston, Artisan's Asylum, and NE First.
Boston Mini Maker Faire is generously supported by: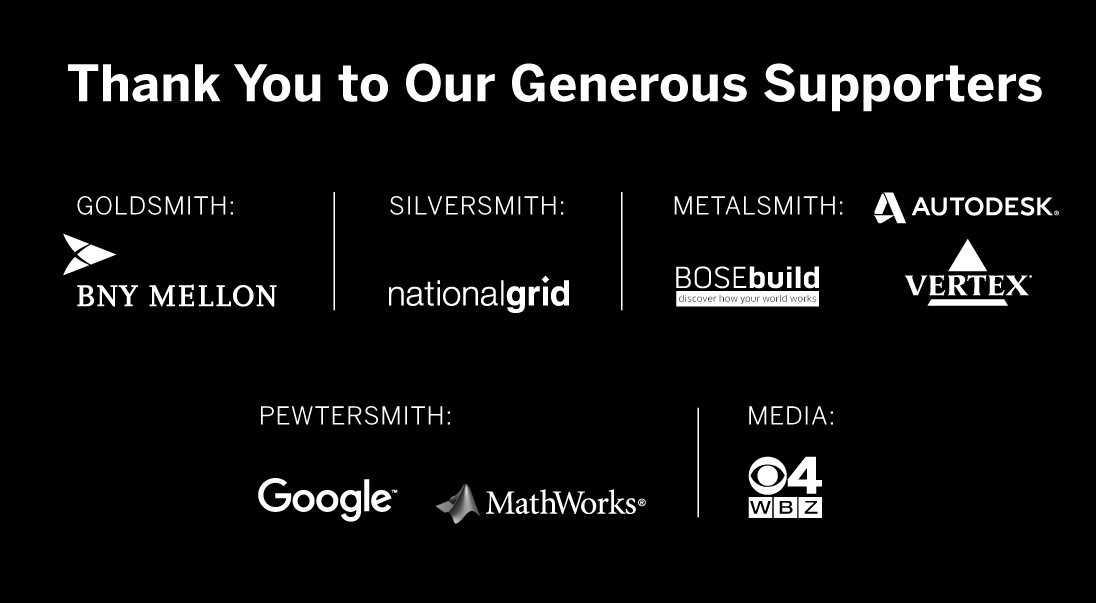 Organizer of Boston Mini Maker Faire
About Boston Children's Museum
Boston Children's Museum engages children and families in joyful discovery experiences that instill an appreciation of our world, develop foundational skills, and spark a lifelong love of learning.   More information about Boston Children's Museum can be found at www.BostonChildrensMuseum.org.