Description
Tuesday evening, August 14, 2012
Danehy Park, Cambridge
6pm - 8pm
It's a pot-luck so please bring food to share.
Make it at home or pick it up on the way. (There is a Whole Foods Market in the neighborhood, and a Trader Joe's across Route 2 from the Whole Foods.)
We will provide drinks, cups, paper plates, napkins, plastic forks, knives & spoons.
Alcohol & barbecuing are not allowed in Danehy Park.
Directions to the park & directions to find us inside the park are below.
Please RSVP (not required, just to help us estimate the numbers).
---
Directions to Danehy Park in Cambridge
Take Route 2 to the Concord Ave. rotary (Sozio appliances).
Exit on Concord Ave. (just to the right of the generic-brand gas station).
Go 7 short blocks and turn left at the traffic light onto Walden Street.
Take your first left at a light onto Sherman Street.
Near the next (possibly flashing) light, turn left into the Danehy Park Sherman Street lot.
If this lot is full, use the 2nd map below to find additional lots, look for legal on-street parking, or park near the movie theater in the Fresh Pond Shopping Center & walk up New Street & through the park.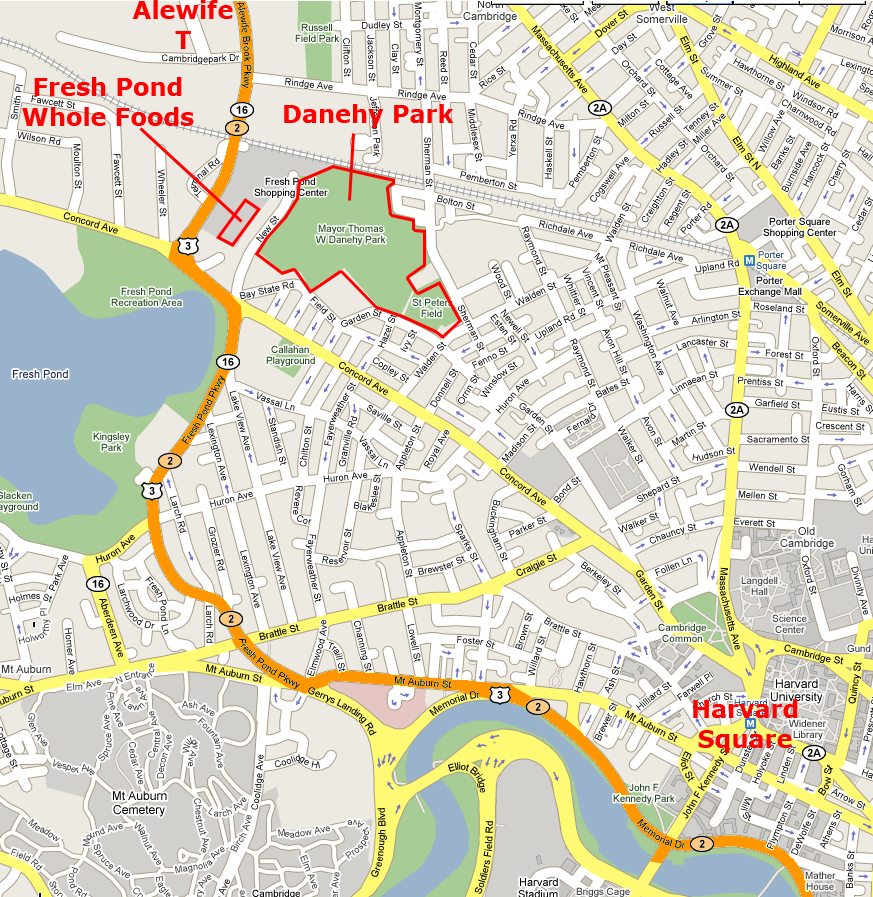 ---
Finding Us Inside the Park
Danehy Park is quite large.
If you parked in the Sherman Street lot, just walk into the park along the main path & look for the bright orange tablecloths on the right.
If you parked anywhere else, use this map to help guide you to the bright orange tablecloths.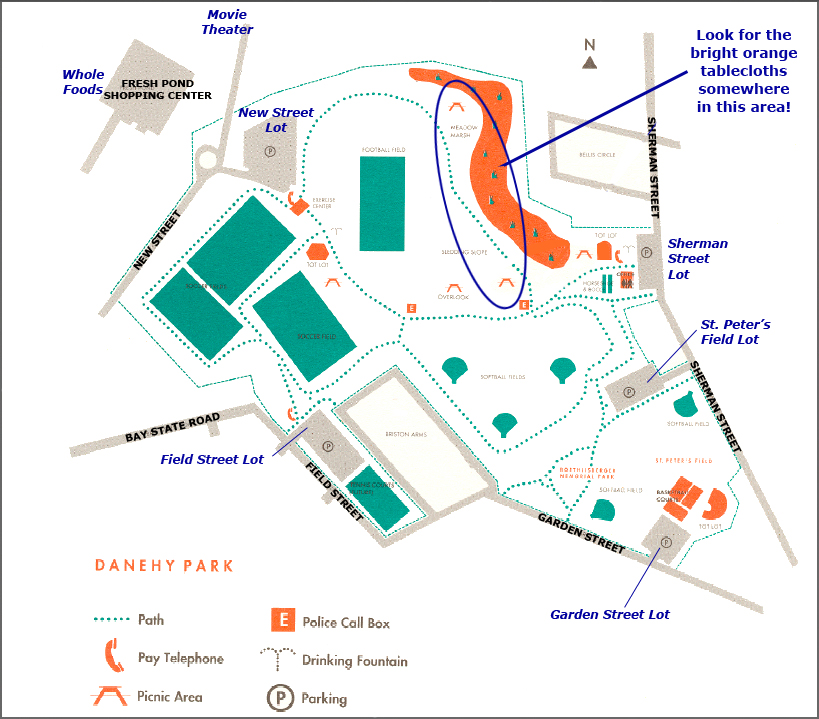 Organizer of Boston Interactions Summer Picnic 2012
*Boston Interactions is a loose consortium of Boston-area HCI-related organizations, including BostonCHI, UXPA Boston, UXPA NH, Boston-IA, IxDA Boston, NECHFES, Refresh Boston, STC New England, NEASIS&T, and IEEE/Greater Boston ACM.
We have a shared calendar at https://www.bostonchi.org/boston-interactions-calendar/