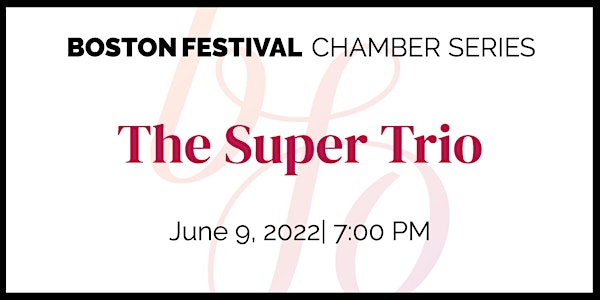 Boston Festival Chamber Series: The Super Trio
Join the Boston Festival Orchestra for their in-person immersive Chamber Series--listen, learn, and love classical music like never before!
When and where
Location
Harvard Musical Association (Marsh Room) 57A Chestnut Street Boston, MA 02108
About this event
For centuries, composers of classical chamber music have utilized the power, expansiveness, and expressivity of the Piano Trio, consisting of violin, cello, and piano.  From the ultra romantic, to the wild and unhinged, this concert combines four movements from four different iconic Piano Trios to create the ultimate Super Trio!
BFO Artistic Director Alyssa Wang takes you through a classical music journey designed to inspire new listeners, classical music veterans, and everyone in between! In the Harvard Musical Association's intimate space, you can interact with BFO musicians up close, ask questions, converse with your fellow audience members, and have a wholly unique and personal experience.
We hope you will join us for this FREE event!
PROGRAM (selections from):
C. Schumann, Piano Trio in G Minor​
Shostakovich, Piano Trio No. 2 in E Minor
R. Schumann, Piano Trio No. 2 in F Major
Smetana, Piano Trio in G Minor
Alyssa Wang, violin
Aron Zelkowicz, cello
Ruoting Li, piano
*Attendees must adhere to Covid-19 safety protocols. We ask all attendees to be vaccinated and masked.*