Description
09 | 21 | 17
BOSTON EN VOGUE – Boston Fashion Week!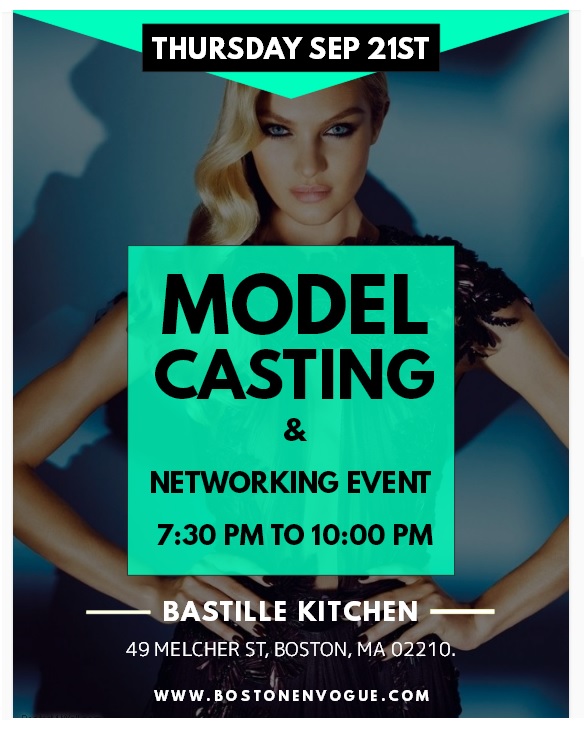 @ BASTILLE KITCHEN: 49 Melcher St, Boston, MA 02210.
RUNWAY – PRINT – GLAMOR
Casting models for European inspired collections for Boston fashion week shows in October, & New York Fashion week show's in February.
REQUIREMENTS: Models must wear Heals, fitted Cocktail Dress, bring Photo & be prepared to walk. Select models may be involved in a photo shoot the next week.
MODELS ONLY ALLOWED during model casting! 7:30 PM TO 10 PM
FASHION NETWORKING EVENT 10 PM
The fashion networking event is organized for all fashion citizens, professionals, established and emerging fashion & beauty creatives who want to grow their brand, career and to also gain many professional industry contacts. Network with industry insiders, and connect with people who want to network and collaborate. Come to network and grow your contacts, while enjoying a fantastic cocktail!
REQUIREMENTS: Size 0 to 4. - Have Photo or comp card. - Be able to walk.
** GLAMOUR / PRINT: Women - 5'2 to 5'6.
** RUNWAY MODELS: Women - 5'8 & taller.
** Men: 6ft or taller, cut, 28 to 34in, waist. - 40 to 42 in chest.
@ BASTILLE KITCHEN: 49 Melcher St, Boston, MA 02210.