Description
10 | 04 | 17
BOSTON EN VOGUE- BOSTON FASHION WEEK
CLASSICAL LUXURY/ DESTINATION FASHION PRESENTATION: CUBA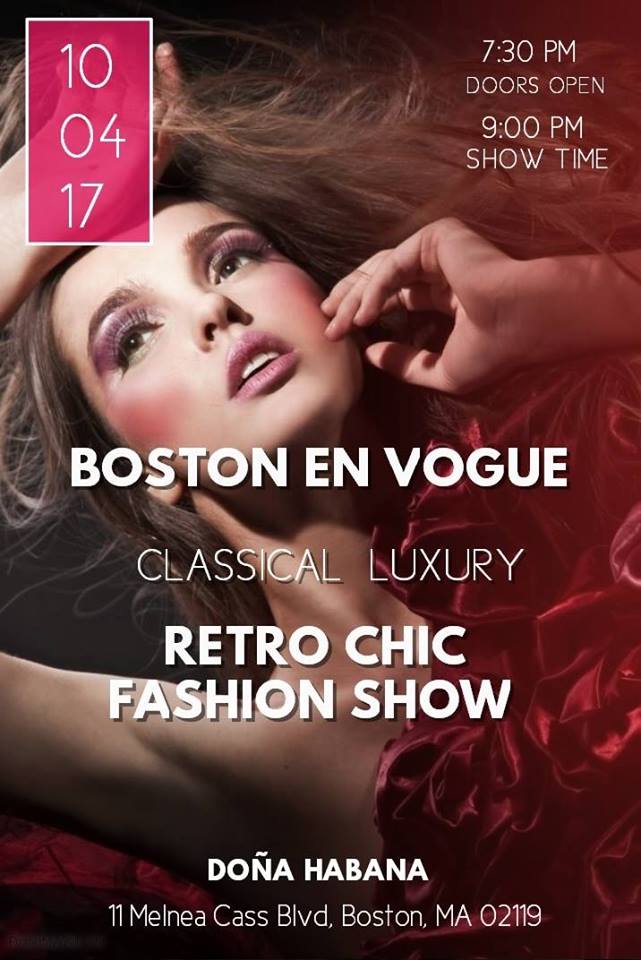 THE JET SET HEYDAY OF 1950's CUBA
On October 4th our retro-chic fashion presentation will be one of the most entertaining and fashionable events for the Boston fashion season. Reminiscent of Havana Cuba's Tropicana we are creating a unique atmosphere for our retro chic luxury fashion event. The fashion platform will be ablaze with unique, colorful and creative VIP fashion event in a unique setting reminiscent of the jet set heyday of 1050's Cuba.
Reminiscent of the decadent jet-set heaven of 1950s Havana, we are creating a unique atmosphere for our retro chick but modern fashion collection. A VIP only boutique fashion presentation with Cuba's 1950's Tropicana as inspiration. Havana's Tropicana a pleasure dome where the shows were dazzling, the gambling was high-stakes, and the attendees included Marlon Brando, Ernest Hemingway, Rita Hayworth, and J.F.K., to name a few.
All this takes place at DOÑA HABANA a chic restaurant near the south end, bringing Boston some added Cuban flavor. A Boston hot-spot with a menu of classic Cuban cuisine and Havana-inspired décor. The perfect host venue for Boston En Vogue's Jet set series of luxury fashion events.
The Brony Mixx Dance Project will be providing the musical direction for the evening, an international duo with the dance versatility. The Brony Mixx Dance Project is sure to provide a musical experience unprecedented to any genre. During Boston En Vogue & Luxury MODA USA's event on May 24th BDP will be creating a unique mix of Cuban, Latin, and dance music giving you a unique experience during our VIP event.
7:30 PM - DOORS OPEN.
8:00 PM - VIP HOUR & NETWORKING: A destination fashion presentation is not complete without authentic Cubin hors-d'oeuvres. During our VIP hour, we are celebrating Cuban food with authentic Cubin appetizers. Tasty, unique appetizers with flavor influences from Spain, Africa, and the Caribbean! 8:30 PM - LIVE DJ. Brony Mixx Dance Project.
9:00 PM - FASHION PRESENTATION.