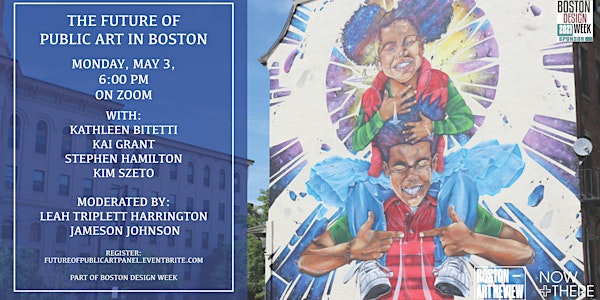 Boston Design Week: The Future of Boston's Public Art
Co-Hosted by Now + There and Boston Art Review for Boston Design Week
About this event
Boston Art Review editor-in-chief Jameson Johnson and Now + There assistant curator Leah Triplett Harrington will host a conversation with artists, curators, and community leaders around the future of public art in Boston. This panel will overview current trends and topics in the field, with a special focus on public art's role in creating a more culturally equitable Boston.
Panelists:
Kathleen Bitetti is a practicing visual artist based in Boston, Massachusetts (U.S.). Since the early 1990s, her art work has involved the creation of conceptually based sociopolitical objects, installations, and community-based projects. She is also a curator and arts administrator with over 30 years of experience. For over twenty five years, Kathleen has been advocating and advising on local, state, and national levels for artist's rights, first amendment and intellectual property protection, access to affordable health care & health care reform, arts funding, small business issues, the creative and cultural economies, and the development of free or low cost resources/services for artists working in all genres, small arts related businesses, cultural nonprofits, and grassroots organizations. She has helped to craft state and national legislation and regulations. For more information and to contact her: www.kathleenbitetti.com
Kai Grant is a Roxbury Native creative-turned-entrepreneur. Kai turned to meaningful community placemaking in 2017 when she founded Black Market- Nubian Square's first flexible cultural event space with signature marketplace. Currently, Kai manages Black Market with a strategic lens on reigniting Roxbury's creative economy providing a much needed socio-economic platform for the Community's Artisans, Artists and Activist.
Stephen Hamilton is an artist and arts educator living and working in Boston Massachusetts. Stephen's Work incorporates both Western and African techniques, blending figurative painting and drawing with resist dyeing, weaving, and woodcarving. Each image is a marriage between the aesthetic perspectives and artistry of both traditions. As a Black American trained in traditional west African artforms, he treats the acts of weaving, dyeing, and woodcarving as ritualized acts of reclamation. he uses traditional techniques and materials native to West Africa to reclaim ancestral knowledge dissociated from Africans in the Americas, during the transatlantic slave trade. The work explores and heavily references the Black body in pre-colonial African art history, creating visual connections between the past and the present. This forms a body of work, which serves as a conceptual and visual bridge between the ancient and modern worlds. Through this, he explores elements of black identity through time and space on its own terms.
Kim Szeto (she/her) is currently the Program Director for Public Art at NEFA. Kim grew in Boston's Chinatown neighborhood. Kim has a background in environmental justice and food systems change, and is interested in the intersectionality of public artmaking in shifting public culture and social change.
A Zoom link will be provided closer to the event date.
We will work with any and all members of our community to ensure accessibility needs are met for this event. Due to limited resources, we ask individuals to please reach out at least one week in advance with any accessibility requests.
Please contact jameson@bostonartreview.com with any questions.
Pictured: Rob "Problak" Gibbs, Breathe Life 3, 2019. On view at 808 Tremont Street. Presented by Now + There.
Image ID: A large technicolored mural on the side of a brick building features a small black child with celestial patterns in her pig tails sitting atop the shoulders of another child. The children are grinning and together their hand motions say "Breath Life" in ASL. On the left is a blue transparent box with the event details.