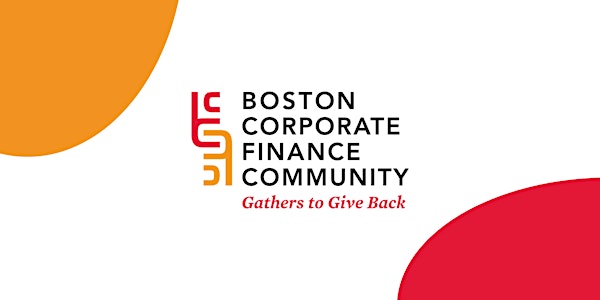 Boston Corporate Finance Community Gathers to Give Back 2022
Join us for Boston Corporate Finance Community Gathers to Give Back 2022 Benefiting More Than Words!
When and where
Location
Battery Wharf Hotel Boston Waterfront 3 Battery Wharf Boston, MA 02109
About this event
This year on Thursday, October 6, 2022, Boston's corporate finance community will unite for the 4th year to celebrate our camaraderie and our partnership with More Than Words. Our evening will include an extended networking cocktail reception and a short program featuring More Than Words young people.
Tickets are limited to two per person. To bring a larger group, please view sponsorship opportunities at: https://www.bostoncorporatefinancecommunity.com
About The Boston Corporate Finance Community
The Boston Corporate Finance Community (BCFC) has established a pre-eminent reputation for its collaboration and leadership in all aspects of corporate finance and debt capital markets. The BCFC involves firms dedicated to Corporate Finance, Commercial Banking, Investment Banking, Private Equity and Specialty Finance while working closely with trusted advisors in the Accounting, Asset Valuation and Disposition, Restructuring, Legal and Auditing fields.
To network within the community, give back to those in need and to celebrate a collective entrepreneurial spirit, the BCFC has forged a long-term partnership with an innovative and outstanding Boston nonprofit social enterprise, More Than Words (MTW). Since the inaugural Gathers to Give Back event in 2018, the BCFC has contributed $930,000 to MTW to support their operations and the incredible impact they make in changing lives of disadvantaged youth.
About More Than Words
More Than Words (MTW) is a nonprofit social enterprise that empowers over 300 youth who are in the foster care system, court-involved, homeless, or out of school, to take charge of their lives by taking charge of a business. Youth manage two retail stores, an online bookselling operation, a growing used clothing business, and an e-commerce platform while gaining critical life skills and work experience. They also participate in youth development programming and life skills curriculum to achieve personal goals.
After a habit-forming, skill-building 6-12 months in the core program, graduates go on to achieve measurable, positive outcomes in education, work, and life. 84% of graduates are productively engaged in work and/or school and 95% of graduates have or are on track to earn their high school diploma or equivalent. MTW youth are part of their own solution; they have skin in the game, managing a robust business that contributes 40% of the program budget. This year, MTW youth will source 4M books, manage an online inventory of 140,000 books, fulfill over 750 online orders per day and earn $3.5M in gross sales.