Description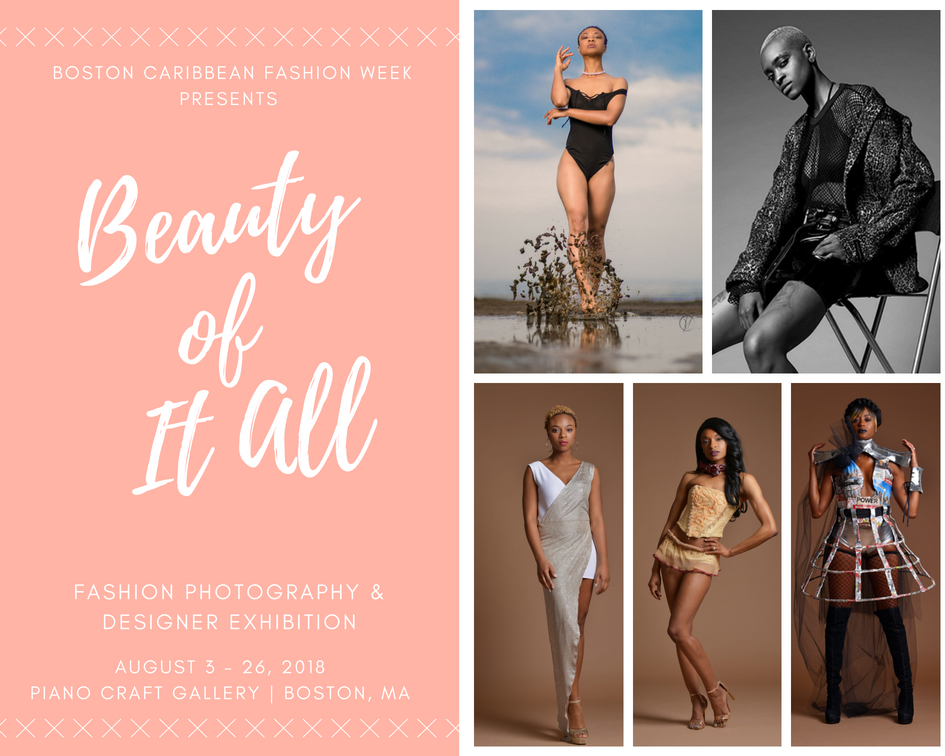 Boston Caribbean Fashion Week
Presents
Beauty of It All
Fashion Gallery exhibit featuring fashion photographers and designers BCFW has worked with over the past 5 years.
Featured fashion photographers are Daniel Irvin and Tobi Makinde
Daniel's exhibit " Eye of the Beholder" Daniel take you in his world where you understand beauty from his perspective.
Tobi's exhibit "Photo Canvas; The Beauty in Photography in Art" Tobi's focus has been portraits, beauty, and using the people as his canvas. He aims to capture beauty through the eyes of his lens. His goal has always been to inspire his viewers to understand the possibilities of imaginative image making.
Featured designers are Sparklle Thames, Stephanie Raymond, Joelle Fontaine, Maria Del Carmen Mercado, Tierrah Reynolds, Yannery Burgos and Richonna Dennis.
BCFW Beauty of It All
Piano Craft Gallery
Aug 3 - 26, 2018
Fridays 6pm - 8pm
Sat and Sun 12pm - 5pm
Join us August 8th for our opening night fashion week and gallery reception. Purchase tickets for that event and the other events at BostonCFW.com