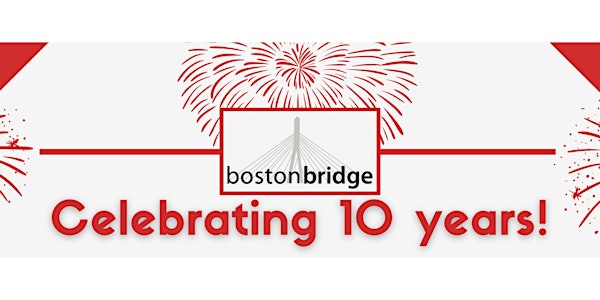 Boston Bridge 10th Anniversary Celebration
Boston Bridge is celebrating 10 years of Leadership, Mentorship, and Professional Development in the Field of Aging!
When and where
Location
MIT Samberg Conference Center 50 Memorial Drive 7th Floor Cambridge, MA 02142
About this event
The deadline to RSVP for this event is September 8th at noon eastern time.
Ten years ago, it was 2012. President Joseph Biden was a vice president, the London Olympics were in full swing, and science was buzzing with the development of the Z-1 space suit and landing of the Curiosity Rover. In Boston, Massachusetts, Barbara Friedman and Elana Kieffer were conspiring and collaborating to build a local professionals network with connections to work in the field of aging and older adults. Fast forward ten years later to today - Boston is showing signs of a new sort of innovation cluster, an opportunity if you will, to transform into the Silicon Valley of aging. Barbara and Elana's vision of a professional development organization became Boston Bridge, Inc., one of the longest continually-running organizations of its kind.
You are cordially invited to join the Board of Boston Bridge, Inc. and the MIT AgeLab in celebrating a decade of convening leaders, mentors and emerging professionals in the field of aging. Help us to shape the next decade ahead in the Longevity Hub amidst the transformation of an aging America.
Join us for a meaningful night of opportunities to network, a delicious light dinner (and cake!), comments by well-known people in the field of aging, awards, and a keynote speech from Founder and Director of the Massachusetts Institute of Technology (MIT) AgeLab, Dr. Joseph F. Coughlin, PhD.
- - - - - - -
On MIT's masking policy: Face coverings are now optional in most indoor spaces at MIT. Individuals who are unvaccinated or not up to date with their vaccinations are strongly encouraged to continue wearing masks per Massachusetts DPH guidance. All community members are asked to respect others' choices on masking and to be respectful of those choices when discussing mask usage. MIT's face covering policy and other Covid policies are subject to change if public health conditions change on campus or in surrounding communities, or if local, state, or federal guidance changes.
Parking is available after 5PM for MIT affiliates in the Amherst Street E51 lot. Paid garage parking is available in the Hayward and Sloan garages. We strongly encourage attendees to take public transportation (Kendall/MIT stop) to our event.
Please arrive between 5:30-6PM ET for networking and appetizers! Event programming begins at 6PM.
For those unable to attend this event in-person a livestream of the program will be available via Boston Bridge's Facebook page.
Thanks to IDSA Boston for their media collaboration on this event.