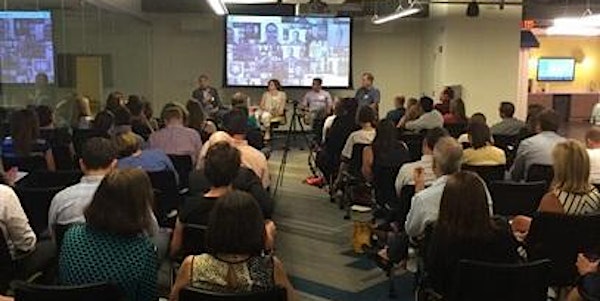 Boston Area Talent Sourcing Association (BATSA) presents the Recruiting Inf...
Event Information
Location
Constant Contact HQ, InnoLoft (Great Room South – 1st Floor)
1601 Trapelo Rd
Waltham, MA 02451
Description
We are excited to announce our 2nd educational event (no sponsor presentations!) for the Boston Area Talent Sourcing Association, free and open to the area's sourcing/recruiting community. Our first presentation had over 100 in-person attendees and we expect at least as many for the candid, living legend sourcing/recruiting expert, Steve Levy, coming up from NYC to present: Sourcing Unleashed: No Secrets Withheld, No Sacred Cows with Steve Levy, the Recruiting Inferno.
If you've ever seen him present at SourceCon, RecruitingTrends, etc., or read his RecruitingInferno.com blog, then you already know why we're impressed. But he's not hyperbole - he's legit and proven, and he shares. Take advantage of his amazing expertise by attending his only scheduled 2015 Boston area appearance. This new presentation is jam-packed with some of his amazing techniques on how he achieves an e-outreach response rate of nearly 100% (vs. the industry inmail average of 13%), finding the right names faster, how to bypass gatekeepers and be real and technically competent on the phone with rockstar candidates in a way that resonates, and more! He will also answer a wide range of questions (submit in advance for priority consideration by tweeting your question to @LevyRecruits and end with #BATSAVIP hashtag) like:
What cool tools and proven methods do I use that makes me more effective than 99% of sourcers/recruiters?

Why is LinkedIn destined to implode and what should you be doing about it now?

What aspects of your sourcing suck and how do you fix them?

How do I get hiring managers to do the right things from the sourcing intake session and after?
WHERE & WHEN:
This event will be held at Constant Contact's HQ in Waltham. Use on-site free parking lots at 1601 Trapelo Rd., Waltham, MA and proceed to the InnoLoft's Great Room South (1st floor). PRE-REGISTRATION REQUIRED to guarantee your free seat - space is limited:
6pm-6:50pm: Refreshments* and best practice-sharing sourcing subtopic group peer breakouts on: boolean search, effective emails & inmails, employment branding & social networking, CRM/ATS/automation, data/metrics/models for sourcing teams, diversity & military sourcing, phone sourcing & cold calling, and more
6:55pm-8:15pm: Steve Levy presentation (including interactive Q&A)
8:15pm-8:30pm: Sourcing Guru Tips
8:30pm-9pm: Refreshments and networking (also BATSA steering committee meeting for future planning, open to new participants)
PLEASE THANK OUR EVENT SPONSORS
Without which this event wouldn't happen (and yes, we could use another - click the gray "Contact The Organizer" button at upper right if your company might be able to support):
What is BATSA?
Our volunteer-led association's mission is to promote Sourcing as a respected function and career path within the recruiting and competitive intelligence industries, teach tricks of the trade to aspiring professionals, and encourage interaction among Sourcing practitioners and leaders to foster dissemination of best practices in the greater Boston area (inclusive of MA, RI and NH).
*Yes, we'll also have matzah and other kosher for Passover items if you can't eat the pizza, cookies, etc.
Date and time
Location
Constant Contact HQ, InnoLoft (Great Room South – 1st Floor)
1601 Trapelo Rd
Waltham, MA 02451