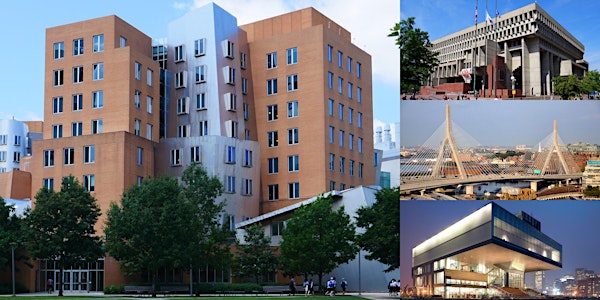 'Boston Architecture, Part III: The Brutalist Style' Webinar
Can't make it live? Register and get access to the replay for one week after the series finale! New York Adventure Club | AdventureClub.com
About this event
***Register for the entire Boston Architecture series by clicking here. All webinars in this series will remain active for one week after the series finale***
From its founding in 1630 to the present day, Boston, Massachusetts has had a unique place in the annals of American architecture that's been nothing short of astounding. That's because for over 300 years, it's been the testing ground for architectural styles that have gone on to influence building design across the nation and world. What architectural styles got their start in this New England enclave and what ground-breaking styles are taking hold today? From the works of the first American-born architect to the influence of European expatriates, it's time to explore the history of Boston's architecture and its unique place in the story of America.
Join New York Adventure Club for a three-part series on the history of Boston architecture, where we'll examines the buildings and structures that have made Boston unique in its influence on American cities. In Part Three — The Brutalist Style — we'll explore how a fresh wave of European influence merged with American trends to make Boston a capital of a new and aggressive style known as Brutalism.
Led by architectural historian David V. Griffin of Landmark Branding, this digital showcase featuring a selection of unique structures will include:
A brief overview of the skyscraper in Boston
A brief look at how Art Deco and other early 20th century styles were interpreted by the city
The coming of Walter Gropius and other Europeans fleeing WWII and the new formal austerity they introduced
The development by architects such as Paul Rudolph of Boston Brutalism, a heroically scaled attempt to provide a new way for civic architecture to engage with the public
An in-depth look at each building's construction, context, and current status, with a focus on how culture and innovation drive architectural symbolism
Afterward, we'll have a Q&A with David — any and all questions about these unique buildings are welcomed and encouraged!
Can't make it live? Don't worry, you'll have access to the full replay for one week after the entire series concludes!
Register for the entire Boston Architecture series by clicking here.
See you there, virtually!
*Immediately upon registering, you will receive a separate, automated email containing the link to join this webinar
**For the best possible viewing experience, please ensure you're using the latest version of your internet browser — Google Chrome is the most compatible. Exact technical requirements and a webinar user guide will be shared in the automated confirmation email upon registration.
***A full replay of the experience will be available to all registered guests for up to a week after the series finale
Boston Architecture Series
Part I: The Federal Style
Part II: The Victorian & Beaux-Arts Styles
Part III: The Brutalist Style
Disclaimer
By attending a New York Adventure Club experience, you accept our terms of service.
Categories: Virtual, Art & Entertainment