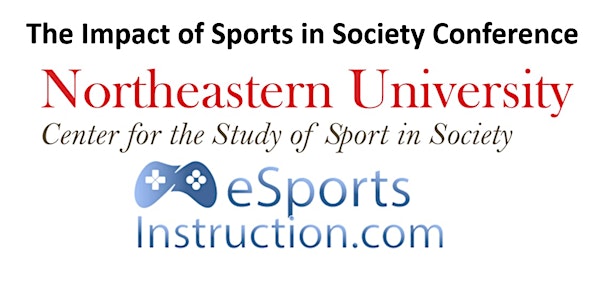 Boston 2019 The Impact of Sport in Society Conference and eSi Business Acce...
Description
The Impact of Sport in Society Conference 2019 will host a series of events during the two-day conference and the pitch event is just one of the events during the two days of the event. More at:
SCHEDULE
​Friday, June 21, 2019
​Conference Topics 10:00 - 3:00
The Financial Impact of Sports on Society
The Social Impact of Sports
Amateur Sports Impact and Pitfalls
Pro Sports the Changing Dynamic
eSports a New Player in the landscape
Sports for Society's Benefit


eSi Business Pitch event

3:00 - 4:30
​



Business Networking Friday Night

5:00 - 7:30

​

Saturday, June 22, 2019,
10:00 am - 2:00 pm
1. Win Al Four - A presentation about the academic requirements for NCAA eligibility to win that college scholarship.
2. An in-depth look a the SAT and ACT College Admissions Exam
"eSports Pitch" Session: eSportsInstruction.com is proud to introduce eSports Pitch - an event dedicated to showcasing eSports, Mobil Apps and related startups with innovative concepts. Why does that matter? Because In 2017, the global eSports audience will exceed 145 million, millennials makeup 57% of U.S. eSports fans and generates $748 million in revenue worldwide rapidly approaching $1 billion+ by 2019. Seating is strictly limited so be sure to get your tickets early.
An Opportunity to present your business or concept to a panel of industry influencers'. Top projects presented to key Angel Investors and Venture Capitalist. (Limited to 10 presentations). Finalist will appear on our new web series which launched on September 2, 2017 and had 2050,000 views.. Take a look at past events https://www.esipitch.com/2019-washington-dc
APPLY To PITCH: http://gust.com/programs/esportsinstruction-com-esports-business-accelerator
This event will feature a Pitch Session on Friday, 1:00 - 3:30, and Business Networking 3:30 - 5:00 pm
This event is in cooperation with the Center for the Study of Sports In Society at Northeastern University at The Impact of Sports in Society Conference 2019
Three non-profit organizations benefit from the proceeds of the conference
Center for the Study of Sports In Society
The NAAAA "Watkins Award" for Scholar Athletes program
Reginald Grant Mentoring Program (RGMP)
More on the Center for the Study of Sports In Society at https://www.northeastern.edu/sportinsociety/
Organizer of Boston 2019 The Impact of Sport in Society Conference and eSi Business Accelerator Pitch Event
eSportsInstruction.com,
eSports Business Accelerator and esiPitch Events
eSportsInstruction.com is a conduit for finding "tools", games, apps, etc., and connecting athletes and educators as information experts. We are a non-traditional accelerator, that connects' investors, with innovators and start-up companies via our events, and web series. 
Event Coordinator: Reginald Grant, CEO eSportsInstruction.com, and Corporate Relations for the Retired NFL Players Congress. 
Former NFL (New York Jets) and CFL player, Consultant, and Author. On the Board of Directors several youth-focused non-profits and NAAAA presenters of the premier award in the nation for high school male Scholar-Athletes the "Watkins Award.