Description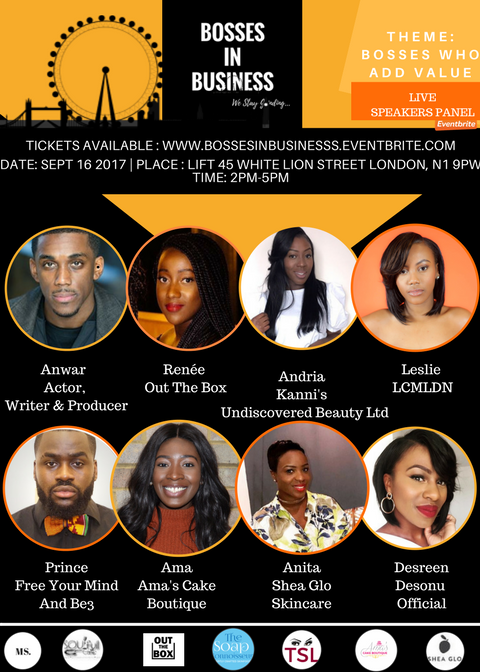 "If you do not drive your business, you will be driven out of business" : This is our philosophy at Bosses In Business.
So we have created this platform to help you re-connect with the reason why your birthed your business ideas in the first place. Let us help you touch back to basis. Are you uncertain on how to make consistent sales in order to add the best value to your market to boost sales and to increase your brands awareness? Then this event might just be what you need!
Come along and meet like minded individuals like yourself who are in business and adding significant value to their market and act as a positive influence to others.
What To Expect:
Our Bosses In Business events are designed to provide a discussion on everyday matters business owners and entrepreneurs experience. As a result of our events, we provide a wide range of activities which will perfect you're networking and personal marketing skills.
The 'Bosses who add value' event will be featuring a tribe of business owners who will speak on their journey as they have added value in their various industries including the entertainment, hair & beauty, fashion, food, creative designs and arts, health and more just to name a few. The aim is for our speakers to connect with you through their good and bad experiences in business in hopes that this will build an atmosphere of honesty and trust for you to ask the questions that you may be struggling with as an entrepreneur and as an individual in todays world.
Our platform on the day will also feature a series of business owners who will be in our exhibition section. This is our way of supporting other companies and businesses. This will give you an opportunity to speak with these brands, purchase their products and so much more.
Lastly, this event is to celebrate and acknowledge your business , goals and dreams as we aim to provide an atmosphere of genuine support, positivity, motivation and unique empowerment that can help you find purpose and direction for your own personal development and growth. We hope you come ready as we propel your business and brand to its ultimate next level together.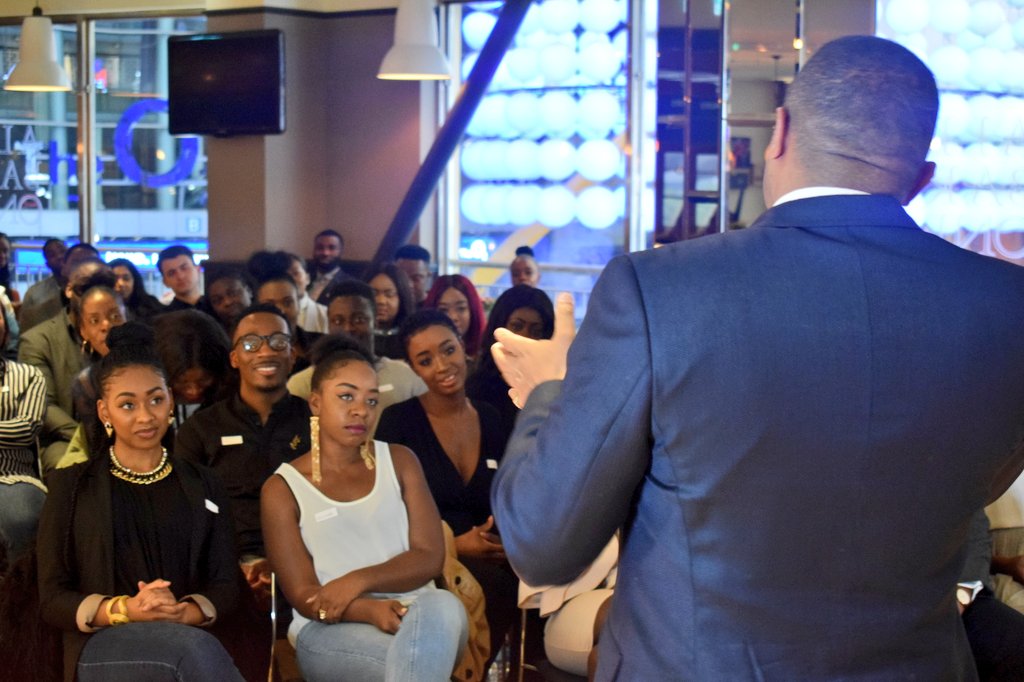 Live Speakers Panel:
Anwar Lynch- Actor, Writer & Producer
Meet versatile Actor, Producer and Writer Anwar Lynch. He has starred in numerous productions such as 'The Bill (ITV1), The Sarah Jane Adventures (CBBC) , Collision (ITV1) and many others television shows. With so much wealth , experience and knowledge in the entertainment and film industry Mr Lynch aims to inspire aspiring actors and actresses who want to join the industry. Also founder of production company Artical Heights he aims to push boundaries and add value.
Leslie McCarthy- LCMLDN Modelling Agency
Meet Leslie, young entrepreneur from Tottenham, London. She is a freelance beauty & fashion photographer. Using her skills and passion for fashion she created her own modelling agency known as LCMLDN. LCMLDN, consists of photography services & female models aged 18 upwards who are based in and out of London. Her agency has been established since May 2016, and have already recruited 15 models which continues to expand every month. She aims to inspire aspiring female photographers and models as well as sharing her experience as she add value to others through her business and brand.
Renée Davis - Out The Box Live
Meet Renée, full time journalist and award winning entrepreneur and founder of the creative hub 'Out The Box'. Out The Box is well known for its strong record of bringing young creatives and great talent together to network and support each other. This hub has added value through their workshops, events and so much more. Ms Davis will be on the live speakers panel sharing her journey in business so far as well as answering any questions you may have concerning starting up a platform like hers or becoming a successful journalist.
Ms Andria- Kanni's Undiscovered Beauty (KUB) Ltd
Meet owner of Kanni's Undiscovered Beauty (KUB) Ltd Ms Andria. Andria is a true go-getter and boss lady who has turned her pain into purpose. This has birthed KUB and 'Think Pretty Hair Salon'. Ms Andria 's six years worth of professional hair dressing has enabled her to execute successfully as a business owner in a highly saturated market. She has added confidence, beauty and style through her services and she is ready to share her experience with you as she joins our live panel. If you are in the hair business and would like additional support on starting your own hair company or service, Ms Andria is a woman we encourage you to tap knowledge from.
Mr Prince Cypraine Schulz
Meet Prince AKA Mr Free Your Mind. Prince is a returning speaker at Bosses In Business. He is the owner of platform 'Free Your Mind And Be3'. Prince is known by many for using his platform to encourage, motivate and help young entrepreneurs to express themselves and be the best versions of themselves. We can ensure you that he will add moral support to your ideals and goals through his platform.
Ama Ankobia- Ama's Cake Boutique
Meet boss lady and cake baker Ama. She is the founder of Ama's cake boutique. Ama's cake boutique is a bespoke cake service that provides clients with tailored cakes for all occasions. Ama has used her passion for cake baking to create some of the best cakes seen. All her skills have been self taught which not only is encouraging but its a talent worth sharing with others. She will be joining the lives speakers panel ready to answer any of your questions about starting up. Ama's Cake Boutique will be providing treats for all the guests on the day.
Desreen Ahanonu- Desonu Official
Meet fashion stylist and Youtuber. Ms Desreen is the founder of the women's online boutique 'Official' and the co-founder of 'Von Hair'. She will be on the live panel sharing her unique experience as well as answering your questions relating to being in the fashion industry as well as Youtube.
Anita Abbey- Shea Glo
Meet our final live speaker panellist Anita. Ms Anita is the owner of skin care line 'Shea Glo'. Shea Glo is well known for its fine shea butter based and organic skincare collection. All products from Shea Glo are hand made and inspired by Africa. If your interests are in skin care and beauty and health products. Ms Anita Abbey is the woman to be connected with on the day. Anita will also be sharing her journey in business and how she adds significant value through her products and professional service. Shea Glo will be sponsoring our event so look out for their products in our gift bag.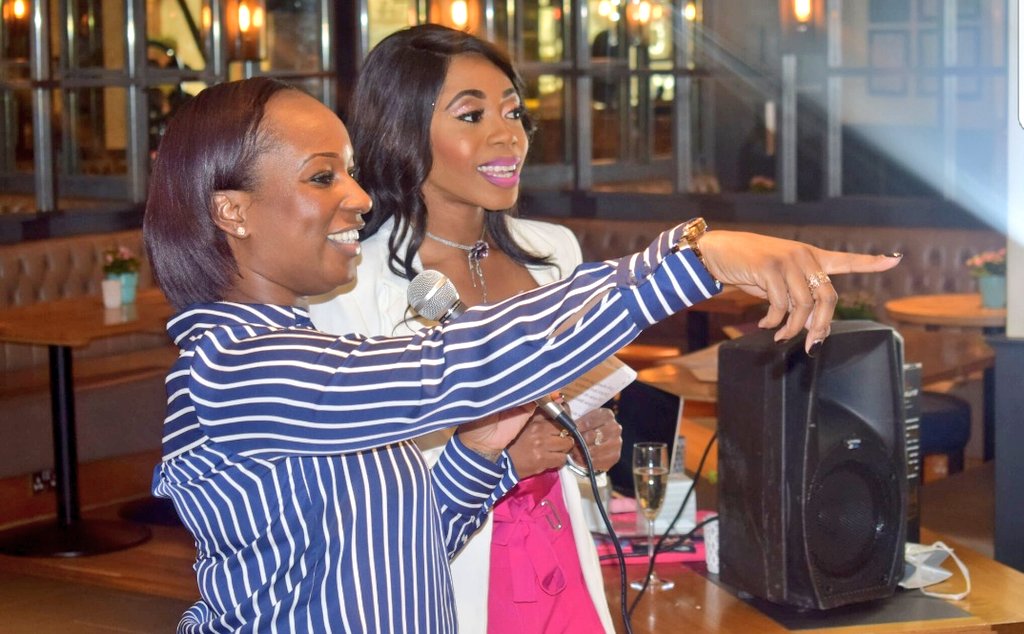 THEME:
Key Words: BOSSES WHO ADD VALUE
BUSINESS SECTION EXHIBITORS
•The Soap Connoisseur
•The Soul Cafe
•Ama's Cake Boutique
•Sheer Glo
•Bosses In Business
WHAT ELSE ?
•Live Speakers Panel & Special Guest ( Will be announced on the day).
•Opportunity To Pitch Your Business
•Networking & DJ , Launch Party, Live Performances
•Live Q&A
•Light Bites, Gift Bags, Photography & Much More
Exclusive 1:1 Worshops Run By:
* Ms Summers with : The Start Ups Master Class
* Cherelene Wilson : London based personality specialist and success coach.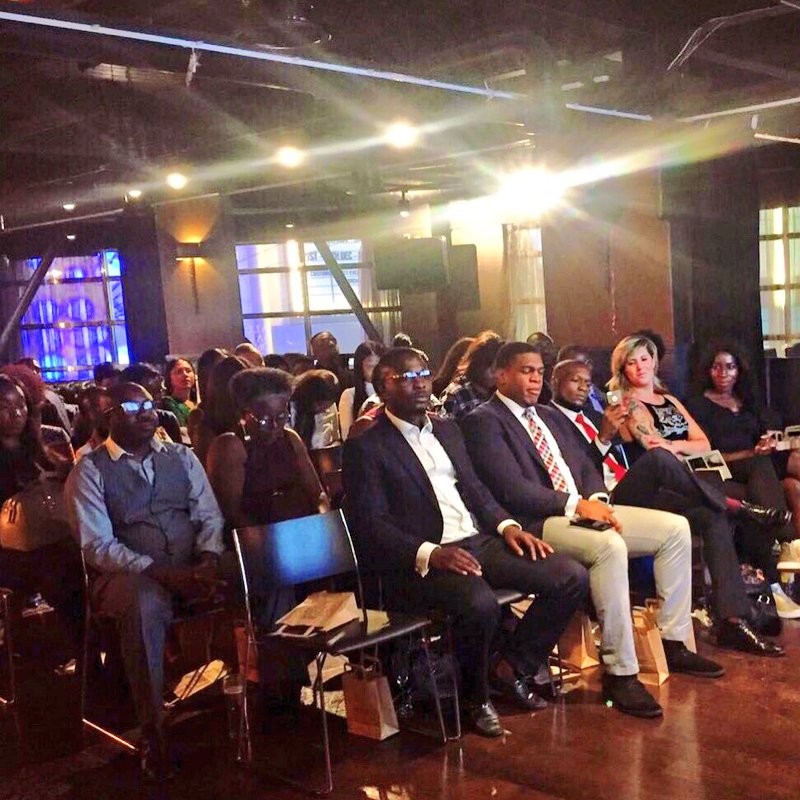 What is the refund policy?
Tickets are non-refundable. If you attend this event and feel you want to make a complaint or have any further suggestions, please send us an email and we will see to this immediately.
No ID, will result to no entry to this event. Attendee must be 16+ or over. All purchased tickets must be shown at the door (paid printed/ digital copies are accepted only).
Venue Directions:
Angel Underground Station, 5 minutes walk.
Buses: 4, 19, 30, 38, 43, 56, 73, 153,
205, 214, 341, 476.
Parking: Available as an advanced booking
For more information email: info@askmssummers.co.uk
Follow us on Twitter: @bossesinbiz
Follow us on Instagram: @bossesinbusiness
Date and Time
Location
Refund Policy