Location
Barterhouse Ybor
1811 N 15th St Suite A
Tampa, FL 33605
United States
Refund policy
Contact the organizer to request a refund.
Eventbrite's fee is nonrefundable.
Join us for the official launch event of our Boss Talks Chapter in Tampa!
About this event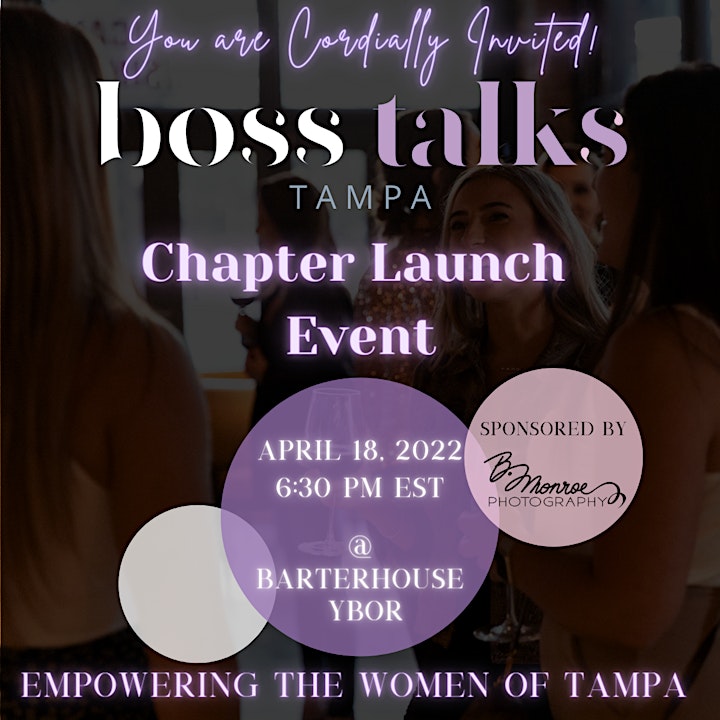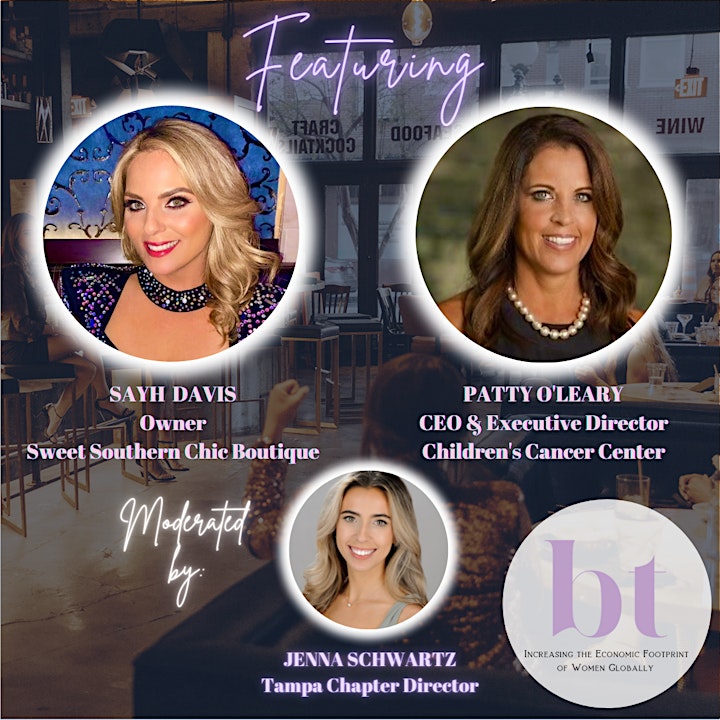 Boss Talks has landed in Tampa!!! Boss Talks is now 13 Chapters strong across the U.S. and Canada with members in 14 countries, and we are excited to ignite a community of women in Tampa. Whether you're looking for a mentor to help you start or scale your business or are a top woman in business looking to send the elevator back down to other women, welcome to the Boss Talks community.
On Monday April 18th, we are pleased to kick off our scheduled events with 2 of Tampa's most powerful business women Sayh Davis and Patty O'Leary. Sayh is the owner of Sweet Southern Chic Boutique, Patti is the CEO and Executive Director of Children's Cancer Center, Patty O'Leary. Sayh and Patty as Tampa Bay business woman developed a mutual respect for one another and their respective business goals for the Tampa community.
Our interactive chat will focus on:
how to stay open and have meaningful business relationships with the ones you weren't looking for
learning the tools to build meaningful, monetizeable relationships
the value of being a part of a network
Find out why Boss Talks is NOT another women's networking organization... we are a mentorship organization that gives both accomplished and up and coming business women a platform to expand their network, knowledge and wealth. Learn about the incredible benefits we provide our members that have been a game-changer for their businesses, careers and lives.
Purchase your ticket early and save! Tickets are $45 until April 13th and include 2 complimentary drinks and hors d'ouevres. After April 13th tickets are $55. Bring a business "wing woman" and save! Get two tickets for $75 until April 13th!
Become a member of Boss Talks and get discounted admission to all in-person events!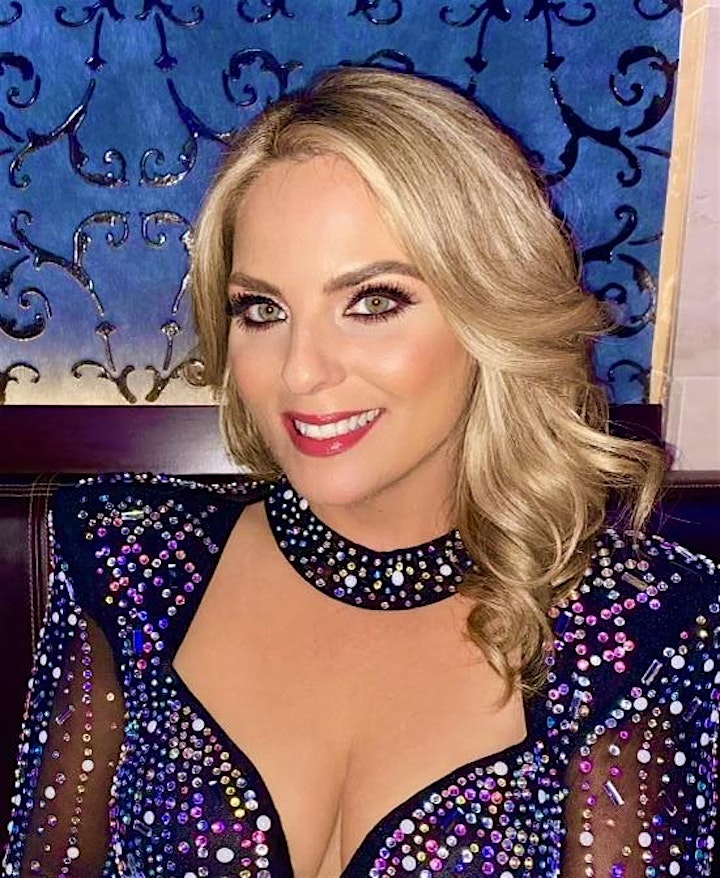 SAYH DAVIS
Sayh Davis is the proud owner of Sweet Southern Chic Boutique located in the heart of South Tampa. Sayh has capitalized on her boutique, operating 6 years strong in March 2022, to create a community of empowered women and as a basis of her philanthropic work. Sayh is actively involved in various charities, including The Childrens Cancer Center, The Humane Society of Tampa Bay, Make-A-Wish Foundation and the Westchase Charitable Foundation through which she finished as second runner up for Tampa Bay Woman of the Year.
Sayh is a Tampa native, where she attended Gorrie Elementary, Wilson Middle, and H.B. Plant High School. She is now thrilled to give back to her alma maters and support the local Tampa community, where she was raised by two loving parents. Graduating as a Golden Panther, Sayh was the captain of H.B. Plant High School's dance team Danceros her senior year. After graduation, she became coach to the H.B Plant High School Dancero's champion level dance team, showing real commitment to the team she once danced on herself. Her dedication to the things she loves in life is a reflection of her fierce loyalty to the Tampa community.
Above all other accomplishments in life, her greatest joy has been her only child, Cameron. As a single mother, she worked from 1998-2015 as an Managing partner, interior decorator and PR consultant at G. DeNome Construction and Peninsular Lumber Company. Here, she discovered her passion of
giving back as she took on the design of a home which directly benefited the Make-A-Wish Foundation.
Although devoted to the construction and lumber business, Sayh's affection for fashion and style grew over the years. With grit and determination, Sayh built her now successful business, Sweet Southern Chic Boutique. Sayh is passionate about strengthening confidence in women and in part does this through fashion. In addition, she is able to give back to her community through living her dream of owning a boutique.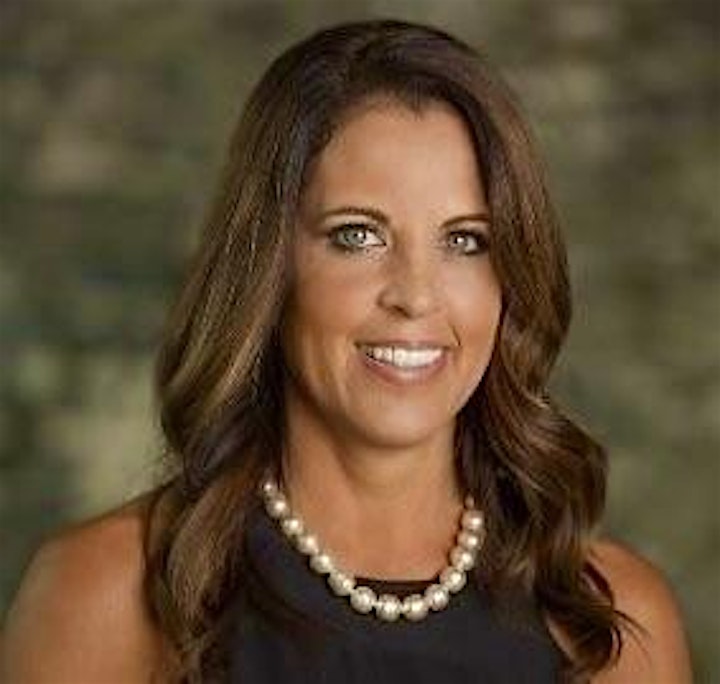 PATTY O'LEARY
Patty O'leary has served as CEO and Executive Director of the Children's Cancer Center for 12 years. She received a bachelor's of science in elementary education with a multi disciplinary concentration and received a minor in psychology. For the better part of 20 years, kids have fed Patty's soul. She has always been driven to help make a difference in the lives of children and their families.
Patty had previously operated Huntington Learning Centers nationwide. She advanced quickly in both New York, and the Orlando centers from Assistant Director to Regional Director and then opened two learning centers in Seattle. Subsequently, she moved to Tampa, Florida where she owned and operated Huntington Learning Center of Tampa. After 10 years of her Huntington Learning Center journey, Patty sold the franchise which at the time was listed as one of Forbes top 25 franchises to purchase.
Patty has worked with great efforts over the last 12 years as the Executive Director and CEO of the Children's Cancer Center. During her time Patty has specialized in board governance, organizational operations such as building strong leadership teams, and stewardship. The Children's Cancer Center holds a four star ranking on Charity Navigator as well as a platinum guide star ranking, which are the highest credentials amongst national assessment organizations. She has combined her education degrees with solid business acumen and seeks creative solutions with complex problems.
Organizations that Patty is actively involved in that have contributed to her success are the Tampa Bay Chamber of Commerce, Westshore Alliance, Working Women of Tampa Bay, The Know, and the Tampa Chapter of American Fundraising Professionals.
Patty has been featured in the Tampa Bay Parenting magazine as extraordinarywomen, The Know Tampa annual publication, The Scout Guide in Sarasota, Anna Maria to Boca Grande, and completed the Bank of America Nonprofit CEO Leadership Program.
About Boss Talks
Boss Talks is a global community empowering women entrepreneurs and business leaders to step out of isolation and level up their businesses and careers to unleash their revenue potential. We provide mentorship by top women entrepreneurs and a safe space where professional women can learn and ask for what they need with no negativity, no judgment, and no fear. We are women who use their collective knowledge and connections to help one another succeed, and who are authentic, unapologetic, and genuinely support one another. We provide the opportunity for women to achieve financial freedom and the power to choose their own destiny. Our mission is to elevate women in business and increase the economic footprint of women globally. We have currently have 13 chapters in the U.S. and Canada including Austin, Chicago, Dallas, Los Angeles, Miami, Nashville, New York City, Orlando, South Florida, South Jersey, Tampa, Toronto and Vancouver. To learn more about joining Boss Talks, visit us as www.bosstalks.com.
About our Venue
Barterhouse Ybor, 1811 N 15th St Suite A - Tampa, FL 33605
At Barterhouse Ybor, Inventive American cuisine and imaginative craft cocktails are the stars of this elevated-yet-cozy bar and eatery. Located just steps away from the 8th Avenue trolley in Historic Ybor, Barterhouse is home to well curated plates and a fancy feeling of nostalgia. The moment you become our guest, you'll be met with a warm dining room emphasized by an open chef's kitchen, fashioned to delight and inspire.
About our Sponsor
bmonroe photography (@b.monroe_photography)
BRANDING-CONTENT-PORTRAITS
Orlando, FL