Event Information
Location
Pavilion Grille
301 Yamato Road
#1201
Boca Raton, FL 33431
Refund policy
Contact the organizer to request a refund.
Eventbrite's fee is nonrefundable.
Join Boss Talks for an evening with Adaliz Calderon
About this event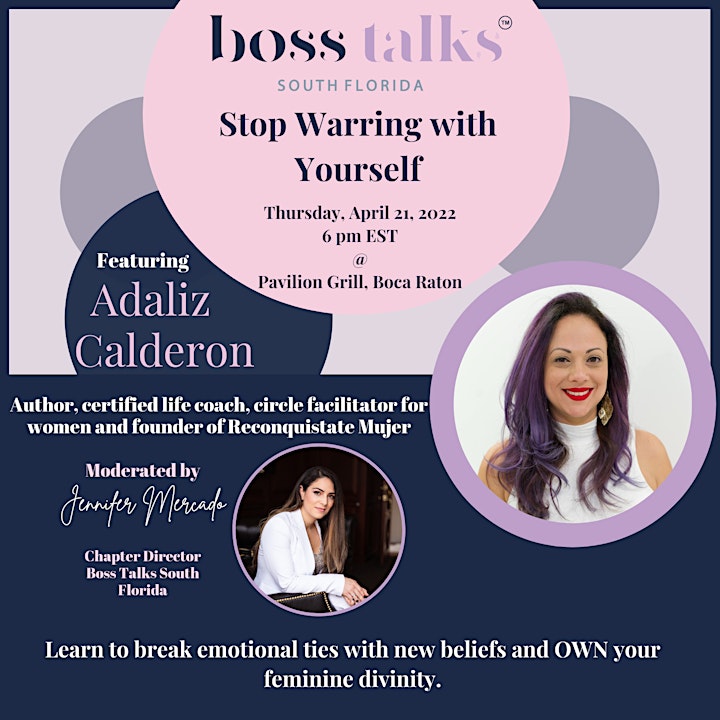 Stop Warring with Yourself
Tema del taller, Deja de estar en Guerra contigo misma
Learning Points:
1- how to transform beliefs that promote waging war with yourself
2- A 3- step process to help you identify YOUR needs
3- Identifying the SuperWoman Syndrome and how to manage it
1. Cómo transformar creencias que te llevan a estar en guerra contigo.
2. 3 Paso para comenzar a cubrir tus necesidades.
3. Cómo identificar el temido "Síndrome de la mujer SuperWomen" (y cómo manejarlo )
About your mentor:
She is an author, certified life coach, circle facilitator for women and founder of Reconquistate Mujer. She teaches women to reform themselves from the the soul out, by teaching them to break emotional ties with new beliefs and OWN their feminine divinity.
In addition to 1:1 sessions, she hosts courses online and has a community to subscribe to. She's been able to help women free their souls, generate self confidence, and go after their dreams. She believes that no being should live under conditions imposed on them by their family, society, religion, etc. Using her "Pleasure Hacker" framework, she teaches healing, development, care and manifestation for women.
Adaliz's journey led her to leave toxic relationships as a young single mom to 3 children. She learned self-love, forging her own path and her passion to help women with purpose. She also runs a podcast, has been a speaker for other platforms and guested on other popular blogs and podcasts.
Adaliz Calderon es Autora, Coach Certificada de Liderazgo y Vida, Facilitadora de Círculos de Mujeres certificada y fundadora de Reconquistate Mujer. Enseña a las mujeres a reformarse a sí mismas a nivel del alma. Al romper los lazos emocionales, crear un nuevo sistema de creencias y poseer su divinidad femenina.
Además de sus sesiones 1:1, dirige cursos en línea y una comunidad a base de suscripción. Donde ha podido ayudar a las mujeres a liberar su alma, generar confianza y perseguir sus sueños. Ella cree que ningún ser humano debería vivir bajo las condiciones, expectativas y creencias impuestas por la familia, la cultura, la sociedad, la religión, etc. Enseña a las mujeres, utilizando su método de Sana, Desarrolla, Cuida & Manifesta y su Framework "Pleasure Hacker"
El viaje de Adaliz para salir de las relaciones tóxicas, con 3 hijos y como madre soltera a una edad muy temprana y desarrollar el amor propio en el camino, impulsa su pasión y propósito de ayudar a las mujeres a ser libres, a ser ellas mismas, en nivel del alma. Y alimenta temas de discusión en su podcast Reconquistate Mujer.
Adaliz ha sido speaker y ha aparecido en podcasts y blogs populares.
Date and time
Location
Pavilion Grille
301 Yamato Road
#1201
Boca Raton, FL 33431
Refund policy
Contact the organizer to request a refund.
Eventbrite's fee is nonrefundable.