BOSS-Talks: Inspiring Entrepreneur Filmmaker Jack Sanders

Thursday, November 1, 2018 from 12:00 PM to 1:00 PM (CDT)
Event Details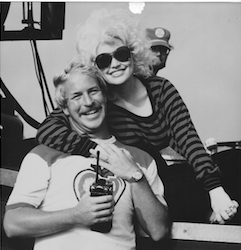 Filmmaker Jack Sanders with Dolly Parton on the set of The Best Little Whorehouse in Texas

Ever wanted to be in the movies or on TV? Our November Inspiring Entrepreneur has produced and directed them. You will be fascinated by this tale of multiple cities: Corpus Christi to Hollywood and beyond. Jack has stories to tell and ideas for increasing film industry opportunities. Come and be inspired.

Your host is Jan Triplett, CEO of the Business Success Center, "The Mother of Austin Networking" and author of The Networker's Guide to Success, and co-author of Thinking Big, Staying Small.
Here's how to join this webinar:
BOSS-TALKS Nov Filmmaker Jack Sanders 
Thu, Nov 1, 2018 12:00 PM - 1:00 PM CDT 

Please join my meeting from your computer, tablet or smartphone. 
https://global.gotomeeting.com/join/535718853 

You can also dial in using your phone. 
United States: +1 (646) 749-3112 

Access Code: 535-718-853 

First GoToMeeting? Let's do a quick system check: 
https://link.gotomeeting.com/system-check

Organizer
We prepare owners and their businesses for growth. We are founders of the Profit Mover Advisory Team™, providing  local, national and international management, funding, contracting assistance, and implementation support throughout the US.