Description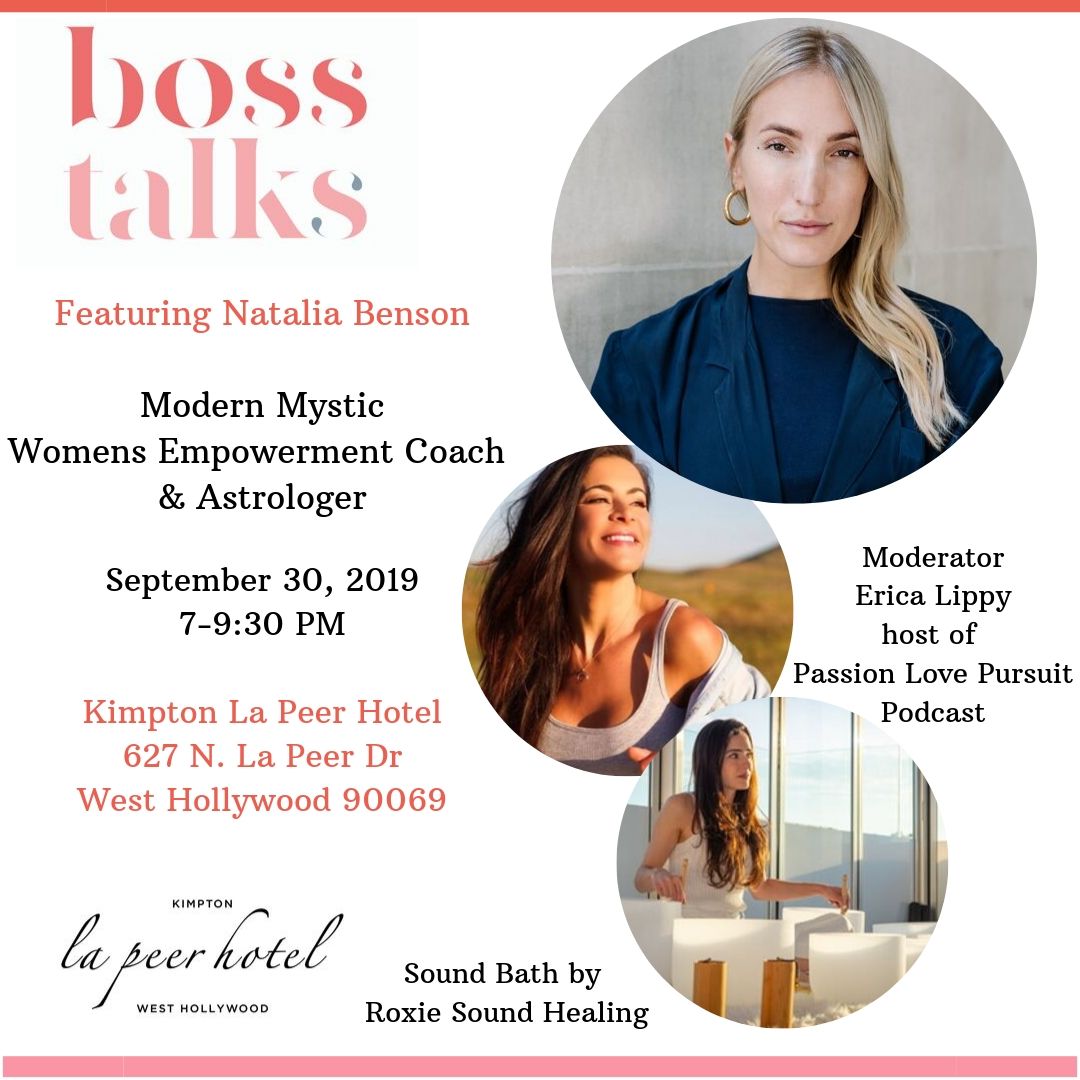 "Spirituality encapsulates self-accountability and knowing how to have an honest conversation with yourself and with the Universe."
- Natalia Benson
Join Boss Talks at the La Peer Hotel for an evening of female empowerment and conversation with Modern Mystic, Women's Empowerment Coach & Astrologer, Natalia Benson. Following networking and a fireside chat, attendees will be treated to a sound healing session courtesy of Roxie Sarhangi.
Agenda:
7:00-7:30 p.m. Networking
7:30-8:30 p.m. Interactive Fireside Chat
8:30-9:30 p.m. Sound Healing - Please be sure to bring a pillow and blanket and whatever else you need to feel comfortable. Yoga mats will be provided.
Please note valet parking is $15. Metered parking is also available.
Sound Healing is a meditative acoustic sound "concert" that brings you to a state of deep relaxation, activating your body's own natural system of self-healing. Simply lie down and go away for a little while by experiencing the soothing vibrations of Crystal Bowls, Symphonic Gong, Ocean Drum, and Koshi Chimes. More here: www.roxiesoundhealing.com
About Our Speaker
Natalia Benson
Natalia Benson is a Women's Empowerment Coach, Astrologer & Modern Mystic. You may recognize her as the former astrologer for Who What Wear. She work largely in the digital space in wellness influencing, blogging & podcasting. Her platforms of choice are Instagram (@natalia_benson) and her website: nataliabenson.com. She runs a variety of live & digital courses for women who want to tap into their spiritual & feminine wisdom to lead a phenomenal, powerful & self-directed life.
Natalia has also worked with the likes of Away, Melissa Shoes, Mother Denim, Well+Good, Jacquie Aiche, Alo Yoga, Google, Conde Nast x Glamour Magazine, The Zoe Report, Bustle, Bliss Skincare, Boscia, OPI, Bacardi & many more, offering her unique brand of pragmatic mysticism that encourages self awareness and a positive outlook on life.
About our moderator:
Introducing Erica Lippy
Erica Lippy is a Los Angeles Native, renowned fit model, and the creator of Passion Love Pursuit; a multiplatform company specializing in health and well-being. Erica is paving her way into a new industry of overall health and well-being. What began as a personal journey to become her best self, eventually lead Erica to a better understanding of the mechanics that help us live a life with purpose and would spark within her a new passion. Erica created Passion Love Pursuit, a place to inspire and encourage others to become the best version of their authentic selves; emotionally, mentally, physically, and spiritually. As the host for Passion Love Pursuit podcast, Erica's intention is to bring on guests that inspire us to become our best self, so that we might step into life more confidently, and live more passionately, and purposefully.
Roxie is a certified sound healer practitioner and abstract artist. She has been practicing meditation for 11 years and connects the transcendental power of meditation to her sound healing sessions and spiritual practice. Roxie Sound Healing curates immersive sound sessions at special locations in Los Angeles. Past and future events include Sunset Sound Healing at a private residence in the Bird Streets (Hollywood Hills), a sacred sound session at Barakat Gallery (guests were surrounded by giant, life size, and small ancient Buddhas and sculptures), rooftop event at Kimpton La Peer Hotel, special sound and art session at the historic Culver Hotel, Sound + Art Installation at Custom Comfort (guests laid on plush mattresses), among other elevated events. Roxie also offers private sessions, facilitating corporate retreats, and special events.
Our venue Partner: Kimpton La Peer Hotel
Just steps from the vibrant intersection of Melrose Avenue and Santa Monica Boulevard, Kimpton La Peer Hotel thrives in the heart of West Hollywood's Design District. The neighborhood's engaging blend of art, architecture and fashion are reflected throughout this design-centric hotel, evoking the best of its tasteful surroundings. Kimpton La Peer Hotel features 105 luxury guestrooms and suites, a loungeside pool , rooftop event space and more than 8,000 square feet of indoor and outdoor dining and lounge spaces.