Description
What would RBG/Oprah/Michelle Obama/Audrey Hepburn/Frida Khalo do? Join us for an evening of tapping into our creativity surrounded by boss lady inspiration.
What to expect: A 2-hour experience that includes three sections - warm-up, experiment and play, and the masterpiece. And your first drink is on us!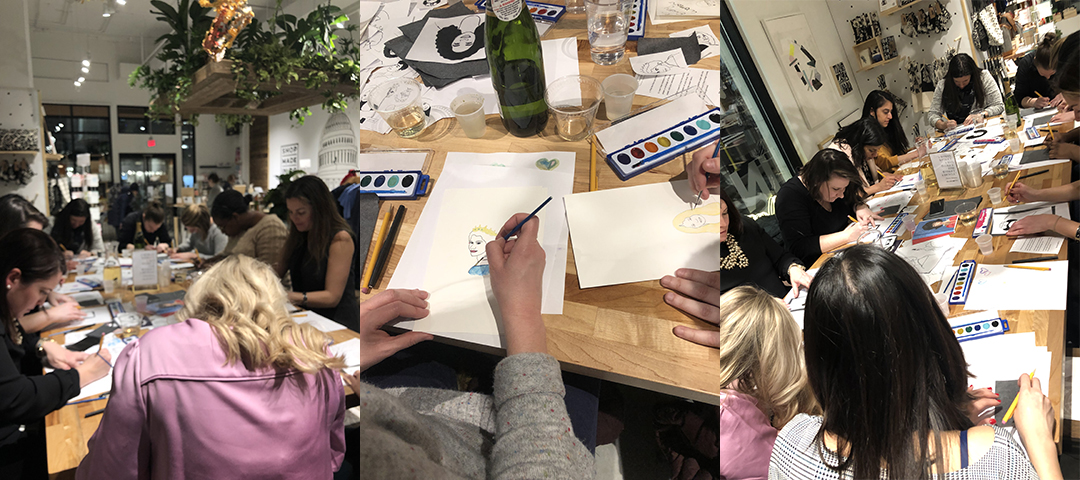 Your Guide Is: Artist instructor Marcella Kriebel @marcellakriebel
What we'll bring: The Ink and watercolor paints, along with a few 'bumper lanes' to help you get started: outlines, pencils, and tracing paper.
What you'll make: Portraits of your favorite boss women, from RBG to Gloria Steinem to Michelle Obama, Oprah and beyond. Draw from scratch, or add your flair to our pre-drawn illustrations.
What you'll learn: Build your creative confidence (whether you're next in line for the Bob Ross throne, or just enjoy playing with art). Practice value, composition, color, or just dabble. We promise you'll leave with something you like and a sense of zen.
Food and Beverage status: First drink on us, with food and beverages available to purchase from Shop Made in DC.
"My mother told me to be a lady. And for her, that meant be your own person, be independent." Ruth Bader Ginsburg

About Salon Betty:
Salon Betty is all about balancing out the craziness of modern life. We give you permission and a path to connect to your own creativity. Science tells us diffuse mode thinking—critical for solving problems creatively—happens when you relax and let your mind wander. So come join us for creative play.