Location
Runway Ready
9902 Roosevelt Road
Westchester, IL 60154
BRUNCHIN' & BOSSIN' UP your BRAND!
About this event
Boss Brand Ambition is an intensive brand training created for ambitious entrepreneurs looking to boss up their brand. Hosted by some of today's top professionals, the training will cover: creating a strong digital footprint, building strong brand strategies & marketing your brand like the boss you are. During the event, you'll hear real life experiences and get all of the tools and resources needed to apply & execute everything you've learned. Light bites, mimosas & a Certificate of Completion will be provided upon celebrating the BOSS UP of your brand.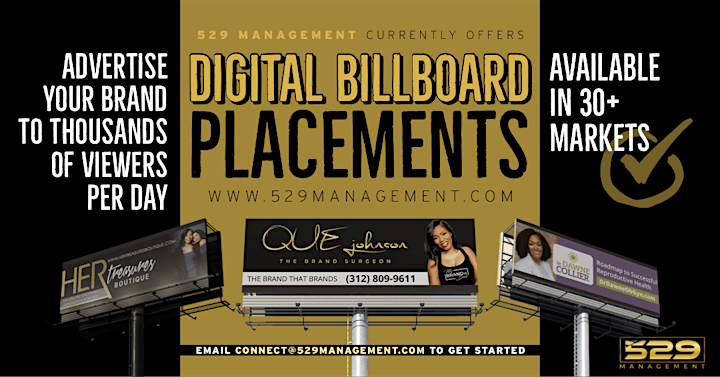 WANT A CHANCE TO WIN DIGITAL BILLBOARD PLACEMENT?
Some brands underestimate the value in Brand Visibility and spend countless hours getting nowhere on social media if you don't know how to leverage your digital market properly. Allow 529 Management to expose your brand to thousands of views. Your ticket investment automatically enters your brand into a drawing to feature your brand on a digital billboard.
ENTRY REQUIREMENTS:
MUST HAVE A WEBSITE
MUST CURRENTLY PROVIDE A PRODUCT OR SERVICE
MUST PRESENT A PROFESSIONAL DIGITAL FOOTPRINT ON SOCIAL MEDIA
** Billboard ad will run two consecutive days during prime time hours only. ** Winner will be announced at the end of each class.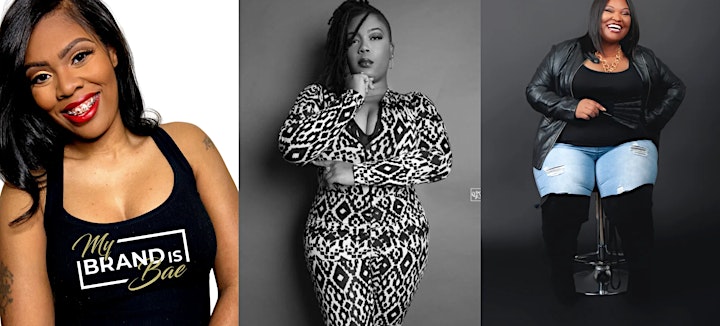 MEET THE SPEAKERS
QUE JOHNSON
Que Johnson is the founder of 529 Management, a Lifestyle Branding and Brand Management company. Her non-traditional and non-conventional branding methods have landed clients in national news, with strategic partnerships and collaborations. She's break all the rules and never allow anyone to put her or my clients in a box! What position is your Brand in?
DANIELLE SEALS
Danielle Seals is known to most as The Brand Pusher and has multiple brands of her own in the land of fashion. The industry took notice as she's styled a few of the most influential women in the entertainment industry. Over the years Danielle's proven track record and branding knowledge have helped aspiring entrepreneurs launch and relaunch new and existing brands. Now, she's the Author of "Stay Runway Ready" a coloring book for plus sized girls and women of all ages. Danielle recently opened Runway Ready Boutique to further her brand, reach & mission.
KIM BRIO
Kim Brio is a Media Personality and professional Brand Strategist with nearly 20 years of business and entrepreneurial experience. Kim has worked in numerous industries ranging from hospitality to media & marketing. Currently, Kim's focus is on helping businesses and brands, both small and large, grow and function at their highest efficiency through business consulting and brand management. In September 2019, Kim launched Solsei & Co, a lifestyle and entertainment brand that specializes in producing high-quality media and events from top tier talent.