Bosnian & Herzegovinian Independence Day Commemoration: "A future deeply r...
Event Information
Location
Tufts University, Pearson Chemistry Lab
62 Talbot Avenue, Room 104
Medford, MA 02155
Description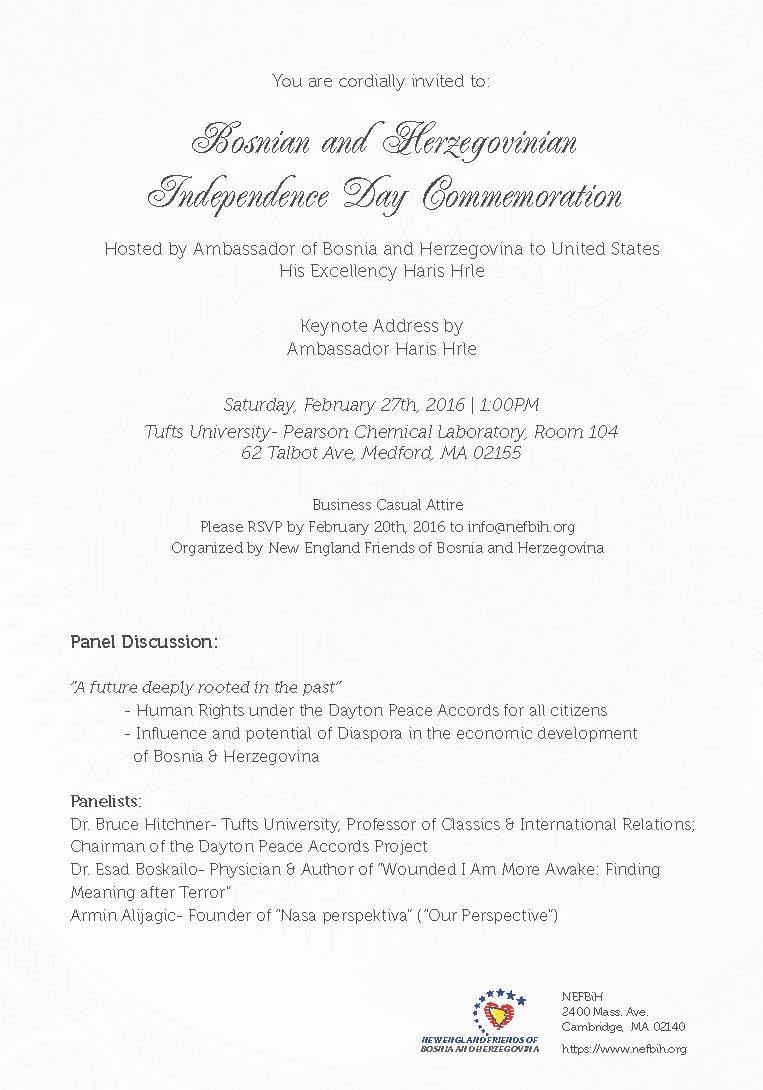 ABOUT THE SPEAKERS:
Keynote Address by
Ambassador Haris Hrle
(Biography coming soon)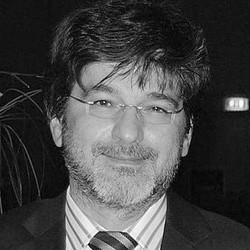 Dr. Bruce Hitchner- Tufts University, Professor of Classics & International Relations; Chairman of the Dayton Peace Accords Project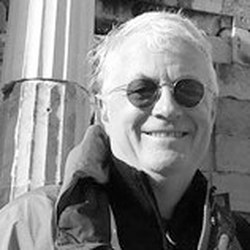 Dr. Bruce Hitchner is Professor of Classics and International Relations. He served as Chairman of the Classics Department at Tufts University from 2003 to 2009 and Editor-in-Chief of the American Journal of Archaeology from 1998 to 2006. He has just returned from a Visiting Fellowship at All Souls College, Oxford (Hilary Term 2010). In 2002-2003 he was Laurance S. Rockefeller Fellow at the Center for Human Values at Princeton University. In 1994-1995 he was a By-Fellow at Churchill College Cambridge. He has published extensively in the history and archaeology of the Roman World and has directed archaeological projects in North Africa and France supported by the National Geographic Society, National Endowment of the Humanities, French Ministry of Culture, and United States Information Agency.

Hitchner is also the Chairman of the Dayton Peace Accords Project (Dayton Project), a non-governmental organization. Hitchner was a member of the negotiating team that assisted the political parties of Bosnia in producing the April 2006 Package of Constitutional Amendments. Under Hitchner's direction, the Dayton Project has organized numerous international conferences, and workshops on the Dayton Peace Process, Kosovo, Montenegro, and other Balkans issues attended by the international community, regional specialists, journalists, business leaders, non-governmental organizations, and representatives from the successor states of the former Yugoslavia. Hitchner has testified before the US Congress on the Balkans. He is the co-author with Marshall Harris, Michael Scharf, and Paul Williams of Making Justice Work: The Report of the Century Foundation / Twentieth Century Fund Task Force on Apprehending Indicated War Criminals. (Brookings Institution Press, 1999), Hitchner has also published opeds, papers, or conducted interviews for the United States Institute of Peace, Center for Strategic and International Studies, ICDT, International Centre for Democratic Transition, International Herald Tribune, Wall Street Journal, Baltimore Sun, Washington Times, Dayton Daily News Providence Journal, War and Peace Reporting, The Economist, The Guardian, Congressional Research Service, the Voice of America, Marketplace (PRI) and Odyssey (Chicago Public Radio), Radio Free Europe, Voice of America, and leading Bosnian newspapers, including Dnevi Avaz, Osloblodjenie, and Nezavisne Novine. Hitchner is currently serving on the Commission on Institutions of Higher Education. New England Association of Schools and Colleges. From 1996 to 2003 he served as director of the Center for International Programs at the University of Dayton.

He received his B.A. from the Pennsylvania State University, A.M. from the University of Chicago, and Ph.D. from the University of Michigan.
Dr. Esad Boskailo- Physician & Author of "Wounded I Am More Awake: Finding Meaning after Terror"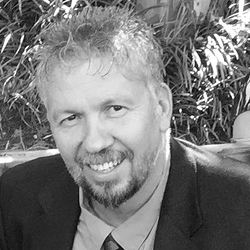 Esad Boškailo, MD, is an Associate Clinical Professor at the University of Arizona, Phoenix Medical School and associate director of residency training programs at Maricopa Integrated Health system. He received his medical degree from Sarajevo University, School of Medicine, in Sarajevo and worked as a general practitioner in both Bosnia and Croatia. Boškailo is a survivor of six different concentration camps (1993-1994) during the war in Bosnia After being rescued by the United Nations, Boškailo worked for "Doctors Without Borders," providing medical care for occupants of the Gasinci Refugee Camp in Croatia. He was awarded the Peter Lisagor Award for Exemplary Journalism in Chicago, and the Robert H. Kirshner Award for Global Activism. He also co-wrote "Wounded I Am More Awake": Finding Meaning after Terror, published by Vanderbilt University press in 2012. In 2015, he was serving as president of the Bosnian-Herzegovinian American Academy of Arts and Sciences, (BHAAAS.org). You can purchase Dr. Boskailo's book at http://www.amazon.com/Wounded-Am-More-Awake-Finding/dp/0826518265 .
Armin Alijagic- Founder of "Nasa perspektiva" ("Our Perspective")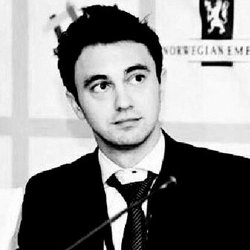 Armin Alijagic was born in Sarajevo, and grew up between Bosnia and Herzegovina and the Netherlands. He received his Bachelor degree from Amsterdam School of Business, majoring in International Management in 2004. Two years later, in 2006, he received his graduate degree in Marketing from Free University Amsterdam. Armin works for Oxfam as a Business and Marketing Development Expert in Sarajevo. In addition to that, he is the Founder and President of Nasa Perspektiva (Our Perspective), founded in 2010. Nasa Perspektiva is "focused on the development of creative mechanisms in order to activate Diaspora resources with the goal to contribute towards the socio-economic development of Bosnia and Herzegovina. The organization recognized that by not engaging this group of 2 million Bosnians and Herzegovinians that live scattered throughout the world, the country is missing out on significantly contributing towards its socio-economic development. Next to its work with the Diaspora, NGO strives to provide its contribution towards a more favorable business environment for small and medium sized enterprises (SMEs) in Bosnia and Herzegovina." To learn more about Nasa Perspektiva, please visit: http://nasaperspektiva.ba .
Armin has participated and led projects for organizations like USAID, World Bank Group, World Vision, International Organization for Migration, ABN AMRO Bank, Coca Cola Bosnia and Herzegovina, and European Union. He is fluent in Bosnian, English, German and Dutch.
MODERATOR: Dr. Bridget Conley-Zilkic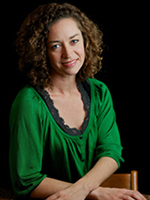 Bridget Conley-Zilkic is Assistant Professor of Research and Research Director at the World Peace Foundation. Her specializations include mass atrocities, genocide, museums, and memorialization. Before joining the WPF, she served as research director for the U.S. Holocaust Memorial Museum's Committee on Conscience, where she helped establish the Museum's program on contemporary genocide. Over her ten years at the Museum, she led many of the Museum's signature projects on genocide, including case study and issue analysis, educational programs, exhibitions, and its podcast series, Voices on Genocide Prevention, which she hosted from 2008-2011. She received a PhD in Comparative Literature from Binghamton University in 2001.
Date and time
Location
Tufts University, Pearson Chemistry Lab
62 Talbot Avenue, Room 104
Medford, MA 02155