BOSFCPUG presents: "Inside the Cutting Room with Bobbie O'Steen"

Wednesday, November 16, 2011 from 7:00 PM to 9:00 PM (EST)
Event Details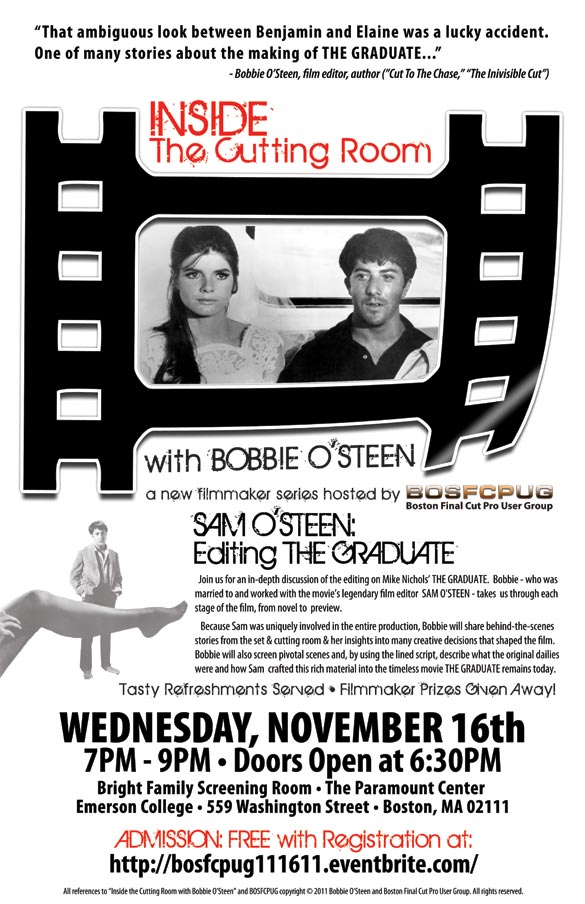 NOTE: Students & Faculty, please register under "STUDENTS & FACULTY" above for accurate count.

Professional editors and producers like you around the world have told us what you need to succeed. More efficient and easy-to-use video editing tools. An open platform that enables you to work with everything you want and integrate into any workflow. More power to eliminate bottlenecks, so you can work faster than ever. We listened. We took notes. We made it happen. Introducing
Media Composer 6
—the fastest, most versatile tool for professional video editing.
For November, we are incredibly honored to continue our collaboration with Emerson College and pleased to offer the first of what will be many evenings with BOSFCPUG in conversation with industry leading filmmakers and also some of our friends within the American Cinema Editors (A.C.E.) - this will continue in December and into 2012, where we are planning to hold several prominent events to bring students, independents, professionals and Hollywood editors together to share conversation about story.
On November 16th, please join BOSFCPUG and renowned author
BOBBIE O'STEEN
("
Cut to the Chase,
" "
The Invisible Cut
") for an in-depth discussion of the editing on
Mike Nichols
'
THE GRADUATE
.
Bobbie - who was married to and worked with the movie's legendary film editor
SAM O'STEEN
- takes the audience through each stage of the film, from novel to preview. Because Sam was uniquely involved in the entire production, Bobbie will tell behind-the-scenes stories from the set as well as the cutting room and share her insights into the many creative decisions that shaped the film. Bobbie will also screen pivotal scenes and, by using the lined script, describe what the original dailies were and how Sam crafted this rich material into the timeless movie
THE GRADUATE
remains today.
BOBBIE O'STEEN
studied film and earned a degree in anthropology at Stanford University. She is an Emmy-nominated film editor and the author of two acclaimed books about editing: Cut to the Chase, based on interviews with her late husband and colleague Sam O'Steen, and The Invisible Cut, which deconstructs classic movie scenes through a cut-by-cut analysis. In the last few years she has hosted a series of events honoring master editors such as Carol Littleton, Craig McKay and Tim Squyres, where they screen footage and have in-depth discussions about their work for such organizations as UCLA Film and Television Archive and 92Y Tribeca; and she moderates panels bi-annually for EditFest LA and EditFest NY. She has also taught graduate film students at NYU's Tisch School of the Arts and is a regular contributor to CinemaEditor, Editors Guild Magazine and MovieMaker Magazine.                                                                                                                                                                      
You can read more about Bobbie at
http://www.bobbieosteen.com
The Graduate is a 1967 American comedy-drama motion picture directed by Mike Nichols.  It is based on the 1963 novel The Graduate by Charles Webb, who wrote it shortly after graduating from Williams College. The screenplay was by Buck Henry, who makes a cameo appearance as a hotel clerk, and Calder Willingham. The film tells the story of Benjamin Braddock (played by Dustin Hoffman), a recent university graduate with no well-defined aim in life, who is seduced by an older woman, Mrs. Robinson (Anne Bancroft), and then proceeds to fall in love with her daughter Elaine (Katharine Ross).
In 1996, The Graduate was selected for preservation in the U.S. National Film Registry as being "culturally, historically, or aesthetically significant". Initially, the film was placed at #7 on AFI's 100 Years... 100 Movies list in 1998. However, when AFI revised the list in 2007, the film was moved to #17.
DIRECTIONS:
Enter the main entrance to The Paramount Center at 559 Washington Street. Go up the elevators to the left and to the 4th floor. There will be front of house staff to greet you at the Bright Family Screening Room.

Venue Box Office: 617-824-8400

PARKING:
Emerson recommends to park in the Millennium Place Garage at The Ritz-Carlton Boston Common, 47 Boylston Street (617-574-7252).

MBTA:
- Orange Line: Take the Chinatown Exit
- Red Line: Take the Park Street Exit
- Green Line: Take the Boylston Street exit
MBTA info:


Special thank you to the Department of Visual & Media Arts at Emerson College for hosting our November and December mixers.
ABOUT EMERSON VISUAL AND MEDIA ARTS:
At Emerson's Department of Visual & Media Arts, the process of transforming your vision into reality is fast-paced, exciting, and rewarding. You'll dive right in and start working with talented mentors, collaborators, and crew members from day one. Emerson's Department of Visual & Media Arts is all about learning by doing. Is your medium film or video? The Internet or animation? Studio television of audio? Are you drawn to fictional narratives or documentaries? Commercial or experimental projects? Writing, directing, or post-production? Whatever your passion, our department offers unlimited opportunities to grow, collaborate, and thrive—plus access to sophisticated, state-of-the-art equipment and facilities that help your creativity take flight.
Learn more at
http://www.emerson.edu/academics/departments/visual-media-arts
The Boston Final Cut Pro User Group is a story driven community of globally connected collaborative digital filmmakers and broadcast professionals focusing on the craft of editing not only to show How but to share Aesthetics and related tools for digital cinema and distribution.
All references to BOSFCPUG and "Inside the Cutting Room with Bobbie O'Steen" copyright © 2011 Boston Final Cut Pro User Group and copyright © 2011 Bobbie O'Steen. All rights reserved.
---
PLANNING ON BEING WITH US?
Twitter that you'll be there to screen your work and help spread awareness - PLEASE use Twitter HASHTAGS #BOSFCPUG and #BOSDSLR
Boston DSLR Meetup: Collaborate + Create + Get Seen + Good Times!
When & Where

BRIGHT FAMILY 2K SCREENING ROOM
The Paramount Center - Emerson College
559 Washington Street
Boston, MA 02111


Wednesday, November 16, 2011 from 7:00 PM to 9:00 PM (EST)
Add to my calendar
Organizer
ABOUT BOSTON FINAL CUT PRO USER GROUP - BOSFCPUG
The Boston Final Cut Pro User Group is a story driven community of Final Cut Studio, Avid and Adobe editors, HDSLR and digital filmmakers and broadcast professionals focusing on the craft of editing and related tools for digital cinema and distribution.
Globally connected and ready to collaborate, BOSFCPUG provides both membership opportunities and education about digital content creation on the Macintosh. For 2011, we will continue to bring talented, top industry professionals and creatives to Boston not only to show How but to share Aesthetics.
Connect with the BOSFCPUG at: http://www.bosfcpug.org

Website: http://boscpug.org
ABOUT THE BOSTON DSLR MEETUP
Today's and tomorrow's Digital Storytellers now have a place to connect!

Anyone shooting Video or photo with Canon EOS, Nikon, Panasonic and Sony DSLRs are welcome to join and meet throughout Boston, Massachusetts and surrounding communities monthly to share ideas, workflow, shoot together and showoff your films and gear. Network with and Socialize with other digital media makers to share great times - Find your next collaborative DSLR-based project and crew. Grow the DSLR Filmmaking Movement!
Website: http://www.meetup.com/Boston-DSLR-Meetup/
Email: Daniel Bérubé