BOSFCPUG $65 Workshop: Final Cut Pro X - Editing on a New Foundation

Friday, July 22, 2011 from 9:30 AM to 6:00 PM (EDT)
Event Details
"This workshop promises to be informative, practical and fun.  Looking forward to seeing my fellow Boston FCP users again." - Steve Martin

BOSFCPUG $65 One Day Workshop:
Final Cut Pro X - Editing on a New Foundation
**Parking, Lunch, and FCPX Tutorial Project Media Included**

BOSFCPUG Final Cut Pro X $65 Workshop with Apple Certified Mentor-Trainer Steve Martin
"Final Cut Pro X: Editing on a New Foundation"
DATES: Friday, July 22nd
TIMES: 10AM - 6PM (Check-in begins at 9AM)
VENUE:
Exposure Place Studios - Studio A
EP Levine
219 Bear Hill Road
Waltham, MA 02451
Venue Phone: 617-951-1499
Directions to Exposure Place Studios at EP Levine with plenty of FREE parking!
This one day workshop will focus on helping you get the most from Final Cut Pro X - from it's powerful organizational intelligence to its forward-thinking editing paradigms, Apple-certified mentor-trainer and Ripple Training founder Steve Martin, will give you an in-depth look at the foundations that make Final Cut Pro X a powerful and unique editing experience.  
This one day workshop walks you through the complete post production workflow, from initial media import to final output. Along the way you'll learn techniques to make you more productive using Final Cut Pro X's bevy of editing tools, effects, titles, transitions and themes. Previous experience with iMovie or legacy versions of Final Cut Pro is not required, however a solid foundation in those apps would prove to be a useful bridge to understanding Final Cut Pro X's new workflow paradigms.

Workshop Agenda to be covered: 
The New Foundation
Organizing, Optimizing & Analyzing Media
Working in the Event Library
Building Rough Cut 
Refining the Edit
Working with Storylines & Compound Clips
Adding Transitions, Effects, Titles & Generators
Editing Your Soundtrack
Retiming Video
Color Correcting & Enhancing Your Video
Sharing & Exporting
interactive Q & A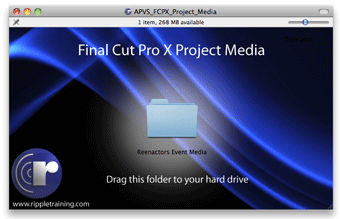 INCLUDED: Every registered attendee receives 1.62GB of FCP X Tutorial Project Media created by Ripple Training PRIOR to workshop - Get a head start on the learning and bring your MacBook Pro with you to the workshop to follow along with Steve!
NOTE: This is not the same media that you will find in Apple's training courses! This included FCP X Tutorial Project Media is specially created by Steve Martin to help with learning how to edit with Final Cut Pro X as part of the Apple Pro Video Series: Final Cut Pro X.
The included FCP X Tutorial Project Media is based off of a Documentary on the Civil War currently in production by Steve Martin and Brian Gary and shot double system with Canon EOS 7D DSLRs and the Zoom H4N.
Upon registering, you will receive an email confirmation with details on how to download your Final Cut Pro X Tutorial Project Media onto your Mac. We encourage you to review this tutorial media in order to get a headstart on the workshop.
NOTE: WE RECOMMEND THAT YOU BRING YOUR MACBOOK PRO WITH FINAL CUT PRO X AND THE TUTORIAL PROJECT MEDIA INSTALLED WITH YOU TO WORKSHOP - HOWEVER, DOING SO IS NOT REQUIRED TO PARTICPATE IN THE WORKSHOP.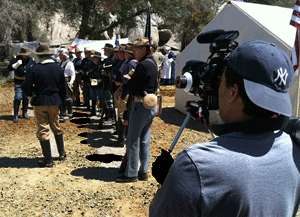 INCLUDED will be discounts available only to workshop attendees from our sponsors as well as a special raffle featuring prizes from Blackmagic Design, GenArts, Red Giant Software, Noise Industries and more.
ALSO: Meet up with Steve Martin the night before at our Thrusday, July 21st BOSFCPUG Mixer:
http://bosfcpug072111.eventbrite.com/
ABOUT STEVE MARTIN
Steve Martin is the creative force behind Ripple Training and has been using and teaching Final Cut Pro since 1999. Since Final Cut Pro's introduction, he has introduced thousands of people to Final Cut Pro through his classes, workshops and training products.  He has consulted and/or trained for Apple, Adobe, Disney, Canon, Walmart and other companies.  He is also a writer, producer and photographer and is a Mentor-Trainer for Apple's Authorized Training (AATC) program. He is also the author of the Apple Pro Video Series: Final Cut Pro X. 
---
When & Where

E.P. Levine
219 Bear Hill Road
Waltham, MA 02451


Friday, July 22, 2011 from 9:30 AM to 6:00 PM (EDT)
Add to my calendar
Organizer
Boston Final Cut Pro User Group
ABOUT BOSTON FINAL CUT PRO USER GROUP - BOSFCPUG
The Boston Final Cut Pro User Group is a story driven community of Final Cut Studio, Avid and Adobe editors, HDSLR and digital filmmakers and broadcast professionals focusing on the craft of editing and related tools for digital cinema and distribution.
Globally connected and ready to collaborate, BOSFCPUG provides both membership opportunities and education about digital content creation on the Macintosh. For 2011, we will continue to bring talented, top industry professionals and creatives to Boston not only to show How but to share Aesthetics.
Connect with the BOSFCPUG at: http://www.bosfcpug.org

Website: http://boscpug.org
ABOUT THE BOSTON DSLR MEETUP
Today's and tomorrow's Digital Storytellers now have a place to connect!

Anyone shooting Video or photo with Canon EOS, Nikon, Panasonic and Sony DSLRs are welcome to join and meet throughout Boston, Massachusetts and surrounding communities monthly to share ideas, workflow, shoot together and showoff your films and gear. Network with and Socialize with other digital media makers to share great times - Find your next collaborative DSLR-based project and crew. Grow the DSLR Filmmaking Movement!
Website: http://www.meetup.com/Boston-DSLR-Meetup/
Email: Daniel Bérubé
BOSFCPUG $65 Workshop: Final Cut Pro X - Editing on a New Foundation