BOSCPUG presents "Visual Storytellers"

Tuesday, January 24, 2012 from 7:00 PM to 9:30 PM (EST)
Event Details

presents
V I S U A L   S T O R Y T E L L E R S
An on-going series sharing conversation with and works of New England based filmmakers and Emerson student filmmakers, featuring special presentation by Emmy Award winning CBS Boston Photojournalist and DP/Editor Rick Macomber.
UPDATE: Includes special After Screening Social Hour at BINA OSTERIA not Salvatore's
Special Validated $10 Flat Rate Parking! (See Below)*

*SALVATORE'S (545 Washington Street, directly between The Paramount Center and The Boston Opera House) offers validated discount parking for a $10 flat rate between 4pm-5am at LAFAYETTE GARAGE, across the street from the restaurant (Additionally, inside the Hyatt Regency Boston, One Avenue de Lafayette, Boston)  - stop by before BOSCPUG at Salvatore's for a bite to eat or coffee/drink and get validated parking!

We will begin PROMPTLY at 7pm with our event (doors open at 6:30pm to give you chance to get your seat)
---
LATEST UPDATE!
We will have a Canon EOS C300 Digital Cinema Camera at this event!

BOSCPUG
with filmmakers
Joe Simon
, 
Cristina Maria Valdivieso
,
Mike Duval
of
LensProToGo.com
and the new
Canon EOS C300
Digital Cinema Camera at
IN[FOCUS] 2012
Featured Presentations:
- "Visual Storytelling in Photojournalism" - Rick Macomber, CBS Boston Photojournalist
- "Why We're Here" - First Public Showing - Paul Antico
BOSCPUG is very pleased to begin 2012 with a special sharing of experiences and work by Rick Macomber, CBS Boston Photojournalist and DP/Editor of Macomber Productions.
Rick will touch on a few subjects related to Visual Storytelling in his industry. Rick will share a few personal stories about his experiences through the years; Talk about evolving changes in TV News photojournalism; The different styles of shooting news and how Rick adds a cinematic look to television stories he captures, and Rick will show on the Bright Screening Room's large theater screen compelling examples of broadcast news pieces and more recent examples of DSLR work shot using Canon EOS DSLR cameras.

Q&A will follow after each of the above subjects. This will certainly be a don't miss engaging screening and conversation with Rick on the present and future state of Photojournalism that you'll want to be a part of!

ABOUT RICK MACOMBER
DP/Editor, photojournalist and multimedia specialist Rick Macomber is the winner of four prestigious Emmy Awards, nominated for eight Emmys in Videography and Editing and ten time first place winner for the Boston Press Photographers' Association.
His coverage of the Cambodian refugee camps in Thailand for CBS Boston has won him a prestigious Boston Press Photographers "Best of Show" award. Rick has also won a Parents' Choice Award for his production of a "How To" video for children called "YOUR NEW KITTY," which was hosted by his own two daughters. In addition he has covered the nightlife scene with access to some of the world's best rock bands like Bruce Springsteen, The Rolling Stones, Paul McCartney, Neil Young, U2… the list goes on. Rick has interviewed three US presidents and countless Hollywood and sports celebrities for CBS as well. Rick has also covered major breaking news stories around the globe such as the horror of 9-11 from Ground Zero in NYC and the 50th Anniversary of D-Day from the beaches of Normandy, France. These days Rick is shooting with Canon EOS DSLR cameras creating short films and stockpiling digital still images.
NEW ADDITION!
We are proud to host Paul Antico from The Department of
Homeland Security/TSA, who will be showing for the first time ever publicly the DHS/TSA Boston-produced documentary entitled "Why We're Here". The piece, filmed using the Sony NEX-FS100 S35 Camera and Canon EOS DSLRs, dives into the 10th anniversary of 9/11/01 and how it has changed the lives of those at DHS now charged to protect us. Shot on a small budget but big in production value, you will see first-hand how digital visual storytelling can be used within the US Government to emotionally tell compelling stories.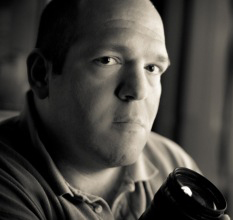 ABOUT PAUL ANTICO
Extensively interested in technology and working with computers and visual arts for over 32 years, Paul started working with a Timex Sinclair 1000 computer at the age of 8 creating computer graphic-based art and never looked back. Moving along platforms from the Apple II to the Commodore Amiga to the modern Mac, Paul has extensive knowledge of how computers integrate into our creative lives. Paul has seen the digital revolution spread from on-screen graphics to the latest in HD video, working with each format as it moved forward. Paul has served as an Producer, Animator, Director, Marketing Manager, Electronic Media Manager, and Graphic Designer for such varied industries as Cable Television, Training, Publishing, Software Development, Banking, and Federal Government. Now working for the Department of Homeland Security at TSA as a Technology Analyst, Paul is helping the Agency communicate more effectively through the art of "Digital Visualmaking".

We will also be screening short film Show & Tells from New England based filmmakers, Ben Eckstein and others including Award winning Filmmakers and Emerson Alumnae Nathaniel Hansen (THE ELDERS) and Matthew Hashiguchi (THE LOWER 9)
JOIN US FOR FILM SCREENINGS & CONVERSATION ON THE PROCESS!

The Bright Family Screening Room
BOSCPUG is proud to work with Emerson Visual and Media Arts to offer an evening of screenings and conversation with New England filmmakers in the intimate and state of the art Bright Family Screening Room at The Paramount Center at Emerson College.
Named for the family of Kevin Bright '76, the Bright Family Screening Room seats approximately 200 people. It features the latest film and digital video projection including 35mm. The dramatic double-height Gallery and Lobby connects to the Paramount Mainstage.

---
Win a copy of Adobe Creative Suite 5.5 Production Premium (value $1,699)
Edit tapeless and DSLR media formats natively using the industry-leading tapeless workflow in Adobe Premiere Pro. You never waste valuable production time transcoding or rewrapping, and you always have access to the original file's pristine quality.
Tap the full power of Production Premium — even if you favor Final Cut Pro or Avid NLEs. Move projects easily back and forth between these editors and Adobe Premiere Pro CS5.5.
Work more efficiently when tackling a broad spectrum of video planning, production, and post-production tasks. CS5 Production Premium offers a familiar user interface across components, which work almost seamlessly together thanks to timesaving integration and roundtrip editing.

**YOU MUST BE REGISTERED in order to be able to win Adobe Creative Suite 5.5 Production Premium - and other prizes featured at our event!
---
DATE: December 8, 2011
TIMES: 7PM-10PM (doors open at 6:30PM)**
**MEETING BEGINS PROMPTLY AT 7PM!

VENUE:
Bright Family Screening Room
The Paramount Center
559 Washington St
Boston, MA 02111
DIRECTIONS:
Enter the main entrance to The Paramount Center at 559 Washington Street. Go up the elevators to the left and to the 4th floor. There will be front of house staff to greet you at the Bright Family Screening Room.

Venue Box Office: 617-824-8400

PARKING:
*SALVATORE'S (545 Washington Street, directly between The Paramount Center and The Boston Opera House) offers validated discount parking for a $10 flat rate between 4pm-5am at LAFAYETTE GARAGE, across the street from the restaurant (Additionally, inside the Hyatt Regency Boston, One Avenue de Lafayette, Boston)  - stop by before BOSCPUG at Salvatore's for a bite to eat or coffee/drink and get this validated parking!
Emerson recommends to park in the Millennium Place Garage at The Ritz-Carlton Boston Common, 47 Boylston Street (617-574-7252).

MBTA:
- Orange Line: Take the Chinatown Exit
- Red Line: Take the Park Street Exit
- Green Line: Take the Boylston Street exit
MBTA info:
ABOUT EMERSON VISUAL AND MEDIA ARTS:
At Emerson's Department of Visual & Media Arts, the process of transforming your vision into reality is fast-paced, exciting, and rewarding. You'll dive right in and start working with talented mentors, collaborators, and crew members from day one. Emerson's Department of Visual & Media Arts is all about learning by doing. Is your medium film or video? The Internet or animation? Studio television of audio? Are you drawn to fictional narratives or documentaries? Commercial or experimental projects? Writing, directing, or post-production? Whatever your passion, our department offers unlimited opportunities to grow, collaborate, and thrive—plus access to sophisticated, state-of-the-art equipment and facilities that help your creativity take flight.

Learn more at http://www.emerson.edu/academics/departments/visual-media-arts
When & Where

BRIGHT FAMILY 2K SCREENING ROOM
The Paramount Center - Emerson College
559 Washington Street
Boston, MA 02111


Tuesday, January 24, 2012 from 7:00 PM to 9:30 PM (EST)
Add to my calendar
Organizer
ABOUT BOSTON CREATIVE PRO USER GROUP - BOSCPUG
The Boston Creative Pro User Group (BOSCPUG) is a story driven, globally connected community of ready-to-collaborate digital filmmakers and broadcast professionals focusing on the craft of Visual Storytelling and related tools for digital cinema and distribution.
BOSCPUG regularly brings top industry filmmakers and creatives to Boston to share and discuss their latest work and their workflows. BOSCPUG also regularly holds affordable production and post-production workshops. BOSCPUG is a professional, creative outlet to pitch ideas for episodic content creation and to discover talent, crew and distribution for your projects.
Connect with the BOSCPUG at: http://boscpug.org
Email: Daniel Bérubé