BOSCPUG & BAVUG: Boston Preview of DaVinci Resolve 10 with Alexis Van Hurkman

Wednesday, May 29, 2013 from 6:30 PM to 9:30 PM (EDT)
Event Details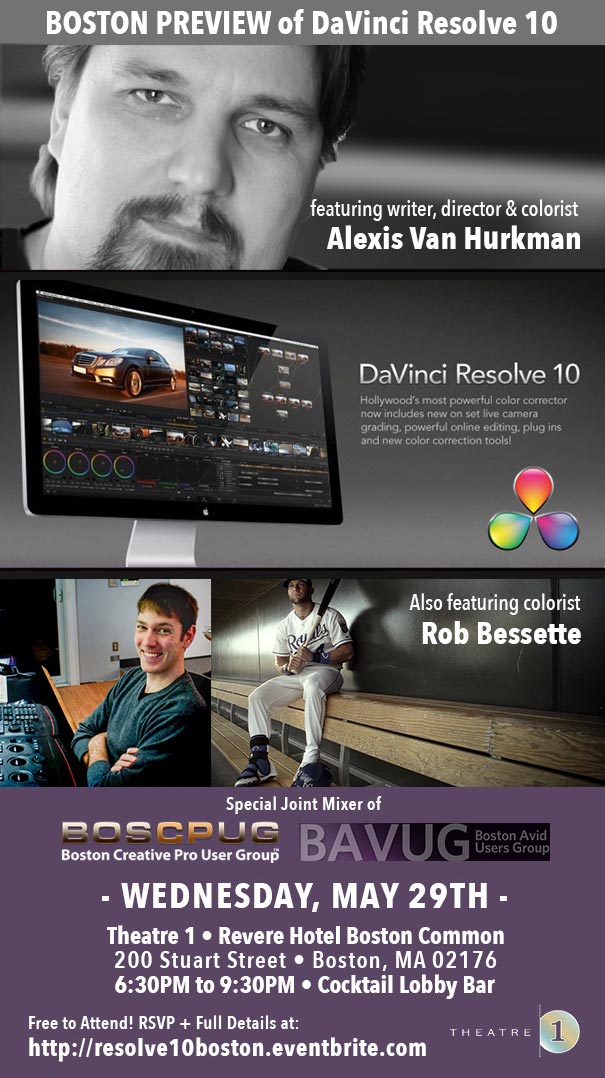 Join us for a special joint mixer of BOSCPUG and BAVUG - featuring a special evening with writer, director and colorist ALEXIS VAN HURKMA
N fresh from 2013 NABShow with the Boston Preview of DaVinci Resolve 10!
Q&A will follow - This is a rare opportunity to interact with one of our Industry's most respected production and post-production gurus. If you want to learn more about the art of color grading and what's in store for the future of DaVinci Resolve, this is a must-attend event.
Joining Alexis for the evening is colorist Rob Bessette of Boston's own Finish Post!
Producers, Editors, Visual Storytellers:
Get out of your production offices and editing suites to
enjoy a few cocktails, network,
swap stories and business cards

and interact with members of Boston's Production and Post community
.
RAFFLE: We will be giving away DaVinci Resolve (value $995) plus other filmmaker prizes from GenArts and more!
**NOTE: YOU MUST be registered to attend this event and to be eligible to win prizes.
SCHEDULED AGENDA:
- A CLOSER LOOK AT RESOLVE 10 - Alexis Van Hurkman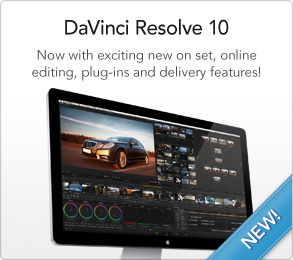 Alexis Van Hurkman will show a preview of the forthcoming DaVinci Resolve 10, providing a closer look at the new version's overall functionality, and showing off new features not seen at the recent Las Vegas Supermeet at 2013 NABShow.

DaVinci Resolve 10 is a major upgrade that includes new features for integrating the workflows of multiple different software products used in the film and television industry. DaVinci Resolve 10 has upgraded on set tools, upgraded editing features, support for OpenFX plug ins as well as new tools for delivering final project masters to cinemas.

DaVinci Resolve 10 has been developed to simplify the integration of different software tools used in the film and television industry, allowing timelines to be moved into and out of DaVinci Resolve and other edit software such as Avid, Premiere Pro and Final Cut Pro.

This is one networking workflow mixer you'll not want to miss to learn new tips & tricks for your production and post workflow and to interact with Alexis and get your questions answered on color grading and DaVinci Resolve!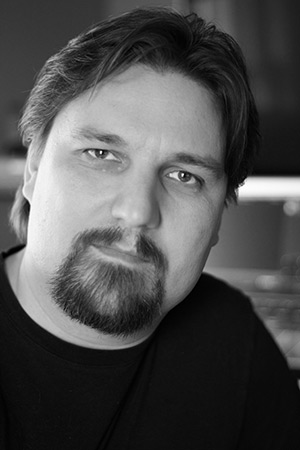 ABOUT ALEXIS VAN HURKMAN
Alexis Van Hurkman is a writer, director, and colorist who's graded programs that have aired on The History Channel, The Learning Channel, and BBC Four, features and shorts that have played at the Telluride and Sundance film festivals, and video art pieces that have been exhibited at the NYC Museum of Modern Art and the Whitney Museum of American Art. His feature, "Four Weeks, Four Hours," screened at  festivals around the world in 2006. His latest project, the science-fiction short "The Place Where You Live," premieres in June. Alexis has authored and contributed to sixteen books and manuals on post-prodution, including the popular "Color Correction Handbook" and the DaVinci Resolve User Manual.
---
DATE: Wednesday, May 29th

TIMES: 7PM-9:30PM (doors open at 6:30PM)**
**Meeting begins PROMPTLY at 7PM!
VENUE:
THEATRE ONE/SPACE 57
REVERE HOTEL BOSTON COMMON

VENUE DIRECTIONS & MBTA INFO:  http://www.reverehotel.com/#findus (Click on Find Us Tab on bottom lower left of webpage)

PARKING: Parking is available directly at the hotel or nearby at the Boston Common Garage.
INCLUDES TICKET TO BIG DIG RAFFLE - extra tickets available at event
---
This Event Courteously Sponsored by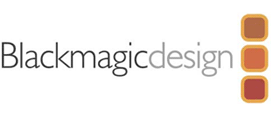 When & Where

Theatre 1/ Space 57, Revere Hotel Boston Common

200 Stuart Street
Boston, MA 02116


Wednesday, May 29, 2013 from 6:30 PM to 9:30 PM (EDT)
Add to my calendar
Organizer
ABOUT BOSTON CREATIVE PRO USER GROUP - BOSCPUG
The Boston Creative Pro User Group (BOSCPUG) is a story driven, globally connected community of ready-to-collaborate digital filmmakers and broadcast professionals focusing on the craft of Visual Storytelling and related tools for digital cinema and distribution.
BOSCPUG regularly brings top industry filmmakers and creatives to Boston to share and discuss their latest work and their workflows. BOSCPUG also regularly holds affordable production and post-production workshops. BOSCPUG is a professional, creative outlet to pitch ideas for episodic content creation and to discover talent, crew and distribution for your projects.
Connect with the BOSCPUG at: http://boscpug.org
Email: Daniel Bérubé