Location
Riverfront Park
1001 Everglades Avenue
North Charleston, SC 29405
Sales Have Ended
Ticket sales have ended
Sorry, the online ticket sale is now closed, but it's not too late to participate in this great event! Day-of-race tickets are still available on 3/16/19 from 7:30-8:30 am at Riverfront Park in North Charleston, SC for $40 (credit card or cash). Hope to see you there!
Description

This event is a certified 5K run/walk that is organized by Robert Bosch LLC and is open to the public. We are excited about every runner and walker who wants to participate.

All proceeds of this year's race will be donated to "Teachers' Supply Closet".

Teachers' Supply Closet is a non-profit organization founded in 2007, which provides free school supplies to teachers in Title 1 schools in the tri-county area. Their vision is for every child in the tri-county area to have the school supplies they need.

https://teacherssupplycloset.wixsite.com/teacherssupplycloset

Online registration is now closed, but it is not too late for you to participate!
Day-of-race registration will be available on 3/16/2019 from 7:30 am to 8:30 am. Day-of-race tickets can be purchased at Riverfront Park for $40.

The registration fee includes one free dry-fit T-Shirt.

Please make sure to purchase regular tickets for children who participate in the 5K run.
For children up to 10 years of age we will also have a 100 Yard Kids dash at 8:30 am. Participation is free and children do not need to register online for the 100 Yard Kids Dash.

While we all love our four-legged furry friends, please note that for security reasons dogs are not allowed at the race. Thank you for your understanding.
Packet Pickup (T-shirts, race bibs, etc.):
Packets will be available for pickup on Thursday, March 14th at the Bosch plant at 8101 Dorchester Rd, Charleston, SC 29418 at the Bosch visitor entrance (by the flag poles behind the fire station) from 6 am - 7:30 am & 11 am to 6 pm.
Packets will also be available for pickup the day of the race at the pavilion at Riverfront Park the day of the race (on 3/16/2019) from 7:30am-8:30am .
Start Time: Race starts at 9:00am.
100 yards Kids Dash starts a 8:30 am.
Ainsley's Angels Chariot Runners will start at 8:45 am.
Main Bosch 5K Run starts at 9:00 am.
Check in and day-of-race registration are from 7:30am-8:30am ($40). Please provide credit card or cash for same day registration!

Refreshment Stations: Water will be provided at beginning/end of race as well as during the race.
Age Groups:
0-9, 10-14, 15-19, 20-24, 25-29, 30-34, 35-39, 40-44, 45-49, 50-54, 55-59, 60-64, 65-69 & 70+
Awards: Top 3 males and females in each age group will receive a medal. Top 3 males and females overall will receive a special prize.
Race Course: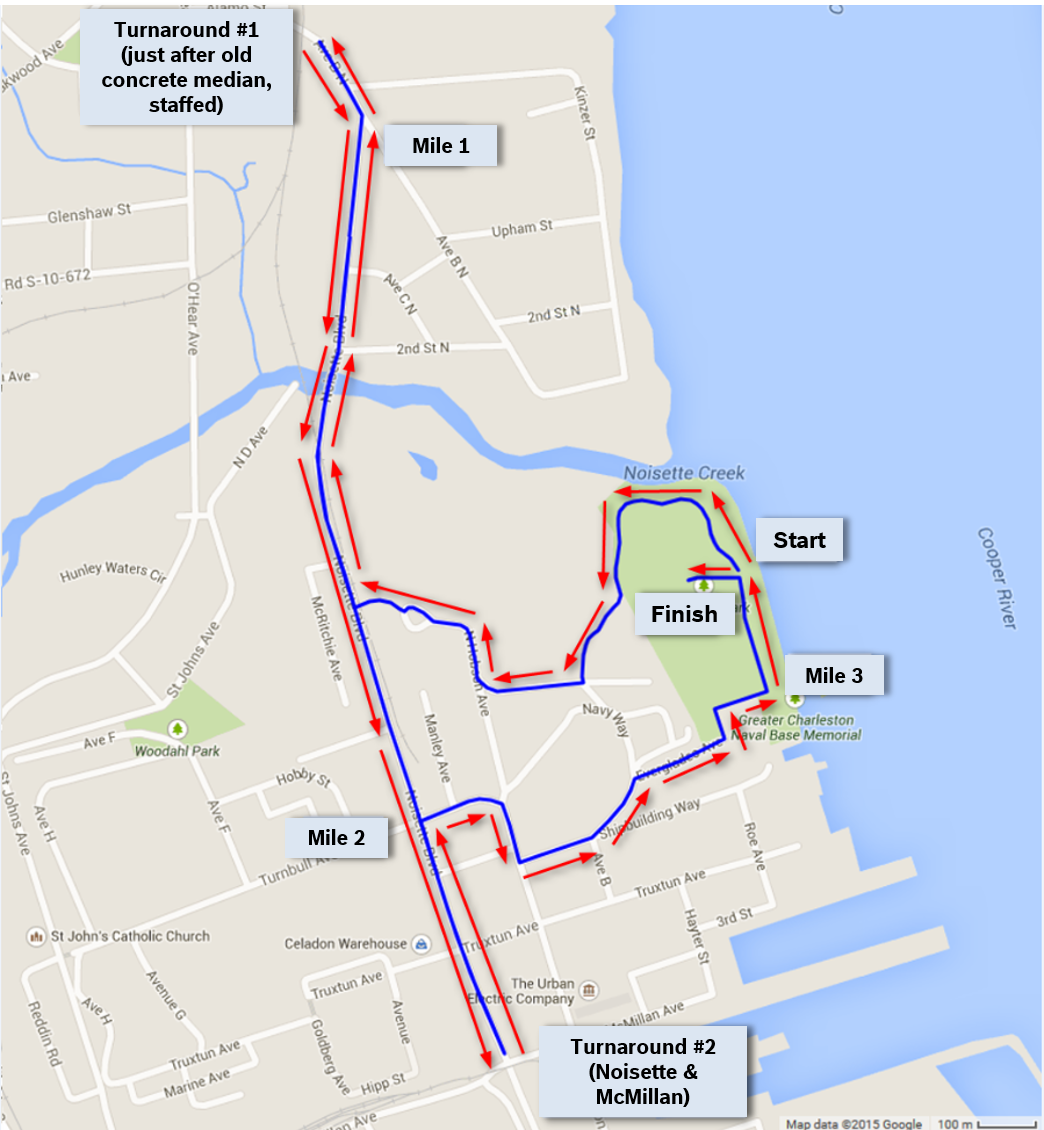 The Bosch 5K event will be photographed and filmed on the ground and in the air via drone. All media from the Bosch 5k will be posted to the Facebook event page following the race.