Description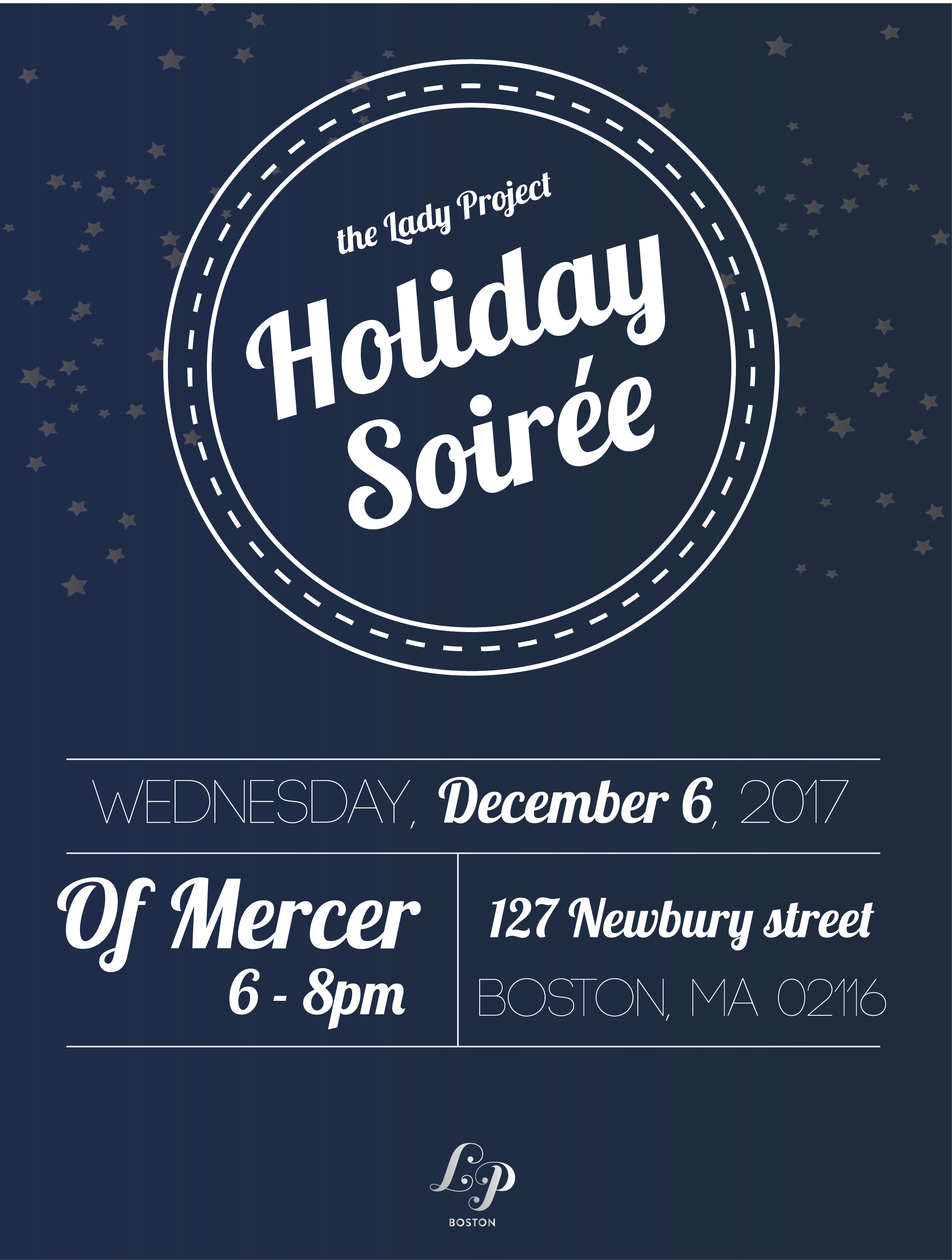 Join the BOS Lady Project at our annual Holiday Soirée at Of Mercer on December 6!
Hey, lady!
Join BOS Lady Project as we toast the holidays! We'll have wine, appetizers, and plenty of time to mingle with other awesome women from the Boston area at Of Mercer on Newbury Street.
This event will feature the Lady Project's signature 3x3 speaking series — where three local women of different backgrounds, industries, and career levels share their story in three minutes. The theme for this month's gathering is work/life balance, and what helps our speakers feel and look their best during the busy holiday season. *Stay tuned for more information on our 3x3 speakers.*
Attendees can also take advantage of a 15% discount off Of Mercer's work-friendly wardrobe.
Members can take $2 off their ticket with a special code. Check the Members Only Facebook group for the discount code.
See you there!
The BOS Lady Project Team
---
Of Mercer was founded by two women tired of figuring out workwear (and real talk: being late as a result), this is "workwear" women want to wear. Our clothing is totally office-appropriate and more importantly, it's designed to make you feel incredible. (Because a killer outfit makes all the difference.) While we personally haven't nailed the work-life balance thing, our clothing definitely has. In office parlance: It's a game-changer.
For the next three months, Of Mercer is expanding from NYC and taking up residence in the heart of Boston in our very own storefront. We'll be open seven days a week (no reservation required) so you'll have plenty of chances to stop by and shop your favorite online styles IRL.
---
The Lady Project is a 501(c)(3) economic non-profit membership organization that connects, inspires and showcases awesome women doing amazing things through membership, events and community engagement. Founded in 2011, the Lady Project is based in Providence, Rhode Island. Lady Project chapters nationwide host monthly events where women can connect, get inspired and learn about what other awesome women are doing in their cities. Find your chapter: ladyproject.org.
Questions or media inquiries? Email: hello@bosladyproject.com
---
FAQs:
Q: Do I need to be a member to come to this event?
A: Nope! This event is open to all ladies. Some of our events are members only, though. Learn more about membership here.
Q. I am a member of the press-- can I cover your event?
A. Yes! Email us at hello@BOSLadyProject.com and we'll chat.
Q. Are Lady Project events just for women?
A. Lady Project events and memberships are intended for anyone who identifies as female.
Q. I want to help sponsor this event or partner up for a future event-- who do I talk to?
A. Great! We are always looking for event partners. Email hello@BOSLadyProject.com and we'll be in touch!