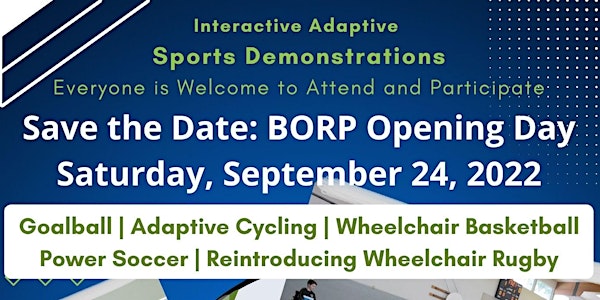 BORP OPENING DAY
BORP staff and athletes will be demonstrating our adaptive sports like goalball, wheelchair basketball, wheelchair rugby and power soccer .
When and where
Location
James Kenney Community Center 1720 Eighth Street Berkeley, CA 94710
About this event
BORP OPENING DAY at James Kenney Community Center!
Join us on Saturday September 24th for an afternoon of fun and games as we announce to our community that BORP is back. Come watch as our wheelchair basketball, goalball and power soccer players showoff their skill and prowess on the court. Outside, you will be able to try various adaptive bicycles. After every demonstration of our sports, spectators and attendees are encouraged to put on the pads or strap into a wheelchair and try each sport.
Come out to play with BORP!
All are welcome to this free event. Masks required at this event. Please be prepared to show proof of vaccination.
Schedule for the day:
1:00 - Goalball & Adaptive Cycling
2:00 - Wheelchair Basketball
3:00 - Wheelchair Rugby
4:00 - Power Soccer
Learn more about BORP, Bay Area Outreach and Recreation Program by visiting www.borp.org