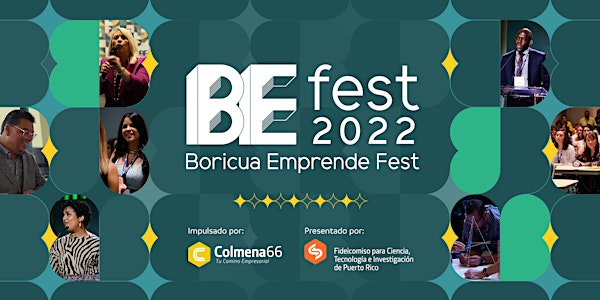 Boricua Emprende Fest | BE Fest
Boricua Emprende Fest | BE Fest
When and where
Location
Puerto Rico Convention Center 100 Convention Boulevard San Juan, San Juan 00907 Puerto Rico
Refund Policy
Contact the organizer to request a refund.
About this event
¡Regresa el evento de educación y celebración empresarial más grande y diverso en Puerto Rico!
Luego de dos años en formato virtual, el Boricua Emprende Fest regresa en formato presencial. El próximo 6 de diciembre, el Centro de Convenciones de Puerto Rico se convertirá en el espacio más grande, diverso y accesible para aprender y celebrar el emprendimiento en la isla junto a toda la comunidad empresarial. Contamos con intérpretes de lenguaje de señas para la comunidad sorda.
[Mira agenda aquí]
¿Qué es el Boricua Emprende Fest?
El BE Fest es un evento anual organizado por Colmena66 y traído a ustedes por el Fideicomiso para la Ciencia, Tecnología e Investigación de Puerto Rico (Fideicomiso). Este año, el evento es en colaboración con el pilar de empresarismo del Fideicomiso junto a otras iniciativas como Fase1, parallel18, Xpand y los programas de Subvención Federal SBIR/STTR.
Durante los pasados 4 años, el Boricua Emprende Fest:
• Educa sobre el crecimiento y desarrollo empresarial en todas las etapas e industrias.
• Fomenta una comunidad empresarial diversa y colaborativa en Puerto Rico.
• Celebra el movimiento empresarial en Puerto Rico.
¿Qué encontrarás en el evento?
En el BE Fest encontrarás todo lo que necesitas para desarrollar, comenzar o expandir tu negocio o empresa en un solo lugar. Tendremos:
• 9 Labs educativos en donde podrás aprender y conocer más sobre acceso a capital, innovación, nuevas tendencias, agricultura, empresas sociales, inclusión y equidad en el empresarismo y más
• 59 sesiones con charlas, talleres y paneles para equiparte con las herramientas que necesita
• 105 conferenciantes, entre ellos:
Jonelie Vélez de Gfree Foods LLC
Shirley McPhaul de CryptoCurious - Puerto Rico Blockchain Trade Association
Ivan Mulero Ortiz de Borilicious
Bianca Graulau, Periodista Independiente
Camille Padilla de 9 Millones
Miguel Contés de Cereal Empresarial
Gloria Viscasillas de Echar Pa' Lante
Cristina Sumaza de Jump All In - Lote23
Luis Torres de Engine-4
y más
• 10 charlas con café en mano mientras conversas con expertos en el Coffee Talks
• 20 mentores en el Mentoring Booth por Mujer Emprende Latina
• +70 organizaciones y programas de apoyo empresarial ofrecerán orientación en un solo lugar, conócelos en el Panal Expo
• Espacio para networking
¿Quién puede participar del BE Fest?
Este evento es para todas las audiencias: personas con ideas de negocios, personas con negocios ya establecidos en todas las etapas, de todas las industrias y tamaños, diáspora, comunidad académica, estudiantes, mentores, sector público, instituciones financieras, inversionistas y organizaciones de apoyo empresarial.
Más información en http://boricuaemprendefest.com
Síguenos en nuestras redes sociales bajo @befestpr
¿Dudas o preguntas? Escríbenos a info@boricuaemprendefest.com o llámanos a (787) 525-4111
El BE Fest nace como respuesta al paso de los huracanes Irma y María. En marzo del 2018, visitamos New Orleans como parte de una delegación organizada por ConPRmetidos para aprender sobre los esfuerzos de recuperación luego del paso del huracán Katrina. Allí conocimos sobre los inicios e impacto del New Orleans Entrepreneurship Week, el cual fue creado para reactivar la economía de los pequeños y medianos negocios luego del desastre. La primera edición del Boricua Emprende Fest fue en marzo de 2019. Desde entonces se han celebrado 3 eventos en los que hemos tenido 207 conferenciantes, más de 5,400 asistentes y 27 horas de contenido on-demand. Puedes conocer más sobre el BE Fest en http://boricuaemprendefest.com