Borelli Motor Sports Holiday Party

Wednesday, December 11, 2013 from 5:30 PM to 9:00 PM (PST)
Event Details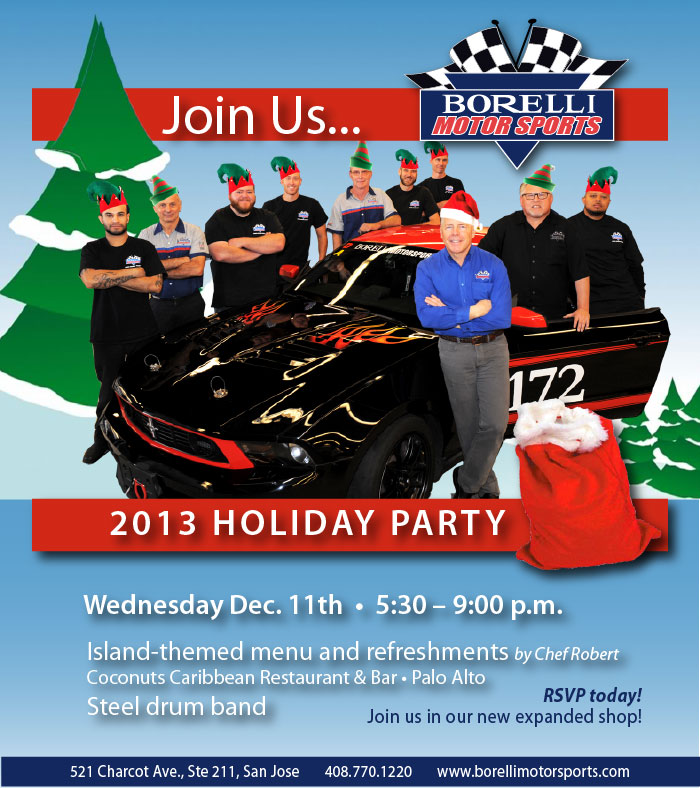 The Night Before Christmas
'Twas the night before Christmas, when all thru the shop
Not a tech was stirring, the power tools were stopped;
The tires were stacked by the lifts with care
To be ready at the first sign of wear;
The customers were nestled all snug in their beds
While visions of superchargers danced in their heads;
And Ray in the office and Jason on the phone
Were checking the last order and ready to go home;
When out in the driveway, there arose such a clatter;
They had to check to see what was the matter;
It was just Ralph in his souped-up sleigh
With many gifts to deliver along the way;
But I heard him exclaim, ere he drove out of sight—
"Merry Christmas to all, and to all a good night!"
Join us in our new expanded shop!
Borelli Motor Sport
521 Charcot Ave., Ste 211, San Jose, CA
408.770.1220
For more information about Borelli Motor Sports, call Ray at (408) 770-1220. 
Or you can e-mail service@borellimotorsports.com.
Copyright (C) 2013 Borelli Inv. All rights reserved.    Email Marketing San Jose: Creative Juices Design

Borelli Motor Sports is located within Club Auto Sport
521 Charcot Ave #211, San Jose, CA 95131, Tel:(408) 770-1220

Visit Borelli Motor Sports     
When & Where

Borelli Motor Sports
521 Charcot Avenue
San Jose, CA 95131


Wednesday, December 11, 2013 from 5:30 PM to 9:00 PM (PST)
Add to my calendar
Organizer
Please contact Laura Garratt, Northern CA Events Manager at the CHP 11-99 Foundation for questions regarding tickets.
Email: Lgarratt@chp11-99.org
Phone: 714.463.6203