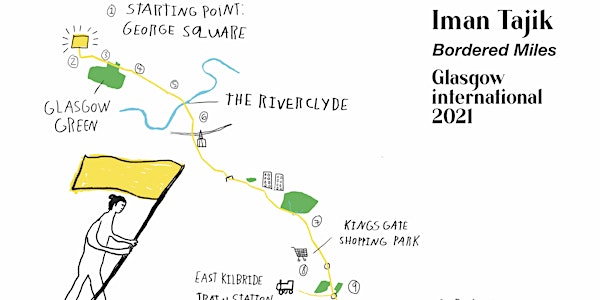 Bordered Miles Walk
Join us for the Bordered Miles Walk from Glasgow to Dungavel Detention Centre as part of Glasgow International Festival 2021
When and where
Location
George Square 9 George Square Glasgow G1 3AZ United Kingdom
About this event
Bordered Miles - Walk
International Refugee Day Sunday 20th June from Glasgow City Centre to Dungavel House Immigrant Removal Centre.
About the Project
A day-long walk as part of artist Iman Tajik's Glasgow International Project 2021. Bordered Miles is a durational, participatory performance walk. As an extension of Tajik's ongoing interest in making work for the public realm, the walk invites participants both virtually and physically to experience the movement of bodies as the natural right of any species.
The walk will be led by Tajik and a small group of participants and will be a point of view live stream directly to Glasgow International's online platform. As physical and virtual participants, we will be interacting with a series of short performative aspects along the journey as we follow Tajik across this meditative path exploring the notion of borders as liminal spaces where freedom of movement conflicts with geopolitical boundaries.
The live-streamed walk will culminate at Dungavel House Immigrant Removal Centre, a place where movement has been prohibited in Scotland where, together with virtual the participants, we will raise the emergency blanket flag, a symbol of reclaiming that political space. As a monument to nationalism, the flag is an item of pride but also acts as an illustrator of borders. By creating a new flag from the emergency blanket, and reducing it to its bare condition, Tajik observes the structure of the flag as it waves in the wind, querying the weight of the borders, how they divide us and yet liquid like they can be.
Information about the walk
The walk from George Square (the town centre of Glasgow), to Dungavel House Immigration Removal Centre, is approximately 22 miles long and a total duration of 8 to 10 hours. Although early training is recommended, we will have stops for coffee and bathroom breaks as well as a lunch break throughout the walk. East Kilbride station is an ideal point to join the walk as this is approximately three hours from George Square and five to seven hours from the Dungavel House Immigrant Removal Centre. There will be emergency transport if required via a vehicle escort and a free bus service to return the walkers to Glasgow City Centre between 7pm and 8pm.
What to bring and what to expect
Read our walking essentials guide to get a better idea of what to expect on the day:
https://drive.google.com/file/d/1n9inbb0-iF25Szg8RRteXzBJMNI2ndnG/view?ts=60ccbb9f
Booking
When booking please note that spaces are extremely limited. There is a waiting list in case anyone is unable to attend and we will contact you as soon as possible to confirm your attendance if space opens up.
Live streaming
Or click here for the live stream link:
Alternatively you can download the map and information for a self directed walk to Dungavel House here:
https://drive.google.com/file/d/1f-Ry6RYj4awENIlN3NJZH5GLOfKPKxBr/view
Please note that when you sign up to walk with us, you are doing so at your own risk.
Further information
This event supports the Scottish Detainee Visitors, which is a Scottish Charitable Incorporated Organisation (SCIO) that supports people detained by the immigration service in Scotland and influences policy on detention. This event is free, but if you have the means we suggest a minimum donation of £10. All donations will go to support for Dungavel detainees to top-up their telephone credit which can be found following the link to the Scottish Detainee Visitors donation page:
http://sdv.org.uk/volunteer/donate/
If you are unable to attend the walk and would still like to make a donation this can be done online at the Scottish Detainee Visitors website. More information about the Scottish Detainee Visitors organisation can be found here:
http://sdv.org.uk/about-us/
This project is supported by Glasgow International, Creative Scotland, Listen Gallery, Hope Scott Trust and developed in collaboration with Deveron Projects.
Special thanks to: Sarah Smith, Scottish Detainee Visitors and Global Justice Glasgow for their ongoing support amidst the pandemic.