BOP World Convention 2015

Tuesday, December 1, 2015 at 8:00 AM

-

Thursday, December 3, 2015 at 8:00 PM (CST)
Event Details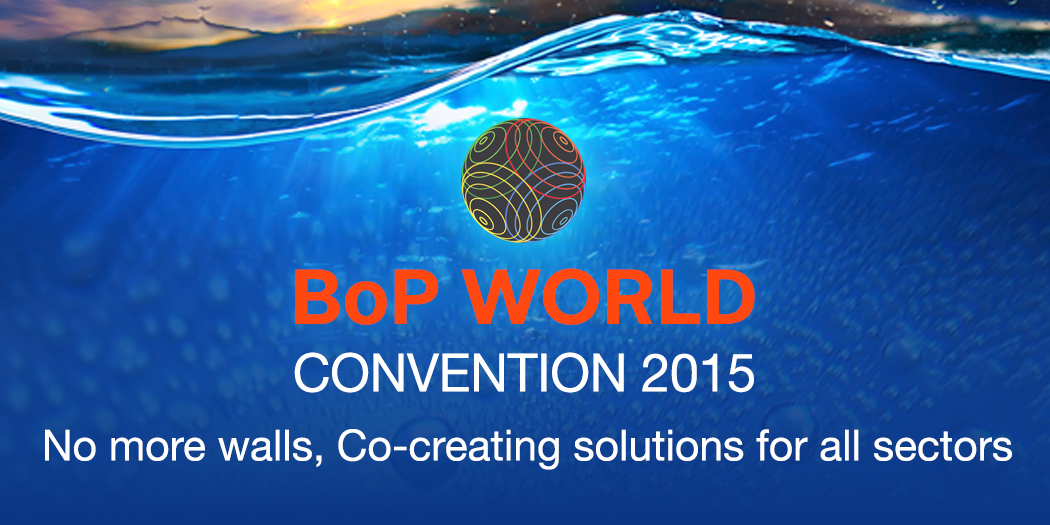 Durante tres días compartiremos ideas clave, plenarias, sesiones temáticas paralelas y presentaciones de proyectos de empresas sociales enfocados en:
(1) La contribución de la Base de la pirámide en la economía global
(2) Aprovechamiento de la tecnología para resolver problemas y compartir beneficios derivados de su utilización.
(3) Promover la colaboración intersectorial a la Base de la Pirámide, aumentar las redes existentes y generar nuevas colaboraciones.
A través de este evento se busca:
1) Proporcionar un espacio integral para atraer, conectar, innovar y acelerar alianzas que permitan brindar productos y servicios sostenibles y accesibles que impacten a la Base de la Pirámide: 4 mil millones de clientes.
2) Discutir temas clave de la Base de la Pirámide que son importantes para los inversores, emprendedores, empresas y agencias gubernamentales, así como recomendar el camino a seguir para estimular la creación de nuevos productos, la prestación de servicios de calidad y soluciones a la población vulnerable, así como el interés de los inversores en el mercado.
3) Perfilar la labor de las organizaciones no gubernamentales, fundaciones, instituciones, bancos de desarrollo, corporativos y empresas sociales en la mejora de la calidad de vida de los más necesitados, así como atraer a potenciales socios, donantes e inversores para apoyar y fortalecer los modelos de negocio que hacen que esas alianzas funcionen.
Perfil de los Participantes / Expositores:  
Sectores que abarcan varias industrias verticales: TIC, Alimentación  y Nutrición, Energía, Gestión Ambiental, Agua y Saneamiento, Salud, Transporte y logística, Vivienda,  Instituciones Financieras, Fundaciones de caridad, Gobierno y organizaciones no gubernamentales, Institutos académicos y de investigación etc.
¡Cambiemos el mundo co-creándolo juntos!
--------
BoP WORLD CONVENTION 2105
No more walls, co-creating solutions across the industries 
This event will feature keynote, plenary, parallel thematic sessions, social enterprise project presentations focusing on:
(1) BoP's contribution to the overall economy
(2) Leveraging Technology to solve problems on benefits sharing Arising out of Their Utilization
(3) Promoting cross industry collaboration to BoP investments. Increase Existing networks and spark new collaborations. 
About 250-300 Participants are expected to Participate in the conference. The conference is Intended to Provide a forum for exchanging insights, perspectives, solutions That address sustainable growth in BoP ventures. 
By This event we aim to: 
1)   Provide a comprehensive one-stop venue to engage, connect, innovate, accelerate partnerships to bring affordable, sustainable products and services to reach bottom of the pyramid: 4 billon customers. 
2)   Discuss key issues BoP That are Important to investors, entrepreneurs, Businesses and government agencies, and recommend the way forward to Stimulate new products creation, provision of quality services and solutions to the poor as well as investor interest in the market. 
3)   Profile the work of NGOs, Foundations, Institutions, Development Banks, Corporates, Social Enterprises in Improving the Quality of Life for Those in Need and Attract MOST potential partners, Donors and investors to support the business and delivery models Strengthen That Make These partnerships work.
Participants / Exhibitors profile: 
Vertical cross-section spanning various industries: ICT, Food & Nutrition, Energy & Utilities, Environmental Management, Water & Sanitation, Healthcare, Transportation & Logistics, Low Cost Housing Financial Institutions, Charity Foundations, Government & NGOs, Academic & Research Institutes etc.
Let's change the world co-creating it together!
When & Where

Ignacio Allende no. 21
Ampliación Torre Blanca
Ciudad de México, D.F. 11289
Mexico

Tuesday, December 1, 2015 at 8:00 AM

-

Thursday, December 3, 2015 at 8:00 PM (CST)
Add to my calendar
Organizer
El BOP Hub es la puerta de entrada para que empresarios, tecnólogos y manufactureros accedan a los mercados de la Base de la Pirámide. Une los productos con la distribución, la logística, las economías de escala, las políticas públicas, el diseño, la tecnología y completa la cadena de suministro para crear formas de prestación de bienes y servicios que sean mejores, más rápidas, fáciles y económicas. www.bophub.org
POSiBLE es un programa que busca inspirar, identificar y apoyar emprendedores que aspiran a tener un alto impacto social. A través de este programa se impulsa el talento, la energía y el compromiso de miles de personas que desean resolver algunos de los más complejos problemas sociales y ambientales que México enfrenta. www.posible.org.mx
Social Business Consultant Firm brinda consultoría para el sector público, el sector privado y las ONGs que quieren iniciar y ejecutar un negocio que resuelva un problema social, para contribuir al desarrollo sostenible de México en temas como: salud, educación, energías renovables para las comunidades rurales, la vivienda, la nutrición, el agua, reforestación, entre otros.
~~~~~~~~~~~~~~~~~~~~~~~~~~~~~~~
The BOP Hub serves as a gateway for business ventures, technologists and manufacturers to access the BOP markets. It will bundle and weave products with distribution, logistics, economies of scale, public policy, design, technology and complete the supply chain to create "faster, easier, better, cheaper" ways of delivering goods and services, for more information visit: www.bophub.org BOP HUB Intro Video
POSiBLE is a program that aims to inspire and support high impact entrepreneurs. Through this we seek and promote the talent, energy and commitment of thousands of people who want to solve some of the more complex social and environmental problems that Mexico faces with a business model. www.posible.org.mx
Social Business Consultant Firm gives consultancy to the public sector, private sector and NGO´s who want to start and implement a social business to contribute to sustainable development in Mexico. SBCF works on topics such as: health, education, renewable energies for rural communities, housing, nutrition, water, reforestation, among others.