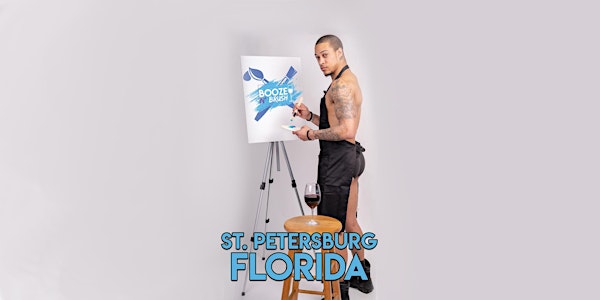 Booze N' Brush Next to Naked Sip n' Paint St. Petersburg, FL Exotic Male Mo...
Location
Booze N' Brush Next to Naked Sip n' Paint
327-329 3rd Ave N
St. Petersburg, FL 33701
Booze N' Brush. The Ultimate Sip N' Paint
About this event
There is a one drink minimum required at this location. $10 paid in cash at the door to the venue.
Think outside of the box for your next St. Petersburg girls' night out or special celebration, think "Booze N' Brush"
Join us for this St. Petersburg Sip N' Paint where you will be painting a canvas of a sexy next to nude male model with the direction from a painting instructor and enjoy the fun and excitement with your friends! Attending a Booze N' Brush Sip n' Paint in St. Petersburg, is a sure-fire way to make your next girl's night out in St. Petersburg an unforgettable experience. This location has a full liquor bar available for purchase, so drink what you like while you get your paint on! 
Sip n' paint parties in St. Petersburg have become the newest and fast-growing trend in the St. Petersburg girl's night events industry and are a great way to celebrate, bachelorette parties, birthday parties, divorce parties, corporate gatherings, or other types of celebration.  Booze n' Brush takes it one step further, can't make it to our event? Booz N' Brush Sip and Paint St. Petersburg offers both private Sip and Paint parties in St. Petersburg and the surrounding areas, at your home or private space as well as the option to join us at one of our locations. Booze N' Brush also has nude models, naked models and next to naked models for hire for private parties! No matter which option you choose, attending a Booze n' Brush event will be nothing less than extraordinary! 
St. Petersburg Naked Painting, St. Petersburg Strip N' Paint, St. Petersburg Sip N' Paint, St. Petersburg Drink and Draw, and more…whichever Booze N' Brush St. Petersburg bachelorette party, St. Petersburg birthday party, or other event you celebrate with us is sure to be a ladies night out, you and your guests will never forget!  
Don't forget, with Booze n' Brush you can also hire a male model for naked, near naked and strip painting for your next bachelorette, birthday or ladies night out event at the venue of your choice and, drink and paint the day or night away! Need an art instructor? Booze n" Brush Sip and Paint has are instructors for hire as well! 
Must be at least 18 years of age to attend at this venue, and at least 21 years of age to receive/consume alcoholic beverages.
For questions about private parties please call 833-BOOZE-83 / 833-266-9383
or visit our website at:
www.boozenbrush.com