About this Event
Waves of wild festivities at "the pulse Pirateland" nearly comes to an end. Don't miss out the final mega event "Booze it UP! Pirate's Beer Fest" on 14-15 September to wrap up this mesmerizing summer!
"Booze it UP! Pirate's Beer Fest" features an impressive lineup of local craft beer breweries, gourmet kitchens and game stalls. Enjoy life like a pirate by soaking in our enormous wooden bath tub with a beer in hand, while marveling at Repulse Bay's breathtaking sea view.
All party-goers will receive a bottle/glass of the pulse x Citibrew Endless Pirate Summer beer, a macho muscle/bikini body beer glass and pirate hat. You can even customize your one and only beer glass.
This party is not to be missed by beer connoisseurs, party lovers and IG enthusiasts.
於盛夏陪伴各位大小海賊的「the pulse海賊世界」接近尾聲,千萬不要錯過於9月14,15日舉辦的終極派對「隊啤吧!海賊醉爆嘉年華!」,與三五知己大吃大喝一番!
「隊啤吧!海賊醉爆嘉年華!」邀請多個本地精釀啤酒品牌及美食檔大搞醉爆嘉年華,又有多個攤位遊戲贏獎品。不修邊幅的海賊原來亦十分懂得享受生活,在「隊啤吧!海賊醉爆嘉年華!」內設有一個大木桶,讓參加派對的海盗可邊對著淺水灣無敵海景浸浴邊嘆啤酒,豪氣十足。
所有入場人士更可獲得the pulse x 城釀 Endless Pirate Summer 啤酒一支/一杯、肌肉型男/美女酒杯一隻、海盗帽一頂。參加者更可DIY自己的專屬酒杯。
熱愛啤酒,嚮往派對生活,愛拍美照的你絕對不能錯過這場盛夏派對。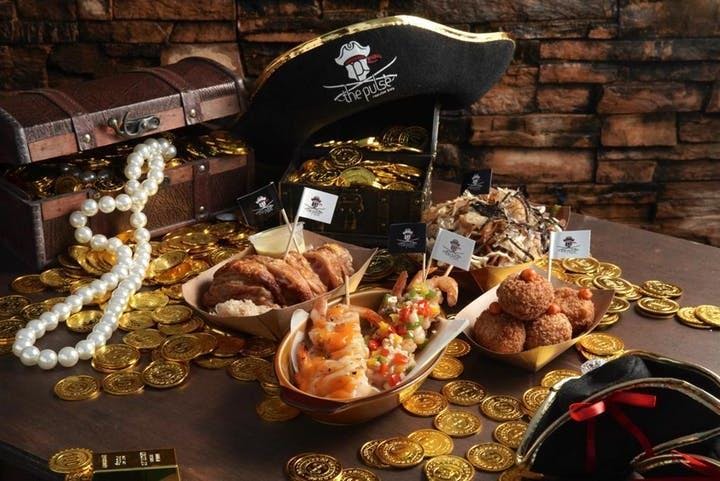 🍺the pulse is going to host the "Beer Drinking Competition" for all beer-lovers. Let's join the competition and take the chance to win HK$1000 the pulse voucher! 🍺
🍺the pulse將舉行啤酒勁飲大賽,自問飲得之人嘅你快啲立即報名參加挑戰自己,贏取價值港幣$1000 the pulse現金券🍺
立即報名,爭奪勁飲寶座