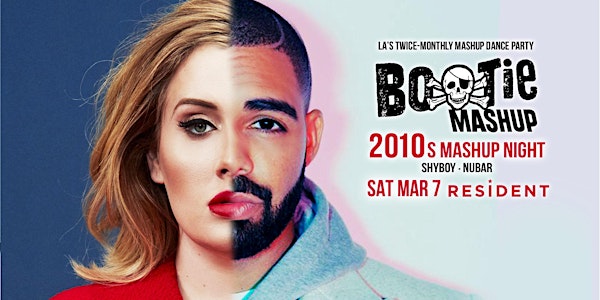 Bootie Mashup: 2010s Mashup Night
Location
Resident DTLA
428 South Hewitt Street
Los Angeles, CA 90013
The 2010s may have just ended, but that doesn't mean it's too soon to already be feeling nostalgic!
About this event
Drake, Taylor Swift, Rihanna, Katy Perry, Ariana Grande, Post Malone, Justin Bieber, Adele, Ed Sheeran, and many more, along with all the one-hit wonders you forgot you loved (Gangham Style and Party Rock, anyone?) This party is SO last decade!
► Bootie Mashup resident DJs:
• SHYBOY
• NUBAR
► FREE "Best of Bootie Mashup 2019" mixtape CDs!
► Only $5 before 10 PM!
MASHUP: Blending two or more songs into a new creation.
Spinning the best mashups in the world ever, Bootie Mashup was launched in San Francisco in 2003, shamelessly mixing and matching pop songs both throwback and current. With our creative theme parties and clever mashup formula, Bootie Mashup has won numerous nightlife awards in multiple cities for over 16 years. Our fun, danceable song combinations are the soundtrack for the A.D.D. generation.
Web: BootieMashup.com
Facebook: facebook.com/BootieMashup
Instagram: @bootiemashup
Twitter: @bootiemashup
Only $5 before 10 PM!